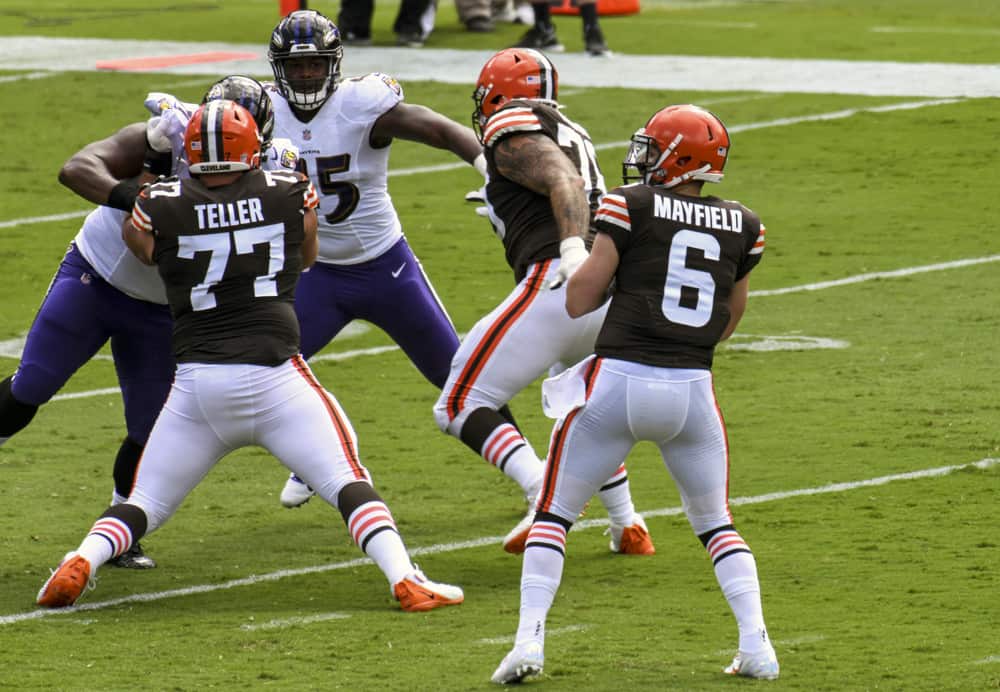 After the early surge of free agency, the NFL Draft, and the official schedule release, it is time to reflect.
Because, quite frankly, nothing much else is expected to happen until training camp.
But today, we're thinking about the Cleveland Browns' 2021 road schedule.
It is among the most difficult in the NFL, not only by last season's results but by this year's win projections.
Mark, Steven, and yours truly review the Cleveland #Browns 2021 schedule and make our game-by-game predictions. What do you think- 9-8? 13-4? or 15-2? Listen in and yell at us to your heart's delight: https://t.co/iXXysXaGsQ

— PoppsNFLstuff (@opperman_pat) May 14, 2021
Bill Belichick's New England Patriots might be the least likely of our non-division opponents to play in a 2021 postseason game.
All together, Cleveland's road opponents sported a .707 winning percentage last year.
And each team except Pittsburgh can expect to improve or maintain their pace in the season ahead.
Here is how we rank the 3 toughest road games on the Browns' 2021 schedule.
1. For Openers: Week 1 at Kansas City 
Cleveland's most difficult road game is also their most talked-about game.
Kansas City presents enough of a challenge on a normal opening day.
But this time around, Patrick Mahomes and his teammates want to wash away memories of a miserable February evening.
Their crushing Super Bowl loss has them desperate to show the world how good they really are.
Kansas City already listed as a
5.5 point favorite over the #Browns in the season opener on September 12th at 4:25pm at KC.
The @Browns will have a chance to avenge last season's playoff loss right out of the gate in the week 1 opener. pic.twitter.com/9n2TBFSdk2

— Kenny "The Roadman" Roda🎙🎧📻🏈⚾️🏀🏒⚽️ (@TheKennyRoda) May 12, 2021
It's as if the world forgot the two seasons of games that preceded their Tampa Bay meltdown.
Cleveland has their own demons to exorcise, including their 2020 post-season loss in this same stadium.
Not to mention their 1-20-1 opening day record, which includes a whitewash in Kevin Stefanski's debut.
Can a rebuilt defense and tricky offense catch the Chiefs by surprise?
Or will the young Browns wilt under the weight of the Kansas City attack and their rabid fans?
2. Trap Game: Week 5 at Los Angeles Chargers
Sometimes, the most difficult games don't come against the most difficult opponents.
For instance, the Christmas day game at the Green Bay Packers won't make our top three list.
But this Week 5 game against a young quarterback with a new head coach and offensive coordinator does.
That is because this game offers a different kind of challenge to Baker Mayfield and the Browns.
Chargers taking a page out of the Juju Smith-Schuster book of wisdom.

How did that work out again? pic.twitter.com/KGa9EUZFAC

— Nick Karns (@karnsies817) May 13, 2021
Cleveland should come into LA with a 4-0 or 3-1 record.
That means they just defeated the challenging Minnesota Vikings on the road and are on a roll.
Despite being a trendy playoff pick, the Chargers project to be 0-4 or 1-3 coming off a home division game versus the Raiders.
And their schedule doesn't get any easier by playing the Browns.
But can the Browns avoid a letdown in a sleepy road venue against a team desperate for a victory?
3. Tone Setter: Week 12 at Baltimore Ravens 
After their season opener, Cleveland's opponents leading up to this week include few playoff contenders.
And if we believe the Browns hype, Cleveland could be favored in every game.
New England on the road might present the Browns' biggest challenge.
Or the Patriots could compete with the Jets for third place in their division, depending on whom you believe.
If the Browns lose to the Chiefs in Week 1, they could enter this Sunday Night Football battle with a 10-1 record.
2021 AFC win total projections: Ravens, Browns neck and neck (via @cfrelund)https://t.co/gZQTMpfeCk pic.twitter.com/OgtqKMhGLO

— Around The NFL (@AroundTheNFL) May 16, 2021
And doubters will still exclaim, "But who have the Browns beaten?"
Baltimore will view this as a "must-win" at home to keep pace in the division and conference races.
Given Cleveland's history against the Ravens, Baltimore could be the favorite despite a lesser record.
Can Baker Mayfield and Myles Garrett rally their units to cement the Browns' status as division leaders?
Or will they be forced to recover their swagger heading into the final stretch of the season?