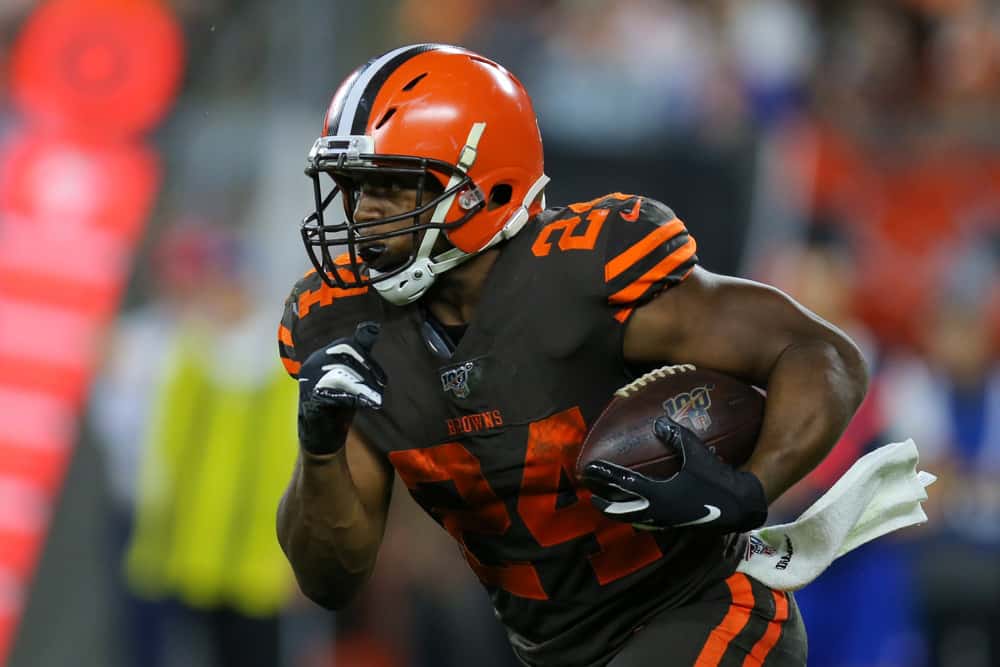 One of the many looming questions for the Cleveland Browns in the 2021 offseason is running back Nick Chubb's contract extension.
Chubb is entering the fourth and final year of his rookie contract in 2021 and is set to be a free agent in 2022.
Neither the Browns nor Chubb has publicly talked much about the contract extension.
Both parties seem more intent to let the off-the-field business take care of itself with the primary focus being the 2021 season.
Regardless, it is still an important issue that needs to be handled correctly for many reasons.
Here are a few of the most noteworthy reasons.
1. Nick Chubb Is The Face Of The Organization
Doesn't get much better than Nick Chubb 💪 pic.twitter.com/qHytMXdVG5

— PFF (@PFF) May 18, 2021
He has been a stalwart competitor and leader since he arrived as a rookie.
His performance has been consistent and great.
Whereas fans can have diverse opinions on Baker Mayfield or Odell Beckham Jr., there seems to be an unanimous outpouring of love and support for Nick Chubb.
Taking care of a player who has been through it with a team in high and low times and has always given 100% and put the team first is necessary.
2. He Leads By Example
#Browns HC Kevin Stefanski on @BullandFox says Nick Chubb is "a cultural tone-setter. There's a way to lead without being a rah rah guy. His teammates are keenly aware of Nick Chubb when he's in the building."

— Keith Britton (@KeithBritton86) April 29, 2020
Coach Stefanski and others have talked about his presence in the locker room and on the field.
His professionalism and outstanding work ethic rubs off on others who want to be more like Chubb.
3. Chubb Is Selfless
There are many examples of this, but two come to mind immediately.
Last preseason when Mack Wilson's overzealous tackle of Chubb gave him a concussion it created a lot of backlash for Wilson from everyone but Chubb.
#Browns RB Nick Chubb said there is no ill will with LB Mack Wilson after he sustained concussion on practice tackle. pic.twitter.com/jepfelhc5k

— Tom Withers (@twithersAP) September 3, 2020
When Wilson then suffered a knee injury the next day, Chubb was one of the first of his teammates wishing him well and trying to understand his injury since Chubb had knee issues in the past also.
The other is the near touchdown where Chubb gave up his stats to ensure a team win.
Nick Chubb with the huge run to clinch it for the Browns 🔥 @NickChubb21 @Browns pic.twitter.com/t77iX1DxjV

— The Checkdown (@thecheckdown) November 15, 2020
Even though he remembered to not score at the last minute and critiqued himself for stepping out of bounds instead of keeping the clock running, it is really hard to say how many running backs with a clear path to a sure touchdown would adhere to his coach's wishes as Chubb did.
4. Chubb Is Tough To Tackle
The preceding points are related to his character and work ethic; however, the fact remains Chubb is still in the prime of his career.
Most rushing yards since 2018
(with YPG)

Derrick Henry – 4,626 (98.4)
Ezekiel Elliott – 3,770 (82.0)
Nick Chubb – 3,557 (80.8)
Dalvin Cook – 3,307 (84.8)
Chris Carson – 3,062 (74.7)

— NFL Stats (@NFL_Stats) May 17, 2021
When he breaks through a hole created by his offensive line, he is tough to bring down.
He even has added a Derrick Henry-like stiff arm to his arsenal of tools.
Nick Chubb MY GOODNESS. #Browns

📺: #PHIvsCLE on FOX
📱: NFL app // Yahoo Sports app: https://t.co/XvGQdBFS2I pic.twitter.com/ycXDeoS2zy

— NFL (@NFL) November 22, 2020
The Browns under Andrew Berry and Kevin Stefanski have thus far shown us that they know how to handle situations appropriately.
This perhaps will be their biggest test yet because not only will the entire city of Cleveland be watching how this goes with Chubb, but the rest of the NFL will also since Chubb could be called by the other 31 teams to join them in 2022.