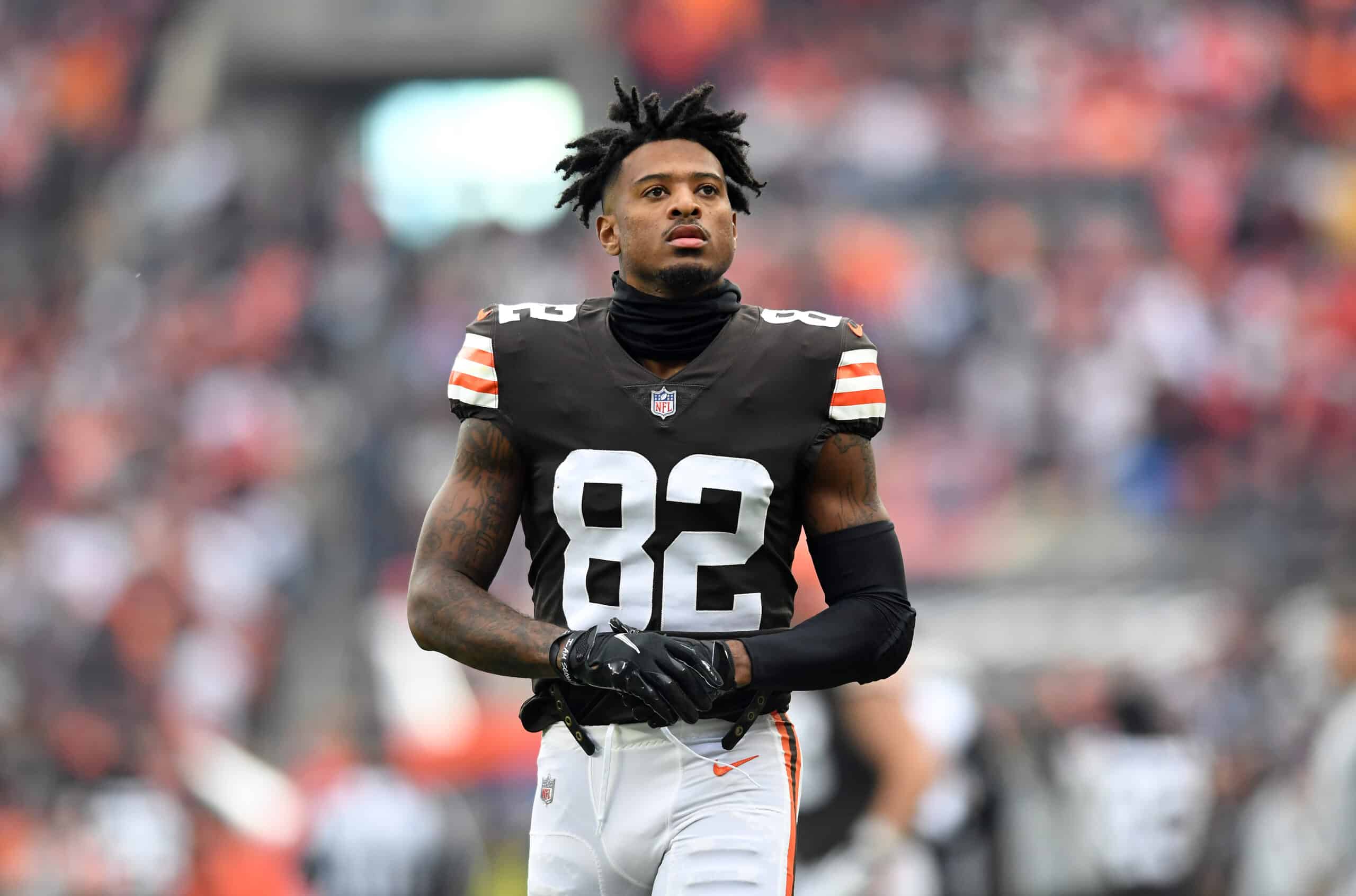 Rashard Higgins earned the NFL's highest wide receiver DVOA after replacing an injured Odell Beckham in 2020.
He made the most of his 37 catches, accounting for 26 first downs and 4 touchdowns without a drop.
When OBJ left the Cleveland Browns this year, Higgins did not step back into a bigger role right away.
But in Week 12, Anthony Schwartz was out and Donovan Peoples-Jones' groin warranted a game-time decision.
#Browns Rashard Higgins a healthy scratch tonight vs. the #Ravens. His season just hasn't gone the way he or anyone expected.

— Mary Kay Cabot (@MaryKayCabot) November 28, 2021
Jarvis Landry was ready to go, but after that, maybe Demetric Felton would back up DPJ.
Surely, this was the week, on national TV, for Higgins to jump back into the Browns' offensive flow?
Instead, Higgins was a surprise scratch, sat down in favor of JoJo Natson and Jamarcus Bradley.
And it isn't just Rashard Higgins fans who are wondering why.
Higgins Does Not Appear To Be in the Doghouse 
There was speculation that Kevin Stefanski had some kind of issue with Higgins that led to his benching.
If that is the case, the coaching staff and his teammates are doing a great job covering up the matter.
Someone posted an unfounded claim the team was upset Higgin did not participate in some team events last week.
Somebody decided to make a commercial for a local car dealership and skip out on the Browns pre-Thanksgiving charity events. You didn't hear that from me… https://t.co/DFbwTJYZew

— WRXchad (@WrxChad) November 29, 2021
But Higgins was far from the only player to opt-out of the event in question, and he collected 200 turkeys at his annual car event.
Thanks to everyone for coming out and showing support today. Blessed to say we received over 200 turkeys for those in need. Truly grateful 🖤🖤🖤

— Wu (@CALLME_WOOD) November 20, 2021
Cleveland's messy divorce from OBJ hurt some feelings and created undue tension.
But Stefanski is eager to move on, making it unlikely Higgins' response to Senior's social media earned him a game off.
Stefanski Thought He Needed Special Teamers
Kevin Stefanski loves players who can handle multiple positions or tasks.
JoJo Natson and Jamarcus Bradley had some nice preseason moments receiving passes.
But with DPJ nursing a groin and Felton likely to be involved in the receiving game, Stefanski needed special teamers.
#Browns Alex Van Pelt said that Rashard Higgins' opportunities will come and with Odell Beckham Jr. being gone now, those opportunities should be more frequent.

— Camryn Justice (@camijustice) November 11, 2021
And all Higgins does is catch passes, while Natson can return kicks and Bradley covers them.
Of course, that scenario didn't play out as Natson fielded one kick and lost yards trying to reverse the field.
He never touched the ball again as Felton ran out to handle the game's only punt return.
Higgins Not As Effective in 2021 Offense
Rashard Higgins has a knack for finding open areas in a zone at important times.
More importantly, he usually presented a stationary target for Baker Mayfield last year.
But in 2021, defenses are stacking the box against the run more frequently, leaving their corners in man coverage.
Name a better duo than Rashard Higgins and the sticks pic.twitter.com/FLlDw3KbRM

— Cory (@realcorykinnan) September 21, 2021
Higgins is not as attractive a target against man coverage, which often requires Baker to hit him on the move.
Mayfield is not as comfortable hitting receivers on the run, and we've seen him throw behind or over Higgins this year.
And the result is a less than 50% catch rate when targeted, made worse by 2 drops.
Game Plan Didn't Call For 3rd WR
Jarvis Landry (6/10/111/0) had his first 100-yard game of the season against the Ravens.
He was targeted 10 times, twice as much as Peoples-Jones (2/5/10/0).
But Bradley, Felton, and Natson combined for 24 snaps and 3 targets over the entire game.
#Browns HC Kevin Stefanski on why WR Rashard Higgins was inactive: "Just felt like that was the plan going into this week. The plan changes weekly."

— 92.3 The Fan (@923TheFan) November 29, 2021
Cleveland uses 2- and 3-tight end sets more than any other team.
Even though they anticipated Baltimore's 8-man front, maybe Stefanski didn't plan to use his 3rd or 4th wideouts.
And that made Higgins expendable in the lineup.
Does Higgins Have a Role Next Week? 
Rashard Higgins got some positive press after his impressive 2020 campaign.
And it should be noted that his effort was almost identical to his 2018 contribution.
More than one analysis site called him one of the most underrated wide receivers in the league.
Rashard Higgins 🔥pic.twitter.com/LIZOYsSWFN

— PFF CLE Browns (@PFF_Browns) October 10, 2021
Maybe his fortunes are tied to Baker Mayfield as they reflect his quarterback's ebb and flow.
But coming off a bye week, most expect Stefanski to make significant adjustments to his game plan.
And any re-charging of Mayfield will be aided by the downfield presence of another veteran like Higgins.