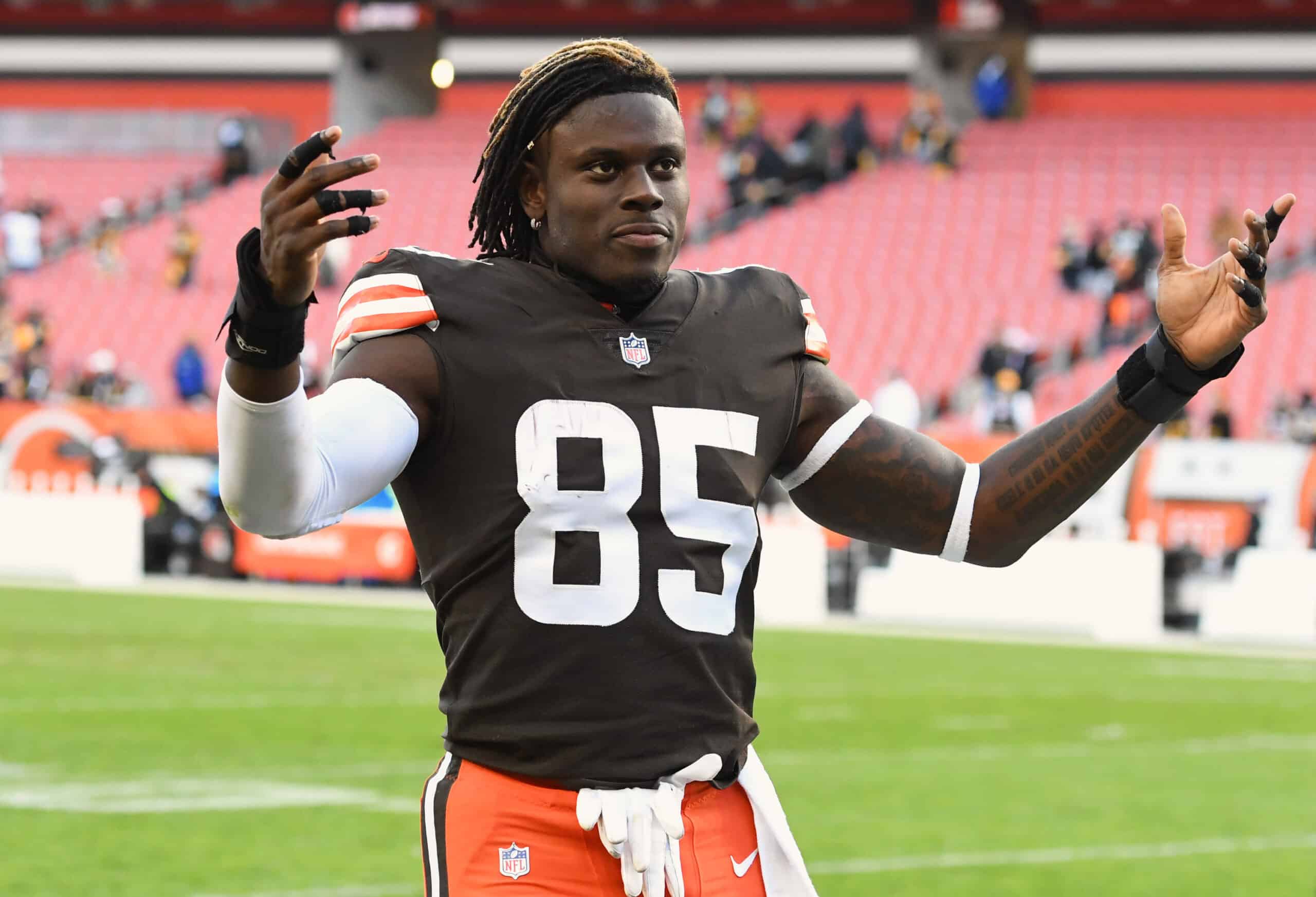 Not too long ago, it sounded like David Njoku wanted little to do with the Cleveland Browns.
But now it appears likely his then-new, and now former agent, Drew Rosenhaus, was behind that sentiment.
Not that it didn't make sense for Njoku to move on after Austin Hooper and Harrison Bryant joined the team.
#Browns David Njoku said he'll instruct his agent to push for a new deal in Cleveland. Said one of the reasons he switched representation was in hopes to stay with the Browns.

— Camryn Justice (@camijustice) August 20, 2021
Njoku was a pending free agent, and third-string tight ends don't sign big starter-level contracts.
Fast forward to 2021 with a playoff victory under their belts, and David Njoku's former agent back at the helm.
It looks like Hooper, Bryant, and Njoku can co-exist after all, and Njoku is happier than anyone about the situation.
Browns & TE David Njoku Have Had Early Extension Talks https://t.co/rGF5ofGXDk pic.twitter.com/1oQ4EMY2T3

— NFLTradeRumors.co (@nfltrade_rumors) November 28, 2021
The Browns are reportedly interested in keeping the pass-catching tight end in Cleveland a few more years.
But there are a lot of other teams who would like to put Njoku in the middle of their offenses.
So, as far as a David Njoku contract, what would an extension look like?
What Is Njoku's Value To The Browns?
Various football salary monitors and analysts predict the fair market value of pending free agents.
Spotrac thinks Njoku is worth signing for 4 years at $6.9 million per season, in the mid-range of starting tight ends.
Over the Cap values Njoku at about $7.5 million per season, comparing him with a wider pool of his tight-end peers.
Njoku worked hard to improve his blocking skills and shows plenty of willingness to jump into the fray.
Baker Mayfield ➡️ David Njoku

FOR 71 YARDS 🔥

(via @NFL)pic.twitter.com/AjKJYWJQ6f

— Bleacher Report (@BleacherReport) October 10, 2021
What used to be his biggest weakness is more than adequate, and he is still a fast and reliable receiver.
Njoku had a 7-catch, 149-yard game this year, but 2-3 catches are his normal contribution to the offense.
Andrew Berry knows there are teams who will offer the athletic Njoku full value to start for their clubs.
Cleveland will pay if they want his services, even if they finagle how the money is paid out.
The Austin Hooper Effect 
Way back before the 2020 season, the Cleveland Browns had something to prove.
That is how Austin Hooper (and Jack Conklin) got paid early in the free agency period.
Andrew Berry overspent for Hooper in an effort to show how serious and professional the new Browns regime was.
Hooper cashed in on a good receiving season, but he was not a dominant player and rarely won a contested catch.
Most yards per route run among TEs (min. 100 receiving snaps):

🥇 David Njoku- 2.30

THE CHIEF 🔥 pic.twitter.com/kHldBdt3Zd

— PFF CLE Browns (@PFF_Browns) November 11, 2021
So essentially, the Browns paid a really good blocker who can catch in the open field an elite tight end salary.
Cleveland saves money letting Hooper go, but he still carries $11.25 and 7.5 million dead-cap hits in 2022 and 23.
That and his $13 million actual salary-cap charge will probably keep Hooper in orange for another season, at least.
And Cleveland's primary pass-catching tight end will have to accept he is paid less than his blocking partner.
What Does a Njoku Extension Look Like? 
Our best guess on what a Njoku extension looks like comes from studying the Wyatt Teller extension.
Teller got paid, but Andrew Berry used a signing bonus in lieu of salary in 2022 to delay the salary cap impact.
By spreading the bonus over the length of the deal, Teller only counts $4 million against next season's cap.
JC Tretter's $10 million is off the books in 2023, just in time to offset the new $15 million cap hit from Teller.
David Njoku got 🆙 pic.twitter.com/seKkDT5em0

— PFF CLE Browns (@PFF_Browns) November 7, 2021
Andrew Berry will probably offer Njoku a similar deal, with a big bonus, and a lower initial salary.
If Njoku wants to stay in Cleveland, he'll likely accept something close to the Over the Cap and Spotrac assessments.
I think Berry will offer $28-30 million over 4 years, front and back-loaded with significant guarantees.
And if Njoku doesn't accept the deal by March, other contenders will lure Njoku away with bigger deals.