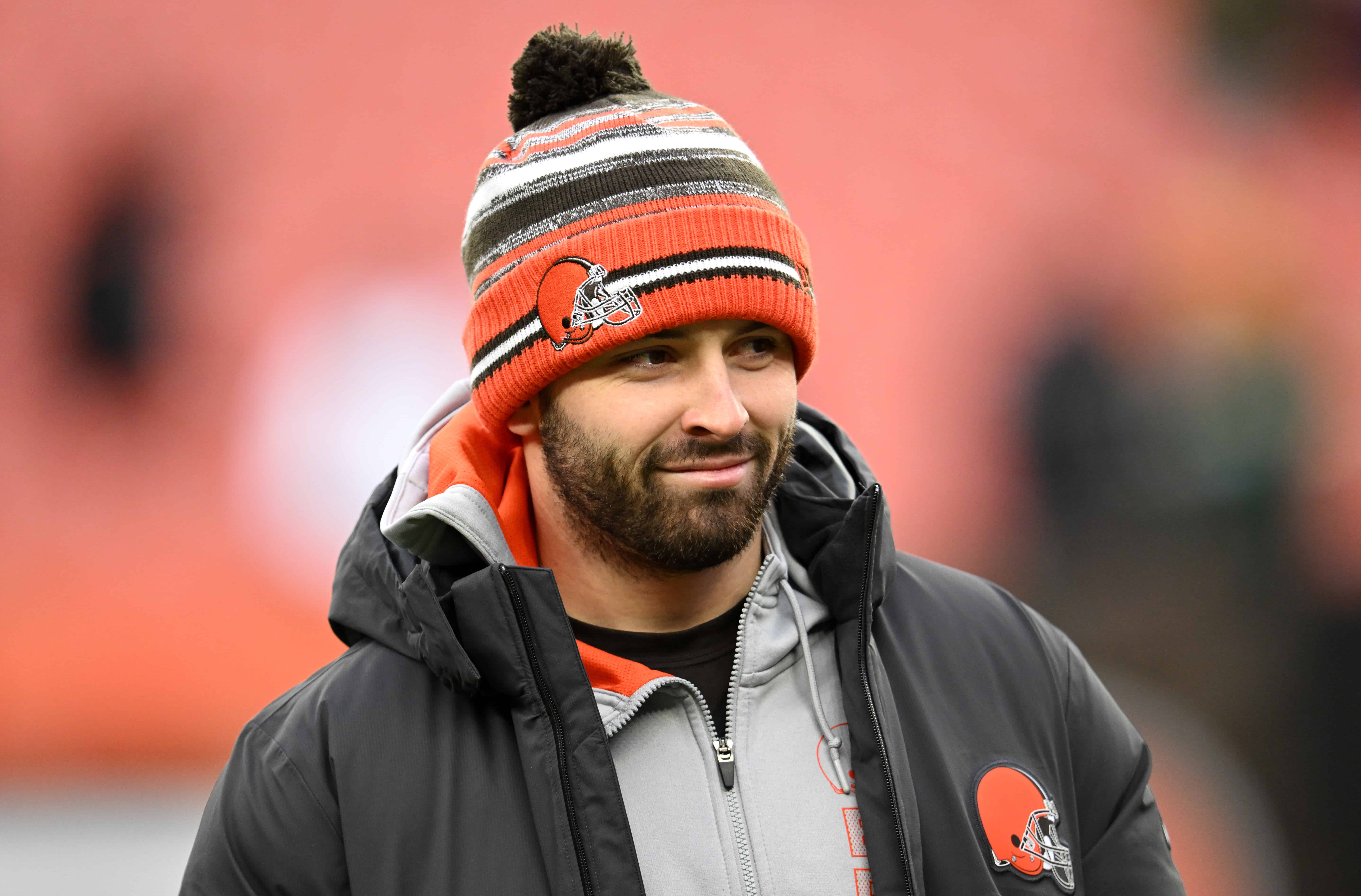 The Cleveland Browns are at a critical decision point on quarterback Baker Mayfield.
He is entering his fifth year and playing under the fifth-year option.
There are no longer any talks about a potential contract extension or a long-term partnership between Mayfield and the Browns.
That means they could decide to move on from him in 2022 if the right circumstance presented itself.
Check out my TikTok which talks about why the Browns might want to move on without Mayfield.
Here are three reasons to start 2022 with a different QB1.
1. Mayfield's Peak Was 2020
In four seasons, Mayfield had one great one.
That is likely Mayfield's best work as the Browns starting quarterback.
The 2020 season is the outlier of the Baker Mayfield experience. You can't win a Super Bowl if you don't qualify for the playoffs. Baker has chances to win plenty of games late and blew it.

— Eddie Mac (@KingEdward15) February 18, 2022
Knowing this and the fact that there is just one more year on his contract, why would the Browns delay the inevitable?
Moving on from him now gives Coach Stefanski a clean slate with a new quarterback and a young team whose players are in their prime.
2. The Rams' 2021 Success
Many teams will be looking at what the Los Angeles Rams did as a potential blueprint for their future successes.
They traded draft picks and Jared Goff to the Detroit Lions and gambled that Matthew Stafford was the missing piece to take the team to the championship.
We all know how it turned out for the Rams which means more quarterback trades for veteran experienced players could be in the works with a lesser emphasis on drafting and developing a young quarterback.
"The Rams have already validated the Stafford trade. The hardest thing in sports is to go from good to great, and that's what they did. With Goff they had a defined, clear ceiling: you can't win a championship. Now they can."

— @getnickwright pic.twitter.com/CAxJYvQ8Zp

— First Things First (@FTFonFS1) February 1, 2022
3. Potential Quarterbacks On The Trading Block
Knowing that the Rams successfully executed this plan is one thing, but realizing that there could be three or more veteran quarterbacks on the trading block in 2022 makes the idea of moving on from Mayfield more appealing.
Russell Wilson, Jimmy Garoppolo, and Aaron Rodgers are quarterbacks who have engineered winning seasons for their teams.
Wilson and Rodgers are Super Bowl Champions.
Eight quarterbacks, eight potential offseason trades: What we know about the 2022 market, including Kirk Cousins' future in Minnesota from me, @DanGraziano and @FowlerESPN. https://t.co/9EiG0MPsRP

— Courtney Cronin (@CourtneyRCronin) February 17, 2022
Disclaimer: New QB Needs Wide Receivers
As always, there is a disclaimer if the Browns go this direction.
The team needs to put a priority on getting high-caliber wide receivers.
There are young players with talent, but that true showstopper wide receiver who catches every ball in his vicinity is missing from this roster.
You can argue that Jarvis Landry or Odell Beckham Jr. were intended to fill those roles, but it is not the same as what Cooper Kupp or Davante Adams contribute to their teams.
You can also argue that Mayfield's issues held back the wide receivers.
It is the chicken and egg argument; both are necessary.
If the Browns are moving away from Mayfield, this position group needs to be addressed also so the new quarterback has something to work with.
Three things:

1. Coach Stefanski has a ton of work to do in the passing game

2. Damn the @Browns better draft some wide receivers

3. You can't tell me OBJ didn't tank his way off the #Browns this year#SuperBowl

— C4 (@c4men) February 13, 2022
Conclusion
The Browns have clearly and consistently stated that Mayfield is their man for 2022.
There is no logical reason to believe a quarterback trade is in the works.
Anything is possible in the NFL especially after watching the Rams win with Stafford, but the safe bet is that Mayfield plays out the fifth and final year of his contract with the Browns.