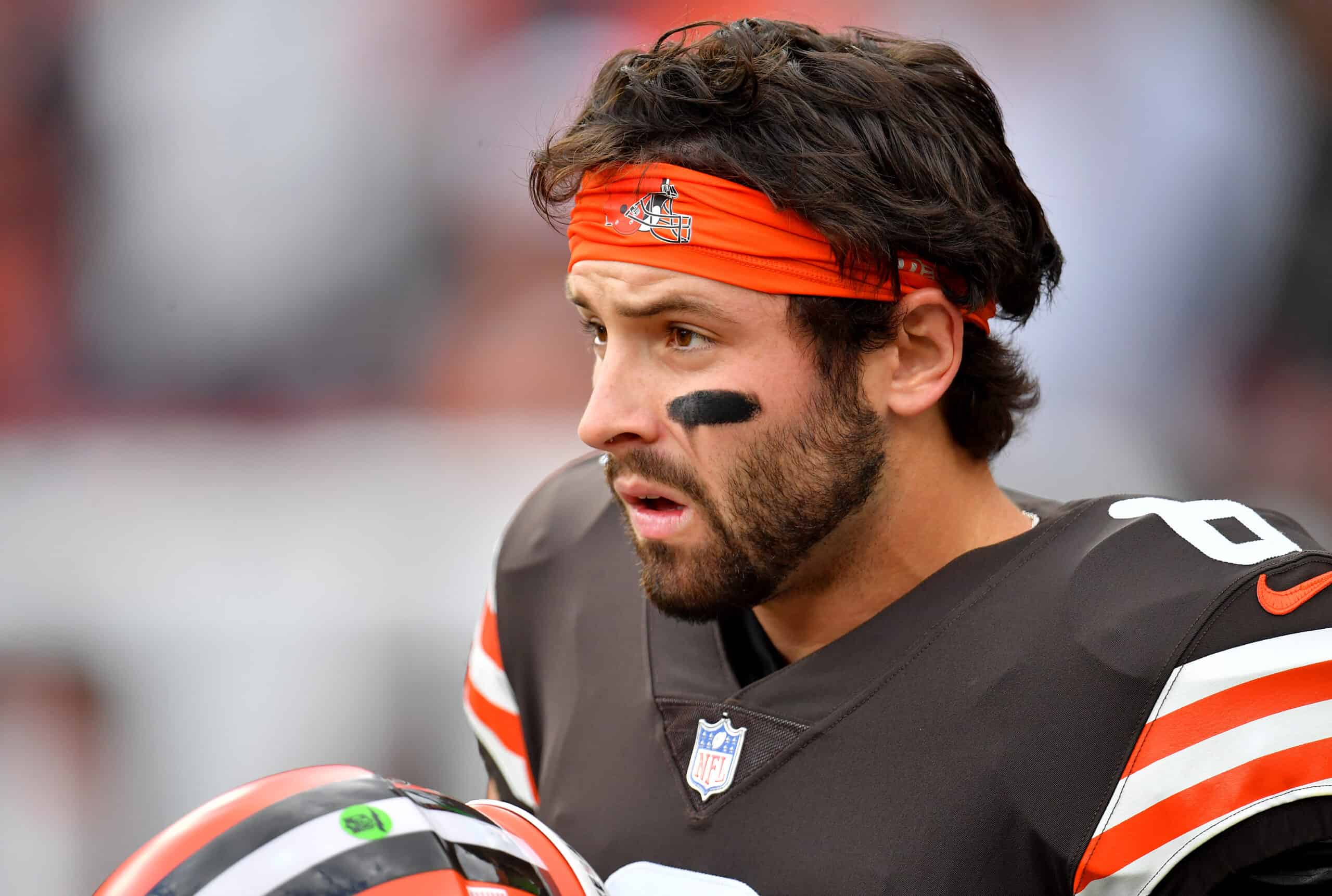 Cleveland Browns fans are all over the map when it comes to opinions on quarterback Baker Mayfield's future with the team.
The Browns have two options; they either stick with Mayfield or move on from him.
Check out my TikTok that talks about why Mayfield should be the Browns QB1 in 2022.
In no particular order, here are three reasons to ride with #6 this season.
1. Knows The Offense
The talk of Mayfield's first three years in the NFL was the lack of stability he had.
There were four coaches in three seasons so there were many offenses for Mayfield to learn.
In 2020, Mayfield clicked with Stefanski's offense, and he had a great season.
Mayfield was not able to capitalize on that in 2021 for a variety of reasons, but knowing the offense is a big step forward in preparing for the upcoming season.
2. See If He Plays Like 2020 
Mayfield threw no interceptions in November 2020.
He was one of two NFL quarterbacks to accomplish that feat.
The other was Deshaun Watson.
The accuracy and zip were there in 2020.
The Browns need to know which is the closest to the true Mayfield.
Is it the 2020 Mayfield or the 2021 Mayfield?
#Browns Baker Mayfield's year-by-year base YPA rankings since 2018:

2018: 10th
2019: 17th
2020: 8th
2021: 17th
AVG: 13th

This is QB production minus Interceptions and Yards After Catch (YAC.) pic.twitter.com/dPoXyBvy5X

— Browns Analytics Bot 🤖 ➐ (@Browns_Bot) February 18, 2022
3. Is Healthy (Hopefully)
Practically the only thing Browns fans can agree on is that Mayfield's injuries were detrimental to his performance and the team's success in 2021.
He was injured in Week 2 so arguably the team never really got into a groove.
Baker Mayfield is playing w/ a torn labrum and a fractured humerus bone. He acknowledged last week that when he knows he's sacked, he's giving himself up instead of fighting. Well, he just did, but the pile still came and he just got up limping – and limped to the bench.

— Aditi Kinkhabwala (@AKinkhabwala) November 7, 2021
His injuries compounded as the season wore on, and though he hurt the non-throwing shoulder, it did appear to affect his motion and velocity.
Here is my problem with Baker Mayfield. He had a nice rookie showing only to really disappoint in 2019. He came back in 2020 and had a very good 2nd half of the season but then played like crap (much due to injury) in 2021. We don't have alot to go on with this guy.

— William MD 🇺🇸 (@MiloD07) February 19, 2022
Disclaimers If The Browns Stick With Mayfield
If the Browns stick with Mayfield, they need to apply the lessons learned from a painful 2021 season.
1. Call The Right Passing Plays
Playcalling is important in 2022.
Bring back Mayfield but call smart games that suit his skills.
He is comfortable rolling out and does not like standing in the pocket.
Design and call plays that work; it won't require much research.
Look at the 2020 game tapes.
Baker Mayfield is obviously playing poorly but Kevin Stefanski deserves plenty of the blame for the Browns' offense, too. That was an ugly half of playcalling.

— Michael David Smith (@MichaelDavSmith) January 4, 2022
2. Run The Ball
This is related to the playcalling note above.
There were times in 2021 when the Browns seem to veer away from the running game.
While Kareem Hunt's extended absence took its toll on the offense, there were times when it defied logic why Nick Chubb was standing on the sidelines.
The @Browns OL must hate the offense staff. Why in the hell would you throw the ball 36 times when you have one of the most dominant run games in the league. The play calling in the final few drives was hot garbage. #Browns

— Sam Mayes (@AllmericanMayes) December 26, 2021
3. Be Prepared To Bench Him If Necessary
There also should be an off-ramp during the season if things are not going well with Mayfield.
That means the Browns should not hesitate to bench Mayfield if his performance or health dictates it to be an appropriate move.
They could have utilized Case Keenum much earlier and more frequently in 2021, but for unknown reasons, they opted not to do so.
Everyone was certain going into 2021 that Mayfield was going to have a huge year and earn the big contract.
In 2022, no one fully knows what to expect from Mayfield; will he more closely resemble his 2020 or 2021 self?
Time will tell.