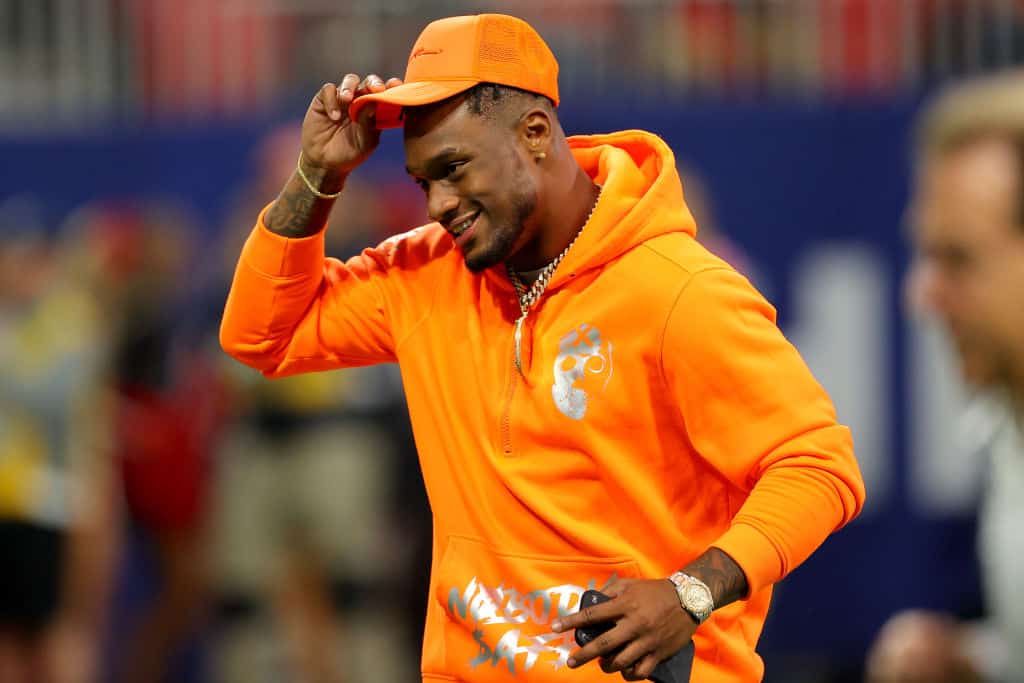 The Cleveland Browns drafted linebacker Mack Wilson in the fifth round of the 2019 NFL Draft.
Wilson enters his fourth season and his final one on his rookie contract.
There is a real possibility he may not be on the Browns roster when the 2022 season begins.
In reality, that was also true in 2021 as they were open to trading him then.
The #Browns have taken trade calls on LB Mack Wilson, according to @AlbertBreer

— Brad Stainbrook (@StainbrookNFL) August 31, 2021
Now, more than ever might be the right time to part ways with Wilson, and here are three reasons why.
1. His Contract Has Minimal Dead Cap Dollars For 2022
Wilson's dead cap dollars amount to $77,201 for the 2022 season.
That is practically pennies in the scheme of things with the salary cap.
This means the Browns have plenty of options because of the minimal impact.
2. Wilson Is Competing Against Other Young Browns LBs
The Browns have plenty of young linebackers.
Last year's rookie and star Jeremiah Owusu-Koramoah will be back.
Good morning my Cleveland Browns family!! Today is a great day to remind Browns fans that Andrew Berry stole Jeremiah Owusu-Koramoah in the 2021 NFL Draft !!
And I don't know about you guys but I can't wait to see who he steals this year !!#Browns #brownstwitter#NFLDraft2022 pic.twitter.com/hNoRfuIgpl

— The_Brownie_Elf (@TheBrownieElf1) March 6, 2022
In addition, the Browns have Jacob Phillips, and Sione Takitaki as well as second-year player Tony Fields II.
The other notable linebackers on the 2021 Browns depth chart are Super Bowl MVP Malcolm Smith and Anthony Walker, both are free agents.
3. His Playing Time Continues To Decrease
Wilson's playing time was maximized his rookie season.
Since then, it has steadily decreased because of injuries and moving down the depth chart.
He played 88% of the defensive snaps in his rookie year, 43% in his second season, and just 21% this past season.
At one point last season at training camp, there was a question of whether he would make the 53 man roster.
JOK's emergence, the signing of Walker in 2021, and a healthy Jacob Phillips who returned from a preseason torn biceps tendon in December 2021 are all reasons why Wilson has been relegated to a lesser role.
Wilson's Social Media Usage Sparked Controversy
He was quick to defend Odell Beckham Jr. after the Rams Super Bowl victory which did not endear him with Browns fans.
Wilson clearly was in OBJ's corner and defended the type of teammate and person he is.
To anyone who disagreed with him, he concluded by writing:
"So please shut up!"
For some people to be saying OBJ doesn't deserve it y'all are insane. But also I understand it's the people on the outside looking in that doesn't know what type of teammate he is, what he meant to us as a team, & also what type of guy he was off the field. So please shut up!

— Mack Wilson Sr. (@5mackwilson1) February 14, 2022
Wilson evidently believes he may not be with the Browns in 2022.
He recently removed all references of the team from his social media accounts.
#Browns LB Mack Wilson has scrubbed his social media of Brown's content

— MoreForYouCleveland (@MoreForYou_CLE) March 3, 2022
Then, there was the post that could be interpreted in many ways.
"Stuck to the script through thick and thin. It's time to get on my bully."
Stuck to the script through thick and thin. It's time to get on my bully! pic.twitter.com/TwI8OwPeNo

— Mack Wilson Sr. (@5mackwilson1) March 3, 2022
Conclusion
We can now add Mack Wilson to this departure list #browns https://t.co/IMS0Djf0b8

— l RG l SGT_ArbysSauce (@SGT_ArbysSauce) March 3, 2022
In addition to arguments against keeping Wilson, there are reasons to keep him on the Browns roster in 2022.
He has been available when injuries plagued the other linebackers; Wilson also is a special teams player.
His salary and cap impact are minimal, and he is in the final year of his contract.
In reality, there won't be too much surprise whichever way the Browns choose to handle the Wilson situation.