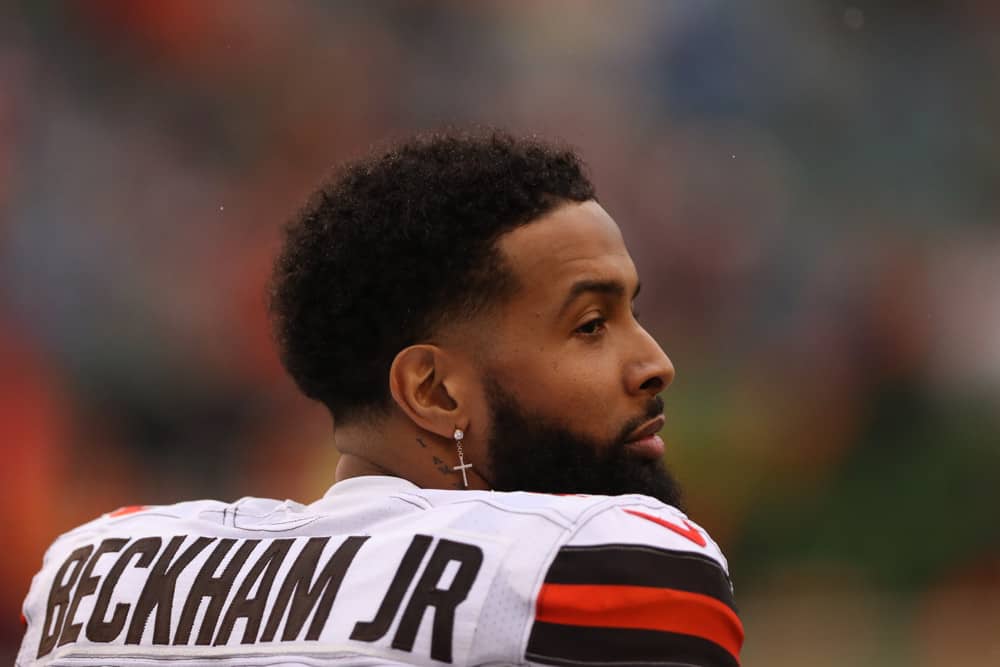 The circus of torture that is the Cleveland Browns continues to take unexpected twists.
Fans seemed to finally be coming around to the thought of Kevin Stefanski as head coach after "missing" on Josh McDaniels.
Now, Odell Beckham Jr. finds himself in the headlines in Antonio Brown-like fashion.
The star receiver watched his LSU Tigers claim a National Championship after knocking off the Clemson Tigers, then proceeded to get an arrest warrant put out for himself shortly after.
The New Orleans police have issued a simple battery warrant for Odell Beckham Jr. after slapping an officer on the butt.

(via @MusikFan4Life) pic.twitter.com/u6GftrzMJ1

— Yahoo Sports (@YahooSports) January 16, 2020
In the video above, a New Orleans police officer is seen talking with LSU senior offensive guard Damien Lewis in the locker room with Odell lurking in the background.
Prior to the locker room, Beckham was seen giving handshakes to various LSU players with wads of cash in his hands that were given to those players via the handshakes.
Once in the locker room, many Tigers began to smoke celebration cigars after the win.
According to al.com, authorities came into the locker room and told the players that smoking these cigars was not allowed.
In addition, they stated that any players smoking cigars would be subject to arrest.
Going back to the video, it's clear Odell was not really a fan of the cops raining on the Tigers (and his) parade.
In what I suppose would be a mocking gesture, Beckham proceeds to slap the officer talking to Lewis on his rear and has words for him afterwards.
The video went viral and many had a good laugh about the matter. New Orleans authorities, however, are not smiling.
According to nola.com, police tried to indict Beckham on misdemeanor sexual battery charges.
This was declined by a judge, but charges of simple battery were approved shortly after.
The two charges carry significant differences in punishment.
Both charges could mean up to six months of prison time as well as a fine, the difference is whether you can be expunged or not.
For misdemeanor sexual battery, first-time offenders cannot be expunged even if they are first time offenders.
First time offenders can, however, be expunged on simple battery charges.
The Browns are aware of the situation.
The team released a statement earlier today on the matter.
Statement regarding Odell Beckham Jr. incident: pic.twitter.com/7cN3jOLCj6

— Cleveland Browns (@Browns) January 16, 2020
Having not just one, but two controversial incidents occur after the title game is not exactly a great look for Odell.
With all the recent disputes over NCAA athletes and earning money taking place, handing out loads of cash to players is not exactly bright.
It's easy to see that he has support for those players, but he could end up hurting them in the long run.
Some of the players he gave money to may be back next season and could be in serious trouble with the NCAA.
Junior receiver Jontre Kirklin, who has not declared for the 2020 NFL draft and is seen as a 2021 prospect, is seen in this video getting a handshake from Odell.
Odell Beckham Jr. being investigated by the NCAA for allegedly giving LSU players cash after the #CFBNationalChampionship pic.twitter.com/T6AMhsjzH6

— Trap Game Sports Podcast (@TrapGameSports) January 16, 2020
It's no secret that the NCAA does not take these matters lightly.
Not only has Odell hurt himself by smacking the buttocks of a cop and getting an arrest warrant issued for himself, but he has also potentially hurt some college athletes in the process.