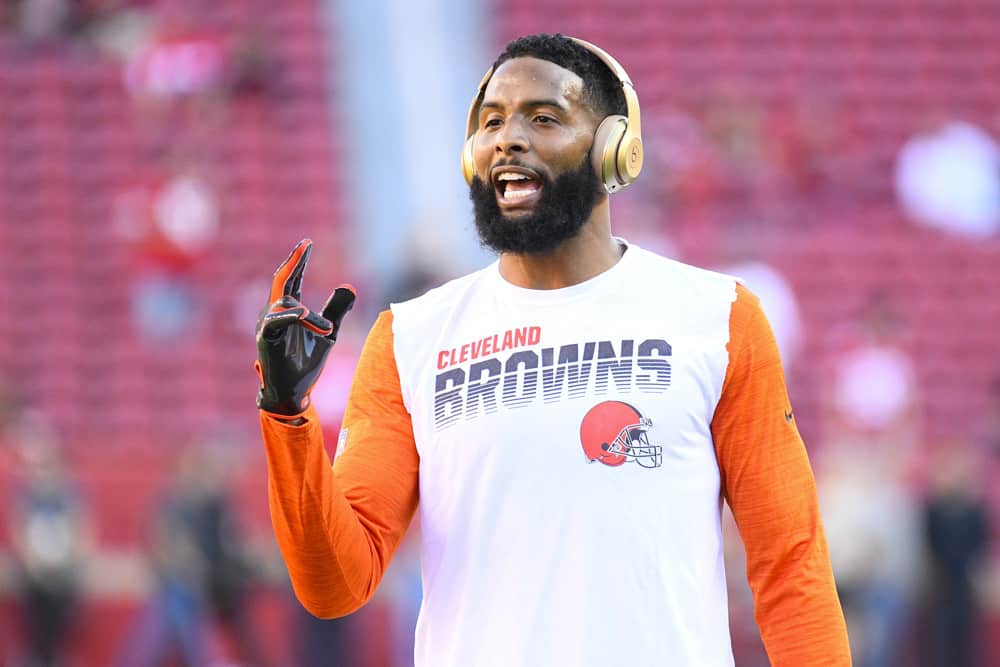 NEW ORLEANS — A video has surfaced of former LSU star and current Cleveland Browns wide receiver Odell Beckham Jr. handing out cash to Tigers players after his alma mater beat Clemson in Monday night's national championship game.
LSU associate athletic director for external communications Robert Munson told USA Today the bills weren't real.
"The bills were fake bills," Munson told the publication. "It was a joke."
OBJ qui distribue les billets à tout-va après la victoire de LSU… vous en pensez quoi ? @TDActu #NationalChampionship pic.twitter.com/RQH6zZA16G

— MorganLagreeTBP (@MorganLagreeTBP) January 14, 2020
Leave it to Beckham to stir up drama, bringing wads of supposedly fake dollar bills to New Orleans for the game.
The video shows Beckham handing out the cash — real or not — to junior wide receivers Justin Jefferson and Jontre Kirklin.
It's against NCAA rules for student-athletes to accept money before turning pro.
Before the championship game, Beckham had already sent every LSU player a pair of Beats Studio 3 wireless headphones, which was cleared by the NCAA.
Postseason rules permit student-athletes to receive gifts up to $550 in value for competing in bowl games "from the management of the event or from the participating member institution."
.@obj sent the @LSUfootball Tigers new Beats headphones — with a message. pic.twitter.com/bEs5PJcPJd

— Marty Smith (@MartySmithESPN) January 9, 2020
Jefferson could turn pro and forego his senior season after catching nine passes for 106 yards against Clemson.
Kirklin made a tackle on Monday night, but he is likely to return to LSU after hauling in two receptions total for the 2019 season.
Neither player has declared for the 2020 NFL Draft.
There are endless questions about Beckham's sophomoric behavior:
Weren't the headphones enough?
How did Beckham think the public would perceive videos of him deliberately handing money to the players?
If the bills are fake, where does Beckham get them?
Does he bring the bills through TSA at the airport?
What is the NCAA doing to investigate even despite LSU's claims that the money was fake?
Also, we're just going to trust Munson's claim that the money was fake?
LSU claimed there were novelty bills found on the field after the game.
Apparently, the school is looking into whether they're the same bills Beckham was handing out.
If the money is fake, it's downright strange that Beckham carries it around with him.
Beckham's shenanigans didn't stop there.
Other videos showed OBJ dancing with LSU players in the locker room, and claiming he would sell Jefferson's cleats for $200,000.
Oddly enough, Dallas Cowboys running back Ezekiel Elliott was also in the locker room.
At least Beckham attended LSU and is from the New Orleans area.
The video shows Elliott standing by himself, taking in the celebration.
.@obj says he's selling Justin Jefferson's cleats for $200,000 😂 pic.twitter.com/h1w1lL4JDj

— B/R Kicks (@brkicks) January 14, 2020
Get The Nat pic.twitter.com/1udC79q6cc

— LSU Football (@LSUfootball) January 14, 2020
Beckham is 27 years old and has been out of college for six years, which is twice the amount of time he spent at LSU.
OBJ's last season in Baton Rouge was 2013, which means not a single LSU player on the current roster was one of his college teammates.
It's a shame Beckham didn't take after his supposed best friend, former college teammate and current Browns teammate Jarvis Landry, who said after the game he was proud of his alma mater.
Landry acted how you would expect a proud alum of a prestigious university to behave: with class.
"I'm telling everybody I talk to I need a ring too," Landry told WAFB sports reporter Jacques Doucet. "I need a ring too because we [were] in here and we didn't get it done, and these guys got it done for us."
Landry was referring to LSU's 21-0 loss to Alabama in the 2012 BCS National Championship Game.
Both Landry and Beckham were freshmen at the time.
Jarvis Landry on what it means for LSU to win a title: "This one is special for everybody that played in 2011. We needed this." pic.twitter.com/RWyiVejmAC

— Chris Hummer (@chris_hummer) January 14, 2020
"My spirit was still in here and they brought it back to life for me."#LSU great Jarvis Landry says the Tigers' national championship help to heal him from 2011.

"These guys got it done for us." pic.twitter.com/uJwK4HCmln

— Jacques Doucet (@JacquesDoucet) January 14, 2020
Fellas, here's a thought: Why not try to go after a Super Bowl ring in the NFL?
It starts with the Browns ending the second-longest active playoff drought in the North American professional sports.
The Browns last made the playoffs in 2002.
Beckham should know at this point in his life to let the current LSU players — most of which are in their late teens to early 20s — enjoy the merits of their championship season.
Let them have their moment.