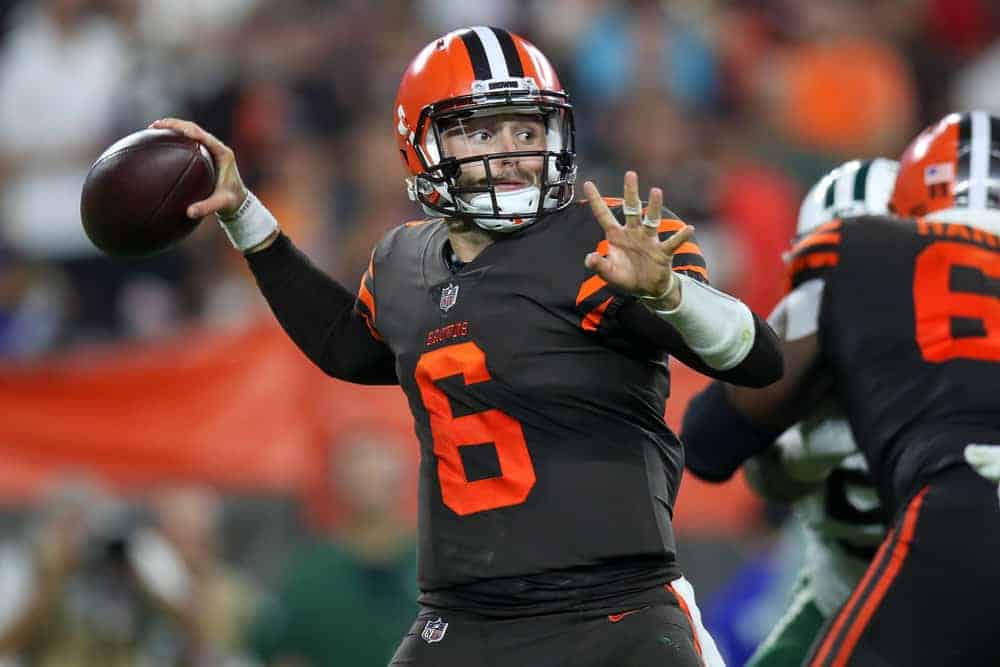 Sunday
This Sunday against the Seattle Seahawks, Baker Mayfield left the field with a hip injury. His absence was brief, and he returned before the offense took the field again, missing zero snaps.
During the post-game press conference, Mayfield admitted that his hip is "tender," but added his injury is "not an excuse" for his poor performance late in the game.
Freddie Kitchens assured reporters that Mayfield is "tough" both mentally and physically. He added that his hip "is fine," and that he shouldn't miss practice.
Tuesday
On Tuesday, Mayfield warmed up with the team, slowly stretching, but did not take reps. He stood on the sidelines and talked with Kitchens.
#Browns Baker Mayfield is on the practice field but not practicing as he talks with Freddie Kitchens. Mayfield injured his hip against the Seahawks. pic.twitter.com/U268hqG4rZ

— Fred Greetham (@FredGreetham) October 15, 2019
When Kitchens was questioned about Mayfield's status at practice on Tuesday, he reaffirmed that his tests came back negative, and his absence was simply a break for his body.
#Browns Freddie Kitchens said he was just giving Baker Mayfield (hip) a break from practice today, trying to get his body back. Said everything was clear the other day as far as tests

— Mary Kay Cabot (@MaryKayCabot) October 15, 2019
He also guaranteed that Mayfield will play against the New England Patriots in two weeks.
It is likely that Mayfield's limitations are precautionary measures being taken by the Browns' training staff. However, his poor accuracy of recent is enough to raise concern.
If Mayfield is injured significantly enough to impact his performance on the field, time off could be in the best interest of the team.
NFL veteran Garrett Gilbert took first-team reps on Tuesday, and if Mayfield misses any significant time, he is next in line to take the helm.
Garrett Gilbert to @JaelenStrong for 6️⃣!#CLEvsIND pic.twitter.com/yhJJJ3zJYf

— Cleveland Browns (@Browns) August 17, 2019
The 28-year-old from Buffalo, New York started his collegiate career at Texas, but transferred to SMU.
He was drafted in the sixth round in 2014, playing for the St. Louis Rams, New England Patriots, Detroit Lions, Oakland Raiders, Carolina Panthers, and even the Alliance of American Football's Orlando Apollos.
Eric Dungey, currently on the Browns' practice squad, could see a promotion if Mayfield's injury turns more serious. Dungey graduated from Syracuse in 2018.
He would backup Gilbert.
Wednesday
Baker Mayfield did not suit up for practice on Wednesday. He is still nursing a hip injury that he sustained during Sunday's game against the Seattle Seahawks.
#Browns Baker Mayfield (hip) still in a ballcap during practice today, but coaching up some of the younger guys pic.twitter.com/Hyzf2sIPPG

— Mary Kay Cabot (@MaryKayCabot) October 16, 2019
There is no cause for concern just yet, as the Browns are on a bye week.
While his body heals, he is coaching some of the younger WRs on the team. Even so, after a poor start to the season, he needs all the first-team reps he can handle before the Patriots matchup in two weeks.
This article will be updated as the week progresses.