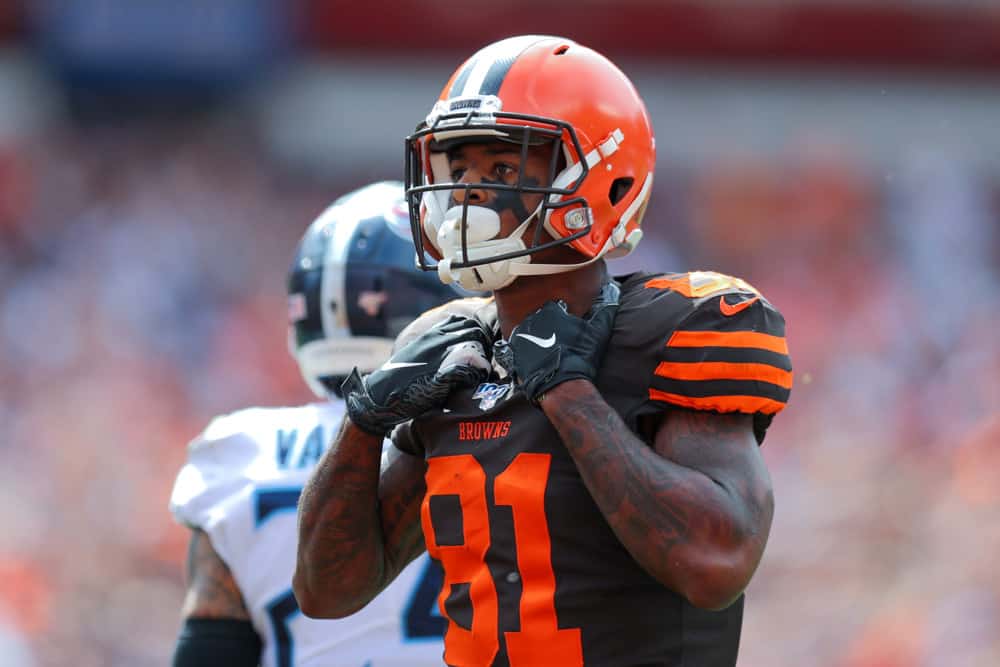 What's Hollywood without the drama?
Rashard Higgins, the Browns wideout known as "Hollywood", has had plenty of drama attached to his name this offseason.
As an unrestricted free agent, Higgins has been evaluating his value in the market.
NFL reporter Josina Anderson now claims Higgins continues to weigh his options while Cleveland has no intentions on moving from their stance financially.
My understanding, as of very early this morning, is that #Browns WR Rashard Higgins was still allowing his market to unfold, while Cleveland is staying pretty firm on what they're offering. They appreciate what he brings. Aware of his connection with Mayfield too. We'll see.

— IG: JosinaAnderson (@JosinaAnderson) March 16, 2021
What is His Value?
Conversations surrounding Higgins have been some of the most entertaining the Browns fanbase has provided this offseason.
With Odell Beckham Jr. and Jarvis Landry already on the roster, some question the necessity to retain Higgins.
Others, who would emphasize his connection with Mayfield and improvement from 2019 to 2020, would like to see him stick around.
The "fan favoritism" is evident in the results of this poll from the Ken Carman Show with Anthony Lima on 92.3 The Fan in Cleveland.
Of course, this all depends on what Higgins' value on the free agency market is.
So far, it seems like it's not great.
That doesn't have anything to do with him individually though.
Just spoke to a free agent wide receiver to find out what's going on with all the receivers still unsigned. He said "the WR market is really bad right now"

— Dianna Russini (@diannaESPN) March 16, 2021
Receivers are simply not getting the huge deals this offseason that some thought they might.
Is there an exact reason for that?
It's hard to say.
Perhaps teams across the board just have more pressing issues.
The reduced salary cap has controlled the "splurging" that some teams may have intended to do.
Except for New England I suppose.
Regardless, if the Browns hope to keep Higgins, that works out in their favor.
Hopes of retaining a player can be dashed by another team just throwing cash at that player until they agree to sign.
The longer the receiver-signings remain quiet, the less likely it is for that big pay day for Higgins to come from elsewhere.

Number Three Receiver
No matter how you slice it, Higgins isn't surpassing Beckham Jr. or Landry on the depth chart.
That leaves him number three at best.
As far as third wideouts go, Higgins is one of the best in the league.
His production and connection with his quarterback are tangibles some teams don't even have from their top guys.
Still, his situation in Cleveland is what it is.
While the Browns do currently have room to spend, that won't be the case forever.
The contracts of Landry, Nick Chubb, Baker Mayfield, and others all expire within the next two seasons.
While keeping Higgins would be nice, there are other needs this team will need to maintain.
It's somewhat comparable to the Steelers situation with Juju Smith-Schuster.
The Browns have A LOT more cap space, but Pittsburgh also has two other very reliable receivers on the depth chart in Diontae Johnson and Chase Claypool.
Would the Steelers like to keep Juju?
Of course.
He's a fan favorite there and plays hard.
But, they have more pressing needs than living luxuriously at receiver and, as mentioned, a tighter financial situation.
The Browns aren't in that same money squeeze yet, but they will quickly find themselves there in the coming years.
The last thing they need is a bad contract for Higgins sitting there, staring Andrew Berry in the face the whole time as he tries to finesse deals for Mayfield, Chubb, and others.
But, if the price is right, and Higgins isn't handed insane money from another team, the Browns will happily welcome him back.
The #Browns seem content to let the Rashad Higgins situation play out. They'll let him hit the open market and if a team really wants to pay him, I'm sure he'll take that deal for money that will change his life. He's only made more than $910,000 ONE time in his 6 years here.

— clebrownsnetwork (@clebrownsntwork) March 14, 2021