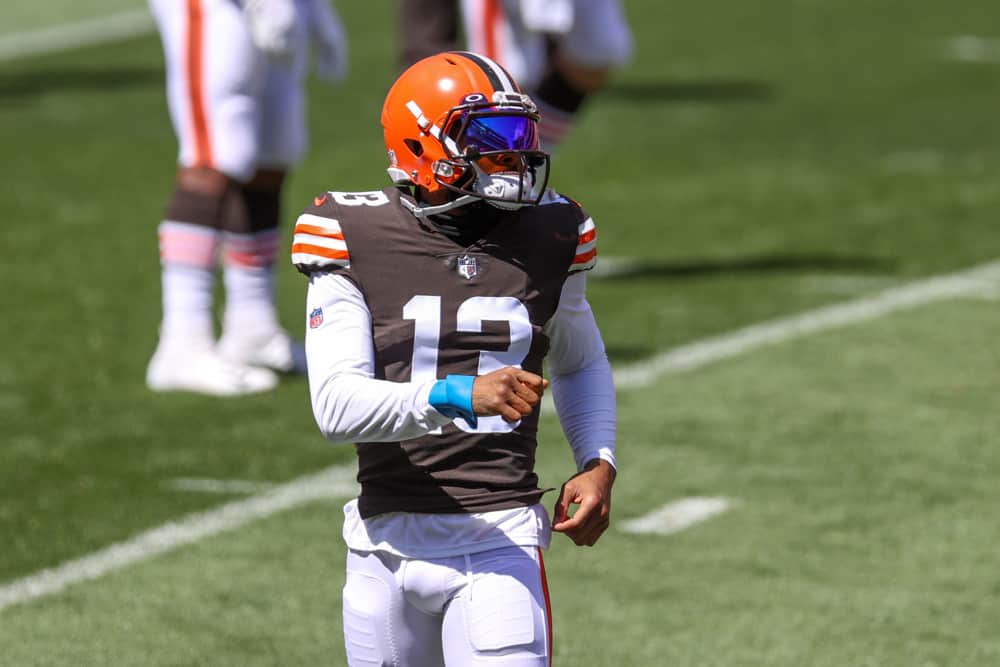 According to NFL Insider Adam Schefter, the Cleveland Browns have no intentions of trading three-time Pro Bowl wide receiver Odell Beckham Jr.
Source: Cleveland Browns have no plans to trade Odell Beckham Jr. And they were and are adamant about it.https://t.co/hf3rL3G1CU

— Adam Schefter (@AdamSchefter) September 20, 2020

There was some speculation that the star receiver was on the trade block after his poor performance during the season opener.
However, Beckham shined during the Thursday night victory over the Cincinnati Bengals during Week 2.
On Thursday, Beckham hauled in four receptions for 74 yards, including a 43-yard touchdown.
"I thought we made the most of our playmakers' abilities," said quarterback Baker Mayfield.
It certainly seems that the Browns plan on keeping Beckham, but is that a good idea?
Beckham's Struggles In Cleveland
The Browns gave up quite a lot in order to acquire Beckham last offseason.
The team was hopeful that Beckham could be their superstar receiver of the future.
Sadly, that hasn't been the case, but Thursday's performance gives hope that Beckham can turn it around.
Last season, Beckham finished with 74 receptions, 1,035 receiving yards, and four touchdowns.
On paper, those are fairly decent numbers, but Beckham is expected to do more than average.
Beckham was hindered by injuries last season, so maybe he does have a bit of an excuse.
However, he underwent surgery this offseason and it sounds like he is back to full health.
Browns' WR Odell Beckham Jr. underwent surgery Tuesday to repair a core muscle injury. The surgery was performed by Dr. Bill Meyers in Philadelphia, and a full recovery is expected.

— Adam Schefter (@AdamSchefter) January 21, 2020
The Browns need to find a way to get Beckham and Mayfield on the same page consistently.
Mayfield knows he has the talent around him, but struggles to remain consistent.
"I'm surrounded by talent. I want to get the ball in their hands," said Mayfield.
What happened on Thursday was promising, but we'll see if Beckham and Mayfield can continue to work well together next week.
Will Beckham Get Traded?
It doesn't sound like the Browns have any intentions of moving Beckham, but you never know in the NFL.
Beckham entered the 2020 season with four years remaining on his massive contract.
He is owed an average of $15 million per season from a deal he signed in 2018 with the New York Giants.
The Browns could have issues trying to find a trade partner, assuming they tried to move Beckham.
Many organizations don't have enough cap space to take on a guy like Beckham right now.
The 27-year-old receiver is no doubt one of the best in the league, but that doesn't guarantee a massive return.
Everyone around the league knows about Beckham's struggles in Cleveland.
His value isn't exactly skyrocketing while in Cleveland, which makes it harder to trade him.
Honestly, the Browns are better off keeping Beckham and seeing if he can develop chemistry with Mayfield.
Maybe, the organization takes another look at trading Beckham in the offseason if he has another mediocre season.
For now, the Browns have no plans of trading Beckham, so hopefully it stays that way.