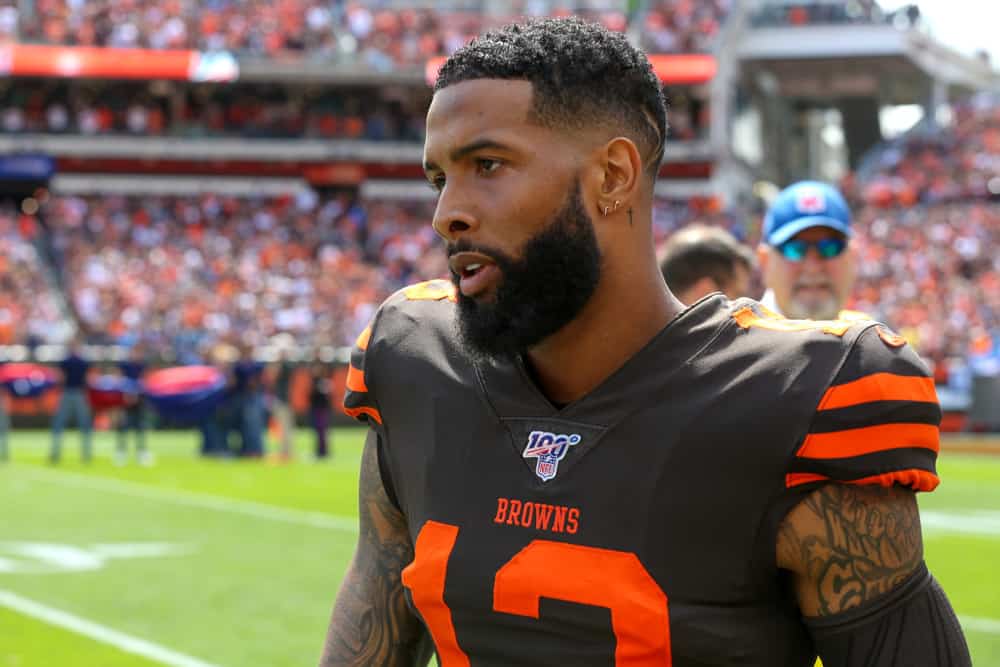 There has been some speculation that the Cleveland Browns could be interested in trading wide receiver Odell Beckham Jr.
Things didn't go as planned for the Browns in their season opener against the Baltimore Ravens.
In fact, quarterback Baker Mayfield and Beckham picked up right where they left off last season.
A complete disconnect, as Beckham only was able to haul in three of his 10 targets during Week 1.
"Obviously, Sunday wasn't what we wanted … but more game reps will be the way to go," Beckham said.
There were rumors that the Browns were considering trading Beckham due to his lack of productivity last season.
Those were quickly shot down by the team, but the speculation has risen again after a rough start to the 2020 campaign.
#Browns DePodesta says they're not exploring trading Odell Beckham Jr.

— Mary Kay Cabot (@MaryKayCabot) April 16, 2020
The Browns could get a nice return for the three-time Pro Bowl receiver.
But, it's not time to give up on Beckham succeeding in Cleveland just yet.
Why The Browns Shouldn't Trade Beckham
Finding a trade partner for Beckham might not be as easy as it sounds.
Beckham has a $14.25 million cap hit and most teams aren't willing to pay that.
Honestly, the Browns shouldn't consider trading Beckham, because he's not the problem.
They are asking a lot. I don't often defend Beckham, but he isn't the problem.

— Mike Francesa (@MikeFrancesa) September 15, 2020
He came into Cleveland with enormous expectations, but Beckham isn't in control of everything.
Mayfield heavily struggled under then-coach Freddie Kitchens last season.
He didn't look any better versus the Ravens, in fact he might've looked worse.
Mayfield connected on 21 of 39 passes for 189 yards with one touchdown and one interception in the loss to the Ravens.
It's difficult to say anyone did well on offense against the Ravens in the season opener.
The Browns weren't able to get Beckham involved until the second quarter, which just can't happen.
It's tough to put the blame on the star receiver when he's not getting the ball thrown his way until it's too late.
Honestly, Mayfield is a much bigger problem than Beckham at the moment.
Even with his struggles last season, Beckham is still a top 10 receiver in the league.
However, would anyone say that Mayfield is a top 15 quarterback in the NFL right now?
Hard to blame Beckham when he's playing in a new system with a quarterback who is heavily struggling to find consistency.
Trading Beckham would be a huge mistake, because he is not the issue.
Beckham's Struggles In Cleveland
The Browns gave up first and third-round picks and Jabrill Peppers in order to acquire Beckham.
He was expected to be the superstar receiver to help carry this offense, but that hasn't happened yet.
Last season, Beckham battled through injuries throughout the year, so there was a bit of an excuse for his lack of production.
However, Beckham underwent offseason surgery and appeared fully healthy during training camp.
Ok…now THIS is a camp video that I can get behind. This was highly impressive. OBJ doing OBJ things 🔥🔥🔥🔥 pic.twitter.com/Q0ap5D3jsE

— Ray G 🏁 (@RayGQue) August 21, 2020
That being said, the Browns expected big things from Beckham going into the 2020 season.
Sadly, Cleveland wasn't able to get the ball in his hands until the four minutes into the second quarter of Sunday's loss to the Ravens.
Beckham admitted that he likes to get involved early, but clearly the Browns were unable to do that.
Clearly, Beckham and Mayfield are not on the same page and it's hurting the Browns offense.
Beckham has 21 receptions for 296 yards and two touchdowns in seven games versus AFC North opponents.
Despite the Browns struggles versus the Ravens, Beckham has tried to remain positive about the situation.
"You kind of just have to give your hats off to the Ravens. They came out there, they were the better team," said Beckham.