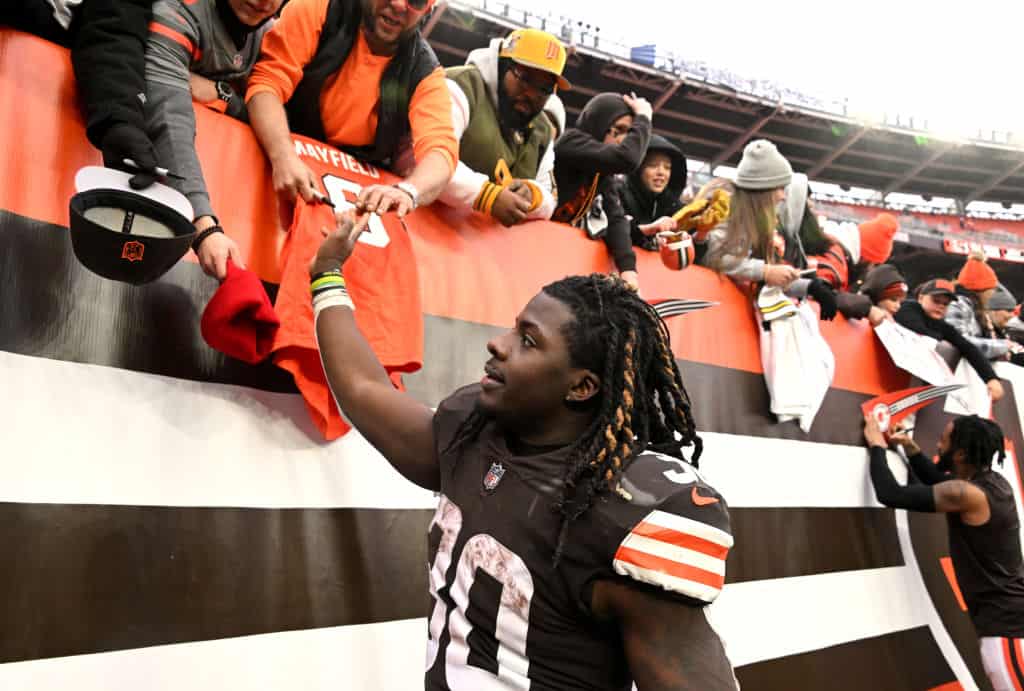 As we inch closer to March 16 and the beginning of free agency, the Cleveland Browns will need to make some decisions.
It appears the first one has occurred with a Friday morning report from Brad Stainbrook indicating that the team has informed running back D'Ernest Johnson that they plan to tender him.
The #Browns have informed RB D'Ernest Johnson they plan on tendering him, per source.

My story: https://t.co/BP0XjuwONo

— Brad Stainbrook (@StainbrookNFL) March 11, 2022
What Does This Mean?
Johnson's circumstances are different from an unrestricted free agent like Jadeveon Clowney.
The Browns had to tender him by March 16 to make him a restricted free agent.
As a restricted free agent, Johnson can field offers from other teams.
Types of NFL free agents:
🏈 Unrestricted: Can sign with any team on the first day of free agency (Ex: Allen Robinson)
🏈 Restricted: Incumbent team can tender them & has right to match offers from other teams (Ex: JC Jackson)
🏈 Street: Eligible to sign right now (Ex: JJ Watt)

— Field Yates (@FieldYates) February 15, 2021
The key difference is that the Browns can match the highest offer and keep him on the Browns roster.
The Browns have the final say on whether Johnson stays with the team.
Johnson Was Key In 2021
Johnson had his breakout season performing well in games as both Nick Chubb and Kareem Hunt dealt with injuries.
He got his first NFL start against the Denver Broncos and carried the team on his back to victory.
Considering Johnson was fishing in Florida just a few years ago trying to get an NFL tryout, his journey and career as an NFL player came full circle in 2021.
There was speculation that Johnson would join another team given Chubb and Hunt were healthy for 2022 and with second-year player Demetric Felton presumably getting more rushes in 2022.
Of course, with his RFA status, that is still possible, but the Browns obviously value him enough to have an opportunity to retain him depending on how things go.
Johnson gained 534 yards and scored two touchdowns during the season.
"Slow Grind" Became A Fan Favorite
Fans embraced Johnson whose nickname is "Slow Grind".
D'Ernest Johnson had a breakout performance in primetime, but how does he spend his time off the field?

Watch regional Emmy Award winning series 'Building The Browns' 11/12 on YouTube. pic.twitter.com/dDavD6WRT7

— Cleveland Browns (@Browns) November 10, 2021
He was featured on Episode 10 of the 2021 season of Building the Browns appropriately titled "Trust the Process."
Johnson also appeared on the Today show recently talking about perseverance.
He exemplifies perseverance, and we look forward to seeing what happens with his career in 2022 and beyond.