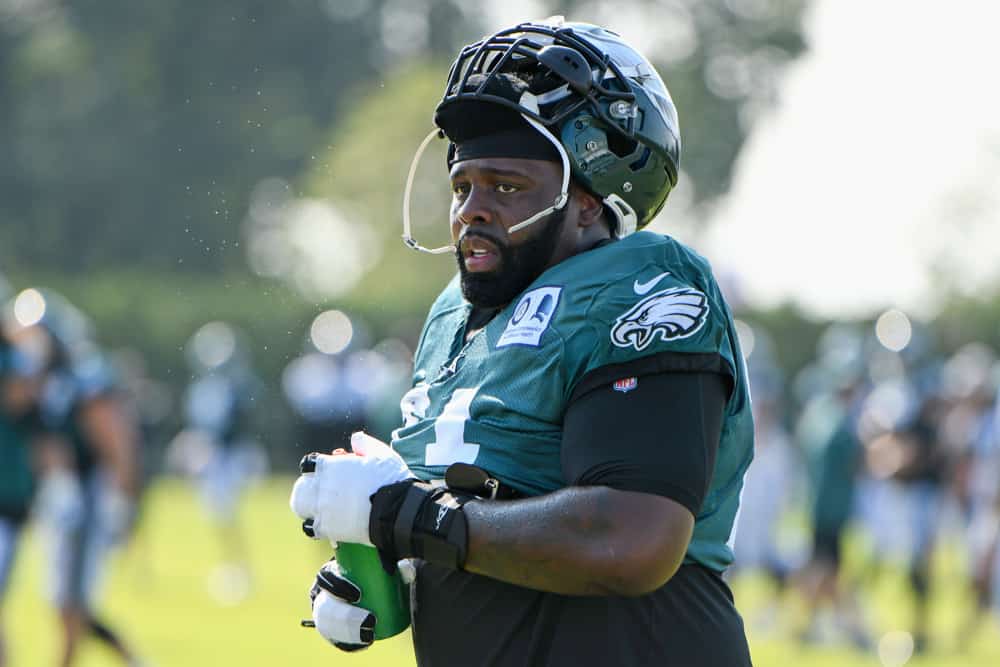 A new report says potential future Hall of Fame offensive tackle Jason Peters could be an option for the Cleveland Browns.
NFL Network's Mike Garafolo and James Palmer lists the Browns as one of four teams "lurking" for the former Eagles OT.
From NFL Now on @nflnetwork: 38-year-old Jason Peters has recently told friends if Tom Brady can play into his 40s, so can he. The #Eagles have remained in contact with him as other teams (@JamesPalmerTV mentioned the #Browns, #Jets and #Broncos) lurk. pic.twitter.com/cxWq9qGmwI

— Mike Garafolo (@MikeGarafolo) May 12, 2020

Jason Peters has spent the last 11 seasons playing left tackle for the Philadelphia Eagles.
He's protected quarterbacks Donovan McNabb, Michael Vick, Nick Foles and Carson Wentz.
— Philadelphia Eagles (@Eagles) March 5, 2020
And despite entering his age 38 season, he's been durable.
Peters has started an average of 14 games per season in the last seven years.
Peters On The Browns?
The fascinating aspect of this report is the Browns appear set at offensive tackle.
Jedrick Wills Jr. was selected at #10 overall in last month's NFL Draft.
Wills is expected to play left tackle for the Browns after playing mostly right tackle at the University of Alabama.
Meanwhile, the Browns signed right tackle Jack Conklin from the Tennessee Titans this offseason to a 3-year, $42 million contract.
You don't pay that kind of money or use a first-round pick on players you don't expect to feature in the starting lineup.
This would indicate that signing Peters would mean Wills could begin his NFL career at the guard position.
That position is much more uncertain for the Browns with Wyatt Teller penciled in at right guard.
Teller allowed just one sack in nine starts for the Browns last season but his PFF grade was average.
Mentoring Jedrick Wills Jr.
A major plus for signing Peters would be his ability to mentor the Browns left tackle of the future, Wills.
Some Browns had Wills as their top OT available in the draft and most see him as having a career similar to that of Peters.
However Wills does not have significant experience at the LT position.
Peters has 184 pro starts there.
Nine-time Pro-Bowl OT Jason Peters, who turned 38 in January, has been working out to play this season and plans to play this season. He has spoken with the Eagles, but is keeping his options open: This is a video that Peters recently shot that he wants teams to see. pic.twitter.com/YnrWzZ44FD

— Adam Schefter (@AdamSchefter) May 8, 2020
It would stand to reason that it's Baker Mayfield who could be most positively impacted by a Peters signing.
It would bring instant credibility to the 2020 offensive line and help Wills apply Peters' teachings for a decade to come.
No Rush For Peters To Sign
Despite being ranked as PFF's 72nd best player in the NFL last season, Peters appears to be in no rush to choose his 2020 team.
NFL Network's Mike Garafolo reports:
"Nothing really happening right now…No one seems to be in a great rush. Peters doesn't seem to be in a great rush."
And there is no reason for the Browns to be in a rush either.
They have two starters they are confident in at the OT position.
And they have approximately $39 million in salary-cap space, according to Spotrac.
This stare-down between Peters and his suitors could linger well into the summer.