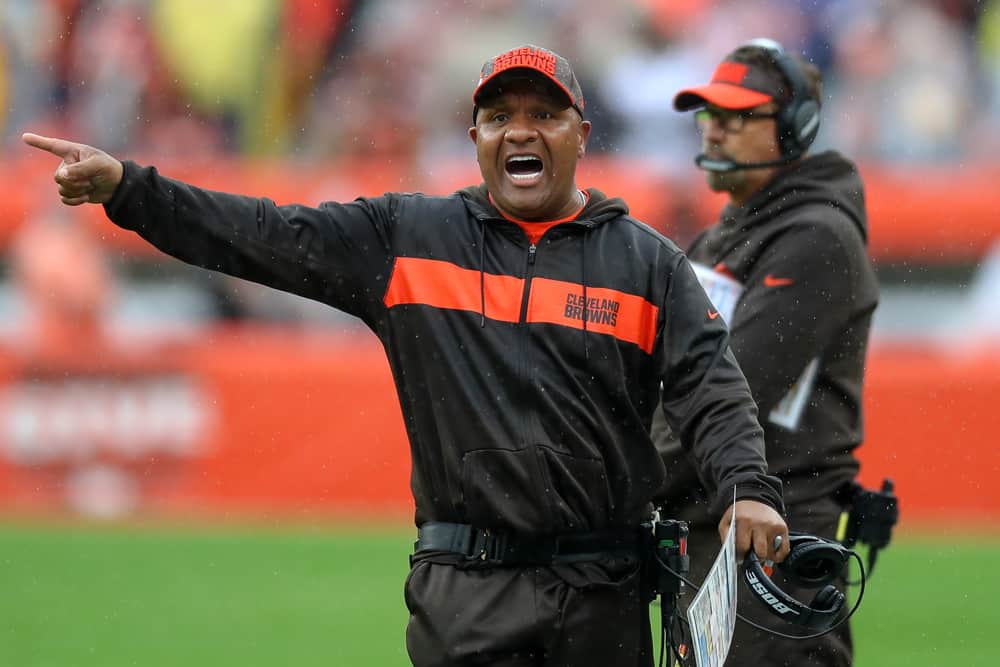 Remember the good old days when the offseason was somewhat quiet?
That does not appear to be what will transpire for the Cleveland Browns.
Former coach Hue Jackson is doing a lot of talking and says he has proof to back up what he is saying.
What Jackson Is Saying
Jackson claims that Browns owner Jimmy Haslam provided monetary incentives to him to lose games so that the Browns could get better draft picks.
Hue Jackson appears to suggest he was paid by owner Jimmy Haslam to lose games while coaching the Browns.

Jackson went 3-36-1 in three seasons. pic.twitter.com/FpyoNGinir

— B/R Gridiron (@brgridiron) February 2, 2022
Jackson is speaking up now in conjunction with former Miami Dolphins head coach Brian Flores
Flores is raising a similar allegation against the Dolphins as part of his lawsuit against the NFL.
He reportedly may join Flores' lawsuit and is planning to meet with Flores' attorneys.
I expect former #Browns coach Hue Jackson will get eventually join the class action lawsuit against the #NFL filed by former #Dolphins coach Brian Flores. https://t.co/4SVkI7FUai

— Charles Robinson (@CharlesRobinson) February 2, 2022
Jackson Says He Has Proof
Jackson asserts that he can "back up every word" he is saying.
Hue Jackson was also paid to tank games like Brian Flores alleges. https://t.co/MFikaEb1Bw

— ChuckModi (@ChuckModi1) February 2, 2022
That would imply he has proof.
To date, we do not know the extent or type of proof Jackson is claiming to have that could implicate Jimmy Haslam and the Browns organization.
The Browns Respond
The Browns responded to all of the Hue Jackson developments that have transpired over the past 24 hours by releasing a statement that read:
"The recent comments by Hue Jackson and his representatives relating to his tenure as our head coach are completely fabricated. Any accusation that any member of our organization was incentivized to deliberately lose games is categorically false."
The NFL Response To Flores
Flores is continuing to build his case against the NFL.
The NFL released a statement about the claims Flores is alleging.
The statement says the claims are "without merit."
What Happens Next
If this litigation proceeds like that of the Washington Football Team's sexual harassment suit, it will take significant time to resolve, and we may never fully know what happened.
Hopefully, the NFL will be more transparent to Flores who is putting his career and reputation on the line because he believes the issues he has dealt with are too important to overlook any longer.