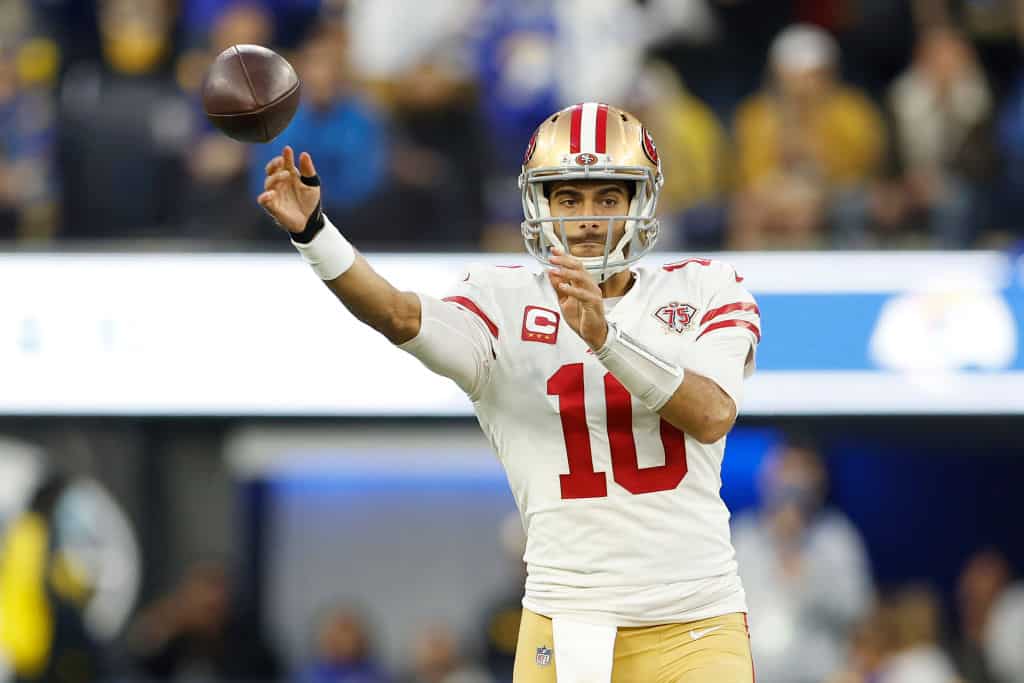 The Cleveland Browns head into the offseason with a big decision to make.
They need to decide whether or not Baker Mayfield is going to be their franchise quarterback.
The front office has publicly said they plan to stick with Mayfield.
However, things can quickly change and general manager Andrew Berry is committed to improving the team in any possible way.
That being said, the Browns could discuss bringing in veteran quarterback Jimmy Garoppolo this offseason.
Garoppolo Leaving San Francisco?
Honestly, this was inevitably going to happen with Garoppolo.
Last offseason, the 49ers traded three first-round picks in order to move into the No. 3 spot in the draft.
They used that spot to select North Dakota State quarterback Trey Lance.
Garoppolo remained the starting quarterback in 2021, but it was assumed Lance would gain control of the offense in 2022.
That appears to be correct as Garoppolo revealed on Tuesday his agent is working on a trade.
Jimmy Garoppolo said his reps and the #49ers are working together on finding a trade partner.

— Chris Biderman (@ChrisBiderman) February 1, 2022
It's a shame because the 30-year-old was so close to winning the NFL Championship game.
Sadly, his bid for a second Super Bowl appearance fell short in the final few minutes.
Now, the veteran quarterback is seeking a new home for the 2022 season.
Mayfield or Garoppolo?
It's not shocking to see the Browns considering other options at quarterback this offseason.
Mayfield struggled throughout most of the 2021 season, but was playing injured.
He recently underwent shoulder surgery, so hopefully his performance will improve once he's fully recovered.
However, Garoppolo was also playing injured and put together a much better season than Mayfield.
Although, it's uncertain if Garoppolo plans to get surgery this offseason.
Jimmy Garoppolo will see a specialist in the coming days on his thumb. He's hoping to avoid surgery this offseason.#49ers

— Keiana Martin (@KeianaMartinTV) February 1, 2022
The thumb issue is certainly something for the Browns to take into consideration when discussing a Garoppolo trade.
It's also worth noting that Garoppolo has more experience and success than Mayfield.
Garoppolo made it to a Super Bowl and also sat behind the great Tom Brady for multiple seasons.
On paper, Garoppolo would be an upgrade to the Browns offense.
Although, he would likely require an extension, assuming he gets traded to Cleveland.
Garoppolo is on the final year of his contract and is owed a base salary of $24.2 million for next season.
The Browns would need to commit to Garoppolo long-term or risk losing draft capital for one year of play.
It all depends on how much the Browns trust Mayfield to bounce back in 2022.
There's no harm in considering a Garoppolo trade and seeing what it would take to get him in Cleveland.
It could be a short trade discussion, but the Browns should keep all their options open this offseason.