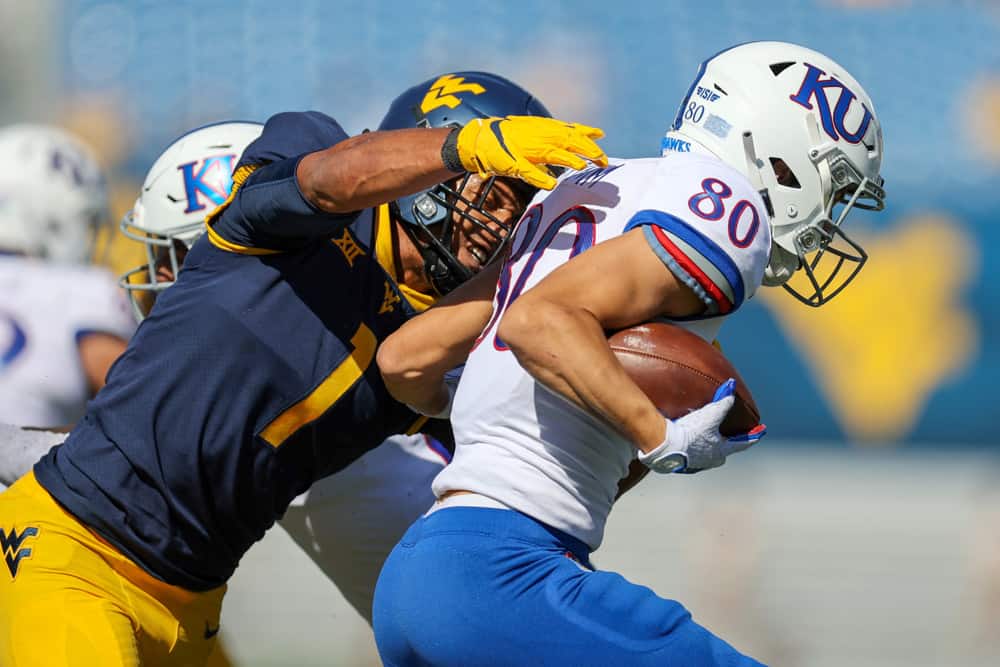 The start of NFL training camps is an exciting time.
Unfortunately for Cleveland Browns rookie Tony Fields II, his first training camp experience is off to a rough start.
On Wednesday, reports came in that Fields had suffered a foot injury and would be missing the start of training camp.
Stefanski said LB Tony Fields sidelined with another foot injury, different from one in minicamp.#Browns pic.twitter.com/QOWvs0o2vG

— Tom Withers (@twithersAP) July 28, 2021
Injuries are a part of the game and can happen any time.
If you're Fields (and the Browns), you're just hoping this does not become a consistent issue moving forward.
Delayed Development?
It's not being reported as a major, serious injury.
However, this foot issue for Fields could hurt his rookie season progression.
Getting rookies up to speed with the pace and physicality of the NFL game is just part of the development process.
Fields should be back on the field sooner than later.
Though he's missing some initial time to get his feet wet in an NFL setting.
One of the weaknesses listed on many of Field's draft profiles was his lack of size and struggles against larger blockers.
The Browns drafted Fields for a reason and clearly believe he will be able to adapt to the size of the NFL.
Again, however, missing those initial reps as a rookie can lead to a rude awakening when he finally does hit the turf.
His strengths revolve around his instincts which, in his days at West Virginia, were well above average.
Good gravy what a read by Tony Fields! pic.twitter.com/EQFQWM31v9

— Nick Price (@PriceCheck3) March 5, 2021
Injury Prone?
With two injuries already this summer, there will many that clamor that Fields is an injury-prone player.
Typically, that phrase gets applied when a player is consistently injuring the same part of the body.
In this instance, Fields injured the opposite foot of the one he hurt back in May that made him miss minicamp.
As mentioned, Fields is not the biggest linebacker by any stretch.
He may be outclassed physically in a lot of matchups.
Ideally, Fields will know how to avoid being mauled by left guards using his quickness and agility.
Don't let that lead you to thinking he won't get his nose in there to make tackles.
He was the team-leader in tackles in his final season with West Virginia.
Role For 2021
The linebackers were in need of help following last season.
Fields and fellow rookie Jeremiah Owusu-Koramoah will have ample opportunities to earn snaps.
JOK will be missing some time as well though as he remains on the COVID-19 list.
Fields was injured again during rookie on-field work this week. Browns also without LB Jeremiah Owusu-Koramoah, who remains on the reserve COVID-19 list. JOK in meetings virtually. Everyone else, including OBJ, will be on the field today

— Jake Trotter (@Jake_Trotter) July 28, 2021
Mack Wilson, Sione Takitaki, and Anthony Walker are the guys the rookies will be chasing for playing time.
Walker is new this season, and the other two are yet to amaze fans in their roles.
"It's not going to surprise anybody if he's able to get onto the field on defensive snaps and show what he can do because he can stay on the field in any situation," The Athletic NFL Draft Analyst Dane Brugler said via Browns.com. "When you can play in space and show you can blitz and have those instincts, that's what really plays at the next level, and I think those instincts are what sets him apart from linebacker rookies".