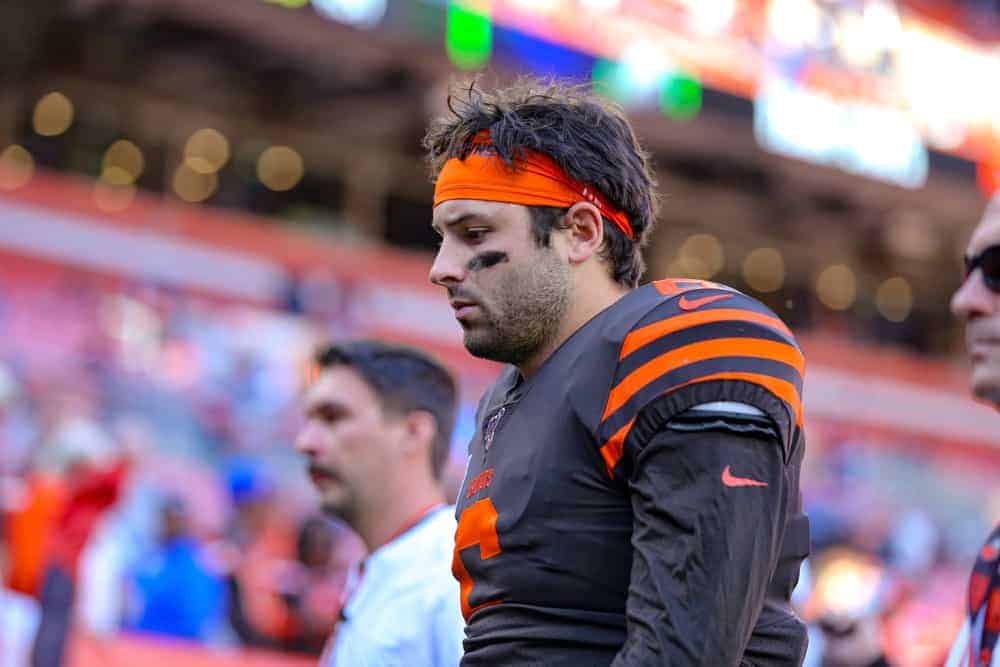 The saga of the Cleveland Browns and the messy divorce with quarterback Baker Mayfield continues.
Mary Kay Cabot of cleveland.com provides a detailed account of what transpired in the past few days between Mayfield's people and the Browns.
Baker Mayfield had no intentions of playing for the #Browns in 2022, which may have revived the Deshaun Watson trade. He was prepared to sit out offseason program, minicamp, training camp & more if that's what it took: Browns Insider https://t.co/awZQPVKQmu

— Mary Kay Cabot (@MaryKayCabot) March 20, 2022
Check out my TikTok which talks about how this situation is going from bad to worse at warped speed.
What We Know
The combination of the pursuit of Watson and the leaked comment believed to come from within the Browns organization to ESPN's Chris Mortensen about the Browns wanting an "adult" at quarterback did not sit well with Mayfield.
ESPN's Chris Mortensen says Baker Mayfield and the Browns are breaking up because the Browns want an "adult" at QB pic.twitter.com/cXPIOKNklr

— gifdsports (@gifdsports) March 16, 2022
If Mayfield's request for a trade did not result in moving him out of Cleveland, he was prepared to sit out the offseason program, possibly minicamp and longer.
Cabot writes about how the situation could have come to a head by the time July rolled around and training camp began.
"If they [Browns] hadn't caved by then, he probably would've held out of camp."
Browns Were Proceeding With Mayfield Until Watson Became An Option
The Browns were never planning to pursue Jimmy Garoppolo, according to Cabot.
They were focused on a top-tier quarterback which is what they believe Watson is.
The team believed a healthy Mayfield would be much better in 2022 and were prepared to proceed in that direction if no other option became available.
When they initially were notified by Watson that they were out of the running but learned Mayfield's position, they worked harder to land Watson.
Frustrated Mayfield
Cabot describes Mayfield as being frustrated during the season.
That was evident in some of the post-game press conferences.
He did not always agree with Coach Stefanski's play-calling and spoke of it at times.
"There's been a disconnect all season between Baker Mayfield and Kevin Stefanski in terms of playcalling." – via @MaryKayCabothttps://t.co/yDnSuf1n0ahttps://t.co/Hj9waNGYap

— Dov Kleiman (@NFL_DovKleiman) December 13, 2021
Knowing that Stefanski has already announced he would continue to call plays in 2022 could have contributed to his frustration leading into the season.
Trade Options
According to Cabot, the Seahawks want to go forward with Drew Lock and "are excited to start him".
Mayfield wants to go to the Colts, and the Colts know that which could make negotiations trickier for the Browns.
The Colts are also coming off an unsuccessful 2021 trade where they gave draft picks to the Philadelphia Eagles for Carson Wentz.
The Browns may have to pay part of Mayfield's salary to initiate the trade which is not uncommon as it happened for Teddy Bridgewater last season in a trade between the Panthers and Broncos where the Panthers sent Bridgewater to Denver but paid $17 million of his salary ($10 million guaranteed) and Denver paid only $3 million.
By signing Jacoby Brissett on Saturday as Watson's backup, the Browns will want to move Mayfield quickly for roster and salary cap purposes.
Hard To Believe
14 months removed from Mayfield leading the 2020 Browns to their first playoff win since 1994, it is difficult to believe how things soured so quickly between Mayfield and the Browns.
The decision to play through his injury that hindered him from Week 2 forward was definitely a bad one in hindsight.
It seems like this entire situation has been mishandled by all parties involved at some point.
As always, we will wait and see what happens next.