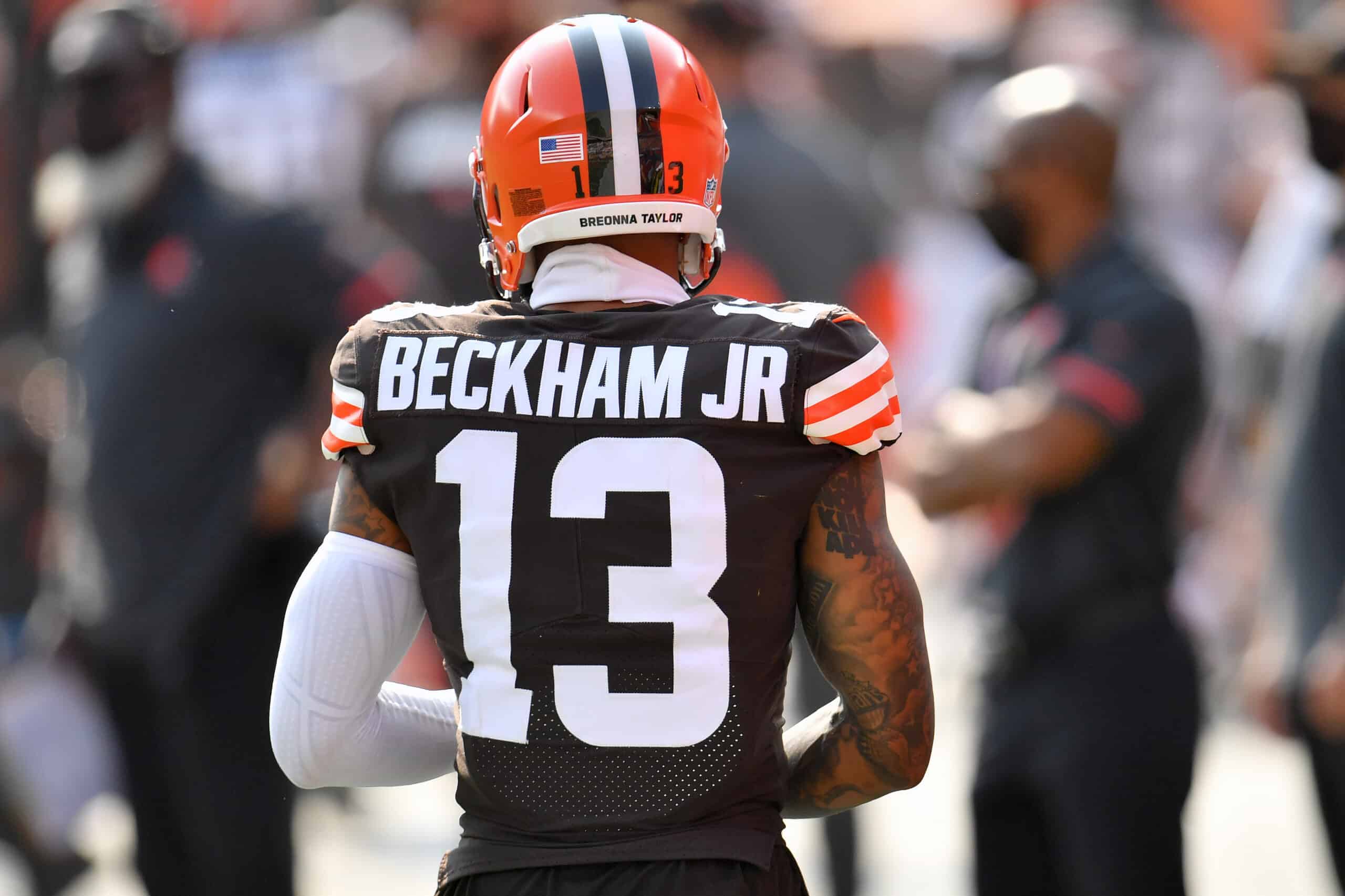 The Cleveland Browns wide receiving corps continues to be in flux.
In the midst of anxiously awaiting the return of Odell Beckham Jr., Jarvis Landry gets hurt.
According to Mary Kay Cabot of Cleveland.com, OBJ's return is imminent, potentially as early as Sunday when the Browns take on the Bears at home in Week 3.
#Browns Odell Beckham Jr. has a good chance to face the #Bears Sunday, a source says, which will ease the loss of Jarvis Landry to a sprained MCL for likely a few weeks https://t.co/mAdLY2lJQK

— Mary Kay Cabot (@MaryKayCabot) September 20, 2021
Though it is unofficial at this point, here is what we know.
OBJ's Status For Weeks 1 And 2
Week 1, we saw him on the field at Arrowhead in pregame warmups before being scratched.
Stefanski later said it was a 50/50 chance he was playing that day so it really was up in the air until game time.
Some believe it was never a chance OBJ would play against Kansas City.
Trust in this; it was always the plan.

The #Browns just didn't want KC to think that OBJ would not be playing. It was a cat and mouse game.

See you in week three OBJ. The return at that time is currently and has been the plan. https://t.co/WQWowAMVY3

— Marcus Harvey (@MarcusHarvey_) September 15, 2021
For Week 2, Stefanski shut down the speculation by making him inactive mid week.
#Browns coach Kevin Stefanski told reporters that WR Odell Beckham Jr won't play on Sunday vs the #Texans. He tried to go last week and didn't feel comfortable enough. Now, the coach takes it out of his hands a few days prior.

— Ian Rapoport (@RapSheet) September 15, 2021
This could have been done for two reasons.
First, and most obvious, is that he was not ready.
Second, declaring him inactive allowed the offense to prepare with 100% certainty he was not playing.
Injury Timeline
OBJ had surgery on November 10, 2020 after suffering the torn ACL in Week 7 of the 2020 season.
The timeline post surgery is between 9 and 12 months.
Mid August was viewed as the earliest he could potentially return within the 9-month window.
The Browns have been very cautious about bringing him back too quickly and potentially risking reinjury.
Comparison To Saquon
OBJ's former teammate and friend, New York Giants running back Saquon Barkley also tore his ACL last season.
His surgery was on October 31, 2020 so he is considered about 2 weeks ahead of OBJ in the recovery process though everyone recovers at a different rate.
Barkley played in Week 1, had 10 rushes for 26 yards.
He looked better in Week 2 with 13 rushes for 57 yards.
Barkley has admitted to being sore and is on a limited snap count.
If OBJ is back on Sunday, he also could follow suit and be on a limited snap count.
Grant Delpit Dropped The Hint
Though the official word will come from Stefanski midweek, Grant Delpit may have dropped the most telling hint.
#Browns Grant Delpit acknowledged losing Jarvis Landry is a blow, "but we've got O (OBJ) coming back" and he'll fill that role.

— Mary Kay Cabot (@MaryKayCabot) September 20, 2021
It was mentioned by pure accident when talking about losing Jarvis Landry.
The Browns will continue to use their young receivers until both veterans, OBJ and Landry, are back in the starting lineup, whenever that may be.