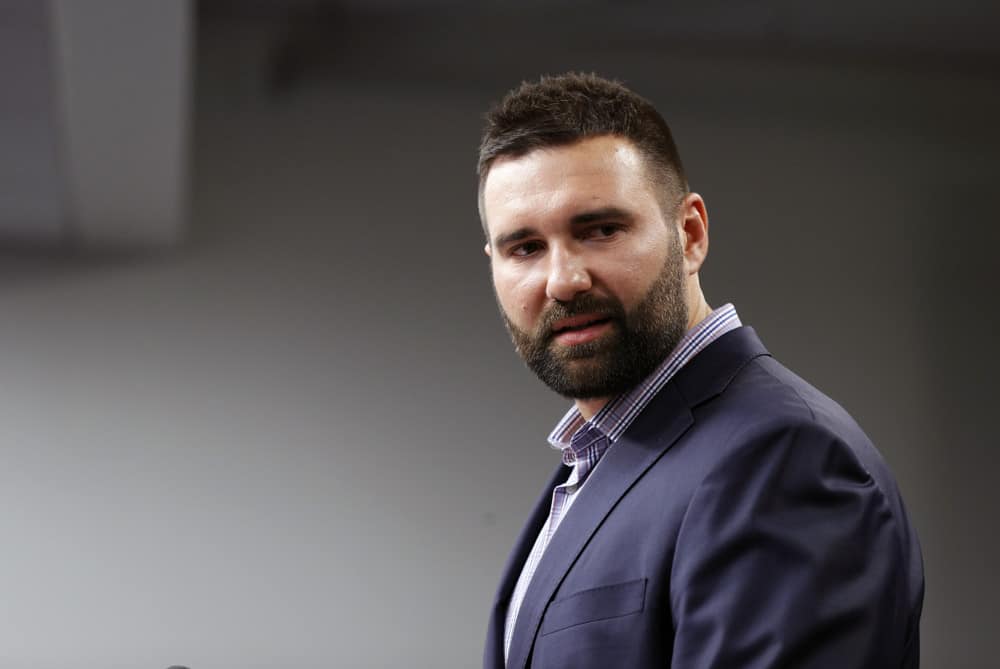 Even though the Cleveland Browns own a winning record for the first time in six years, this analyst sees the team as sellers.
Former linebacker, Rob Ninkovich, had a bold statement on ESPN's Get Up last week.
The former Patriot believes that the Browns are going to trade away one of their star receivers.
However, his response might surprise you.

Not OBJ?
For nearly a year, the rumors surrounding Odell Beckham Jr.'s future with the team have been consistent.
In the last edition of rumors, the Los Angeles Rams are the latest to inquire about OBJ.
However, despite the traction that OBJ has brought, Ninkovich said that it won't be OBJ that gets traded.
It will be Jarvis Landry.
"The Cleveland Browns will trade Jarvis Landry — and not OBJ — to the New England Patriots," Ninkovich said on Get Up. "So, watch out. Cam (Newton) is going to have a target in Landry, and everyone's going to be super afraid of that one."
A Splash
That would be a huge splash if this trade were pulled off.
By November 3rd, the Browns could be in the position for a playoff run.
From now until then, the Browns play the Cowboys, Colts, Steelers, Bengals, and Raiders.
As for the Patriots, this would give the team a formidable receiver to pair with Julian Edelman, N'Keal Harry, and Damiere Byrd
Of course, this makes New England fans pretty excited about thinking of this possibility.
Former #Patriots DE/LB Rob Ninkovich is predicting that the #Browns will trade WR Jarvis Landry and not OBJ to the Patriots.

I wouldn't mind this at all….

— Justin Ramos (@patriotsnews247) September 25, 2020


The Browns could rely on a run-heavy approach moving forward given the success of Nick Chubb and Kareem Hunt.
It remains to be seen what will happen if the Browns keep utilizing the ground game over the offense in the air.
Baker Mayfield tossed just 153 yards passing on Sunday, so it could mean the Browns could lean towards making a trade.

The Consistent Producer
Landry will turn 28 in November and has played all 16 games and totaled at least 81 catches in each of six NFL seasons.
In 2017, he caught a career-best 112 passes and made another Pro Bowl in 2019 where he racked up 83 catches for a career-best 1,174 yards and six touchdowns.
Even though OBJ is the bigger name, Landry is the one that has been more consistent.
Saw this and got to thinking.

Jarvis Landry is 89 receptions away from Marvin Harrison's record for most receptions in their first 7 years. Landry averages 96 catches a season and has 12 already on the year. There's a shot that Juice will break this record. #Browns pic.twitter.com/yyFd6zy6lR

— The Jeff Kirby Project (@JeffKProject) September 28, 2020
A lot has to happen for the Browns to deal Landry.
Not to mention, Landry still has two years left on his five-year, $75 million contract.
It would cost at least a first-round draft pick to pry Landry away from the Browns.
Also, the Browns would have to be out of the playoff race.
With the studs on paper and the schedule, the chances of this deal happening are likely zero.