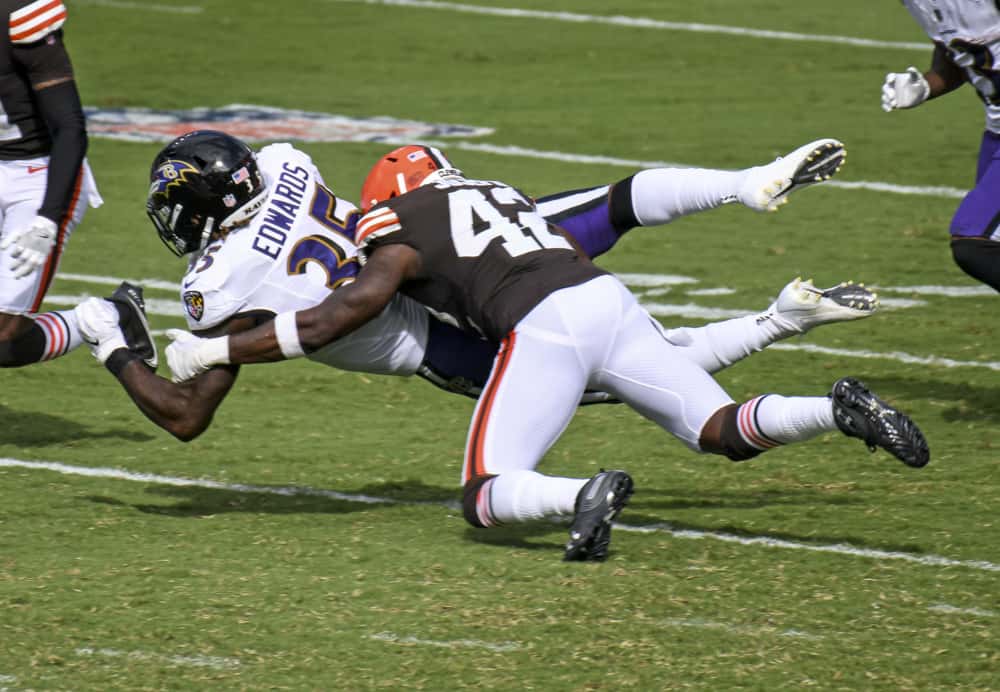 The last time Karl Joseph played with the Raiders, they were in Oakland.
While he may not be returning to the same city, the now-former Cleveland Brown will once again dawn the silver and black.
Only this time, he'll be in Las Vegas and not The Bay.
Raiders announce they are signing former first-rounder Karl Joseph

Joseph reunites with the Silver and Black pic.twitter.com/fPgY2BsYhp

— B/R Gridiron (@brgridiron) April 9, 2021
Quick Stint in Cleveland
Browns fans didn't have too long to become familiar with Joseph before he was already back out the door.
Joseph spent only the 2020 season in Cleveland after spending the previous four in Oakland on his rookie contract.
The former first-round pick played well in Cleveland but ultimately decided his future was better off elsewhere.
Joseph tallied one interception last season on top of 67 tackles and two fumble recoveries.
On a Browns defense that was spread thin at times last year due to COVID and injuries, Joseph played in his role just fine.
Karl Joseph is better than any safety the Raiders have in the roster… yet he's on the Browns now.

That is on Jon Gruden.

— CJ Errickson (@CJE_NFL) December 21, 2020
Karl Joseph with the takeaway‼️

(aaaand s/o to @TavierreT on the recovery 😳)

📺: @NFLonFOX pic.twitter.com/YelajxXR9B

— Cleveland Browns (@Browns) September 27, 2020
Needed this 💪

Karl Joseph recovers the fumble and it's our ball!

📺: @NFLonFOX pic.twitter.com/0PCsNLc6tz

— Cleveland Browns (@Browns) November 22, 2020
KARL JOSEPH INTERCEPTION!#WeWantMore / #Browns

(📽️via: @NFLBrasil )pic.twitter.com/bdkFIYJn2N

— Bally Sports Cleveland (@BallySportsCLE) January 17, 2021
Why Leave?
It isn't often that we see guys return to the team that originally drafted them.
Whether it was leaving on poor terms or just mutually deciding to go opposite directions, reunions in the NFL aren't exactly common.
So, why does Joseph want to go back to his original pro stomping grounds?
Well, according to Joseph, he never really wanted out of the Raiders organization to begin with.
Karl Joseph on returning to #Raiders "I never wanted to leave. This was my home. I was drafted here. I feel like I was born to be a Raider."

— Levi Damien (@LeviDamien) April 9, 2021
Injuries throughout his original stint with the Raiders prevented him from establishing a consistent role there.
He shined early, earning a spot on the Pro Football Writers of America's All-Rookie Team following his 2016 campaign.
Again, unfortunately, a couple of dings on his body limited his growth.
Perhaps he was looking for a higher-end deal after his rookie contract expired but was never offered one from Oakland.
So, a one-year deal in Cleveland to prove his value league-wide ended up as the result.
Las Vegas clearly liked what they saw out of Joseph last season and decided to bring him back.

Back in Black
While Joseph may be missed in Cleveland, he wasn't a dire part of their future plans.
After signing John Johnson III and with Grant Delpit returning, the Brown's safety spots are in good hands.
Las Vegas, on the other hand, is a bit thin at safety.
Jonathan Abram and Dallin Leavitt are listed as their starters, but some think the Raiders will go after USC safety Richie Grant in the upcoming NFL Draft.
Even if they do, Joseph should still be looking at a decent amount of snaps next season in Las Vegas.
No, Karl Joseph and Richie Grant combo alongside Abram at safety. https://t.co/2PadLPHDv2

— Maurice Moton (@MoeMoton) April 9, 2021
In the end, Browns fans should have a bit of love for Joseph after his one-year stint in Cleveland.
I'm not advocating for folks to start Karl Joseph trading card collections, but he made some impact plays with the Browns that were part of a magical 2020 season.
In a few years, last season will likely be looked at as the turning point of the franchise.
Even if Joseph is no longer in the brown and orange, it's safe to say he's proud to have been part of that season.