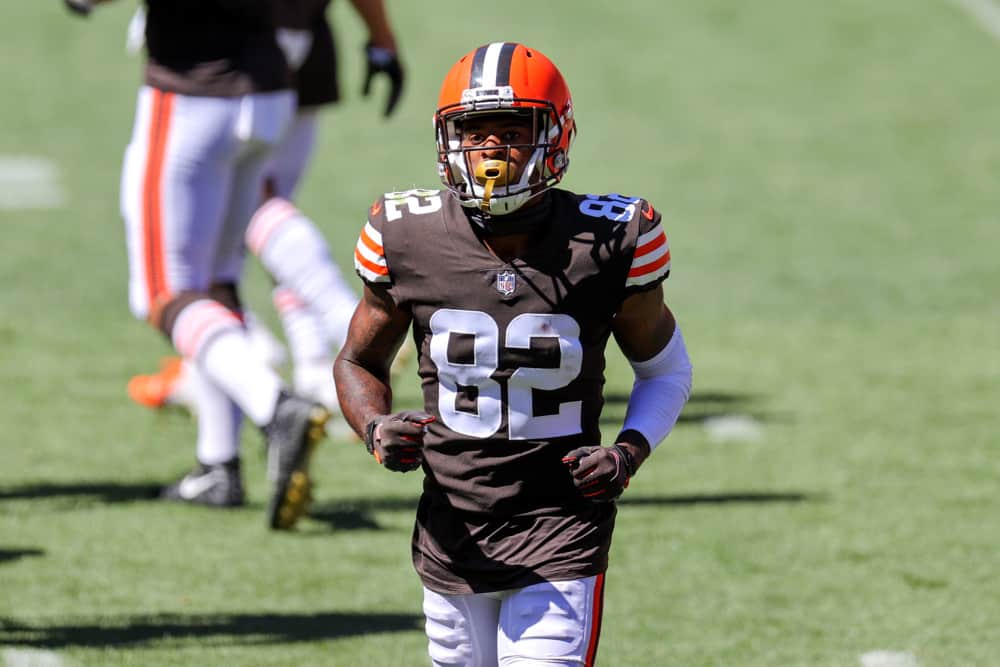 Cleveland Browns wide receiver Rashard Higgins is having a good offseason.
He is currently vacationing in Turks & Caicos and shares a beachfront video on his Twitter account.
Higgins starts the video with a gender reveal.
His girlfriend is beside him as he shoots blue dust out of what looks like a baton.
The couple, dressed in white with the beautiful beach scenery behind them, is overcome with emotion.
To the love of my life @Deane_babyy I can't wait to start this new journey with you.
I Love you unconditionally 🖤 pic.twitter.com/Zgscbs47dR

— Wood (@CALLME_WOOD) April 9, 2021
That Was Not The Only Surprise
Higgins orchestrated the second half of the surprise very well.
He had someone taking pictures of his girlfriend at an angle where she had to turn her back to Higgins.
When she finally turned back around to face him, Higgins was down on one knee holding a black ring box.
The video does not pick up the words so the moment remains intimate between just the two of them.
However, we do see her reaction to the ring and proposal, and the two of them embrace after she clearly said yes.
Higgins Is Back
#Browns WR Rashard Higgins is expected to sign back with Cleveland on a 1-year deal, source said. The player they call Hollywood returns after 37 catches and 599 yards in 2020.

— Ian Rapoport (@RapSheet) March 18, 2021
Rashard Higgins was a free agent.
He was not shy about saying that he wanted to come back to Cleveland.
"Hollywood" as he is nicknamed is also a fan favorite.
Higgins has been with the team since he was drafted in the fifth round of the 2016 NFL Draft.
He possesses good chemistry with Baker Mayfield.
Higgins signed a one-year deal to keep him in the only NFL uniform he has ever worn.
The Touchback Play Didn't Define The Season
What a bad break for the #Browns — the worst rule in football means that Rashard Higgins' fumble results in a touchback and #Chiefs football 🤬

(Also, isn't this a helmet-to-helmet hit?)

— Billy Heyen (@BillyHeyen) January 17, 2021
For those who remember Higgins only for the fumble/touchback play in the playoff game against the Kansas City Chiefs, that does not tell the story of Rashard Higgins especially in 2020.
This is more indicative of Rashard Higgins and why the fans love him so much.
Rashard Higgins makes a fantastic catch TD catch for Cleveland (+3). Browns convert for 2pts, trail 34-28.

Live odds (4Q) BAL -250 (-4.5) CLE +185#BALvsCLE #Browns pic.twitter.com/FaBUgRBnAB

— SportsBettingDime (@SBD) December 15, 2020
He stepped up when OBJ went down and was a steady force on the offense.
The fumble/touchback could become a distant memory if the Browns win the division and advance into the playoffs in 2021.