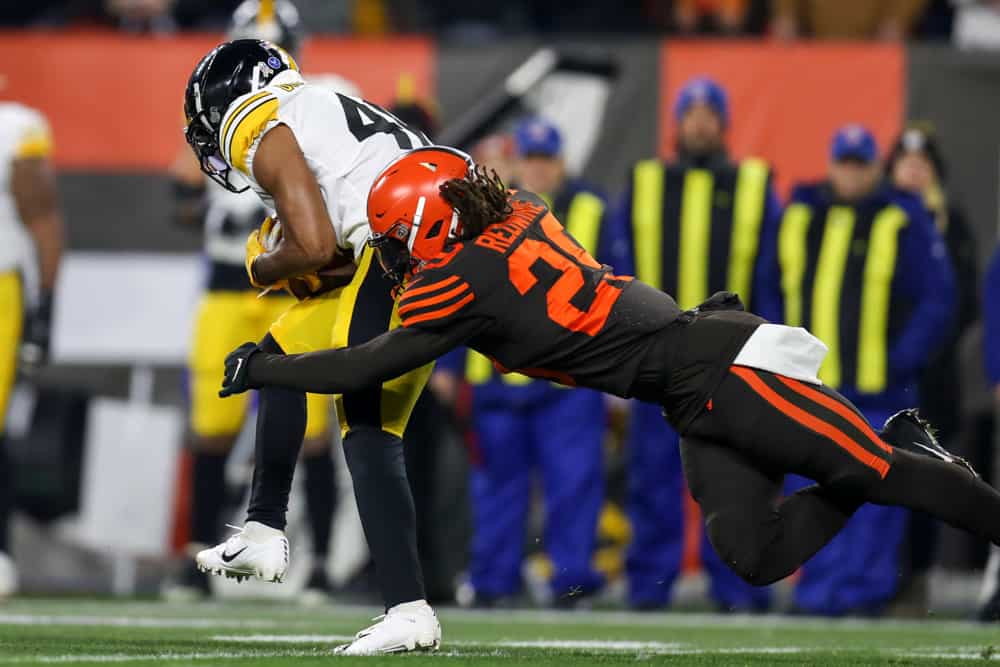 The Cleveland Browns secondary has not been what fans hoped it would be this season.
Sure, there have been bright flashes.
However, Denzel Ward has had some bad weeks, such as the second Pittsburgh game.
Greedy Williams has shown why he is still a rookie.
Damarious Randall, despite excellent play at times, has found himself at the center of controversy numerous times this season.
Despite that, another rookie in that Browns secondary has proven his worth the past two weeks.
That's Sheldrick Redwine.
Over the past two weeks, Redwine has been rated the top Browns defender by Pro Football Focus.
Redwine's grades the past two weeks have been impressive at 75.6 and 82.7 respectively.
His last game against the Bengals was not exactly flashy, but it was still an incredible performance for the fourth-round pick out of Miami University.
The #Browns highest-graded player* on defense vs. #Bengals was Sheldrick Redwine (82.7) for the second straight game. He accounted for seven tackles and added a pass break-up on his two targets in coverage

*min. 25 snaps pic.twitter.com/hWjJt3KFj1

— PFF CLE Browns (@PFF_Browns) December 9, 2019
So, why the sudden outburst for Redwine?
Well, it certainly has something to do with the increased snap counts.
Sheldrick only tallied eight total defensive snaps heading into week six earlier this season.
His role kept him primarily on special teams duty.
Weeks six and seven saw him on the field for about 40% of the defensive snaps each.
The past two weeks, however, Redwine is more involved. 
He was on the field for 98% of defensive plays against Pittsburgh, a game Damarious Randall missed for undisclosed reasons.
That involvement continued against the Bengals on Sunday, where Redwine was on the field defensively 86% of the time.
The recent influx of snaps on defense seems to have given the rookie confidence.
Redwine has racked up 15 total tackles and two pass deflections over the course of the last two weeks.
Not only has he been highly rated among his teammates, but around the entire NFL as well.
#Browns Sheldrick Redwine has seen more snaps in the last two weeks than he has in any previous weeks (55 in WK13, 63 in WK14) and his defensive grades show he has earned them.

Redwine's 84.2 grade ranks 5th among 63 qualifying safeties over that span pic.twitter.com/N2rqMR9R9o

— PFF CLE Browns (@PFF_Browns) December 11, 2019
Redwine plays with great instincts, a desirable trait of a safety if you are an NFL head coach.
Good performances are rewarded in the NFL, especially as a top graded defender on your team.
This quote from Freddie Kitchens via Cleveland.com indicates we will see more Redwine down the home stretch of the season.
"I think the last couple of weeks, Sheldrick has done the things that have earned him the right to play more and that continued yesterday," Kitchens said. "I think he was a factor in the game positively. His range is very evident when he is in the middle of the field."
In addition to playing deep safety, Redwine has shown an ability to play closer to the line of scrimmage as pointed out by Pete Smith of Sports Illustrated. 
Mack is playing WILL, but there is absolutely no way the team can look at what he's done to this point and say that's their guy.

Takitaki has been playing X/SAM, but so is Sheldrick Redwine.

Takitaki played 5 reps last week. Redwine played 65. https://t.co/CaNQYDKLx9

— Pete Smith (@_PeteSmith_) December 11, 2019
That X/Sam position Smith refers to is often assumed by a linebacker.
However, Redwine continues to see snaps there.
With Sheldrick's impressive performances and versatility, expect to see more of him in Steve Wilks' defense moving forward.