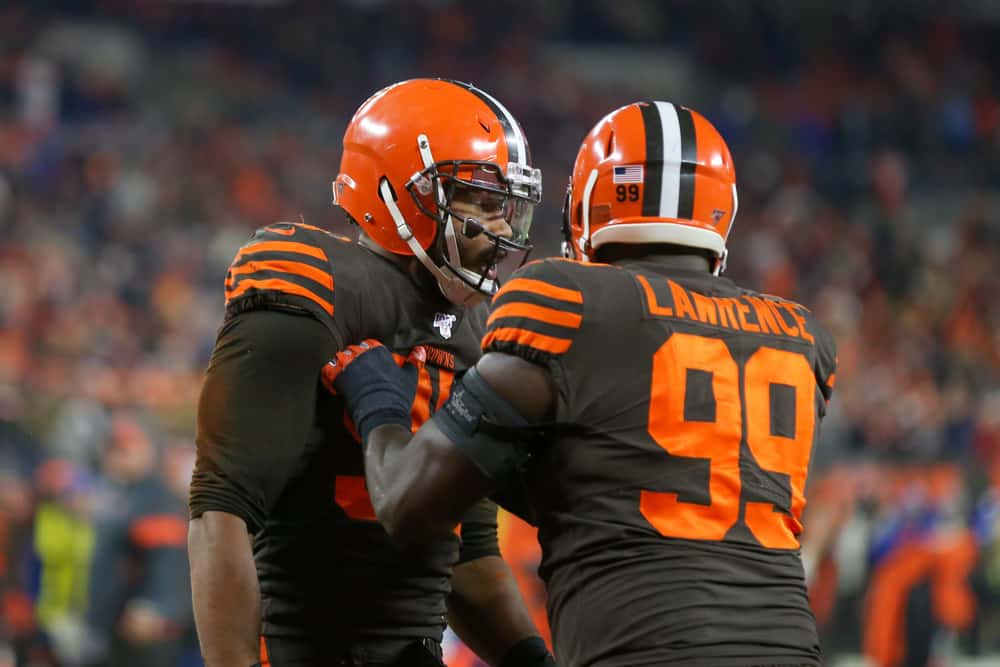 Coming off back-to-back victories against playoff-contending teams, the Cleveland Browns are breathing easier heading into this weekend's home matchup against the 2-8 Miami Dolphins.
It's still hard to relax when entering a game without five of your defensive starters, including Myles Garrett.
Garrett is impossible to properly replace. His suspension cuts short his stellar season, in which he ranked among league leaders in sacks (10) and tackles for a loss (13). Garrett tallied 18 quarterback hits in 10 games. The second-highest total on the Browns' defense is four.
Teammate Joe Schobert calls Garrett a "once in a generation player" who will be missed. Though, he also mentions that the Browns will be fine if each defender remembers his role and assignment. "I have full confidence," says Schobert.
That confidence reflects veteran defensive coordinator Steve Wilks' attitude. When asked about the loss of Garrett, as well as interior lineman Larry Ogunjobi (suspended) and safety Morgan Burnett (achilles), Wilks shrugged and called it part of the game.
The Browns have not fielded more than nine players from their opening day starting defense since Week 2. In Week 3, they played without their entire starting backfield.
Burnett's achilles injury ends his season. With Eric Murray (knee) still out and Jermaine Whitehead waived after a Twitter meltdown, only Damarious Randall remains from the opening day safeties group.
Juston Burris, who was waived during preseason and re-signed in Week 3, will start opposite Randall. Burris is now a regular part of the safety rotation, playing well since his return.
Rookie Sheldrick Redwine stepped up after Burnett's injury and earned a spot in the rotation. Fellow rookie JT Hassell was promoted from the practice squad to bolster the Browns' secondary.
These safeties will be tested if the Browns can't find a way to replace Garrett's pass-rushing prowess.
Wilks hoped to see Olivier Vernon return from his knee injury in Week 12, but as of Thursday, Vernon is still missing from the practice field. That leaves Sheldon Richardson as the lone Week 1 starting defensive lineman against the Dolphins.
Chad Thomas filled in admirably for Vernon, recording a pair of sacks in Cleveland's wins over the Buffalo Bills and Pittsburgh Steelers. Wilks will swing Thomas over to Garrett's side, but expectations are tempered without a known disrupter on the opposite end.
Chris Smith takes Vernon's spot while Devaroe Lawrence fills in for Larry Ogunjobi. Eli Ankou is set to see significant action in the Browns' defensive line rotation. Recently-signed Bryan Cox is on the sideline if needed.
Wilks already knows what to expect from his young replacements. Cleveland rotates linemen routinely. Smith (29 snaps), Lawrence (28), and Ankou (13) were all part of the defense's trouncing of Pittsburgh.
He also knows what not to expect. None of his defensive linemen are likely to come up with a Myles Garrett type of game, even against a tanking opponent like Miami.
Wilks, Schobert, and head coach Freddie Kitchens each talked about every player doing just a little bit more, but great defenses tend to feed off one player rising above the rest.
Schobert is the most likely candidate to play such a role. He is coming off the best all-around game of his young career. Against Pittsburgh, Schobert showed more than just the run-stuffing skills he is known for.
He was all over the field, providing a boost to the pass rush with a sack and two quarterback hits, as well as two interceptions and four passes defended in coverage.
If Thomas and Smith can draw enough attention from the Dolphins' offensive line, Schobert can be the disruptive force and defensive leader Cleveland needs to continue their playoff drive.
Steve Wilks will have his team ready. "Miami is not feeling sorry for us," says Wilks. "The league is not canceling the season. We will find a way to get it done."