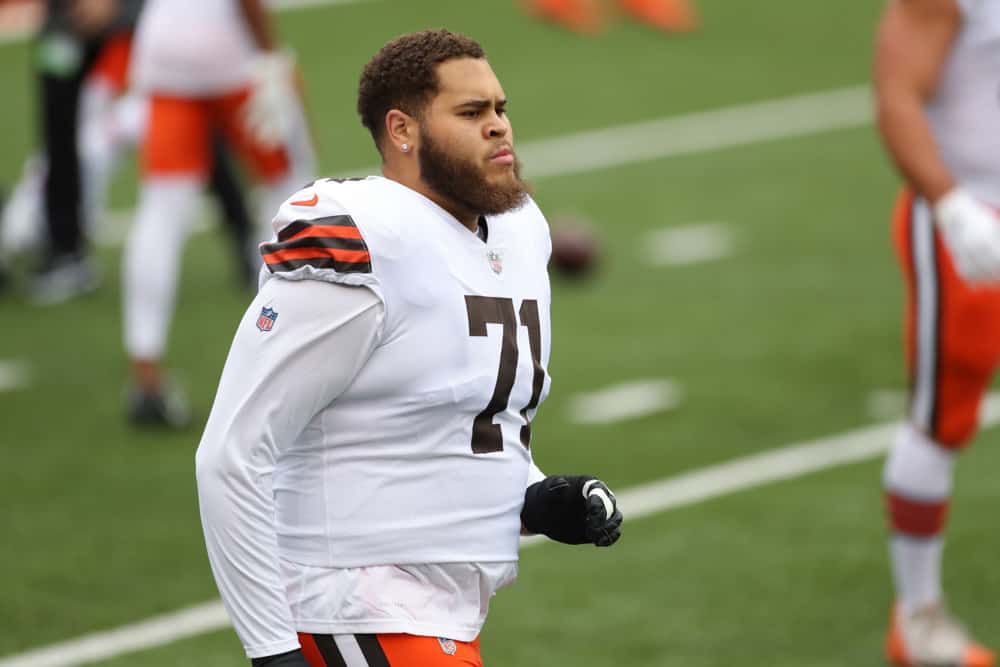 Cleveland Browns left tackle Jedrick Wills Jr. left the Kansas City Chiefs game on a cart with an ankle injury.
He was declared a day-to-day participant in practice this week; x-rays were negative.
Browns starting left tackle Jedrick Wills Jr. may have avoided a serious ankle injury in Sunday's loss at Kansas City. https://t.co/ZtGgucq7zY

— fox8news (@fox8news) September 13, 2021
Wills did not practice Wednesday through Friday and is listed as questionable on the Browns injury report.
#Browns Jedrick Wills Jr. headed to the stationery bike today with his ankle injury. OT Chris Hubbard (triceps) also not practicing for the third straight day. JC Tretter back pic.twitter.com/3JDsQkvKD7

— Mary Kay Cabot (@MaryKayCabot) September 17, 2021
The Browns are reportedly preparing rookie James Hudson III in the event Wills is not able to play in Week 2's game against the Texans.
Wills, the first-round pick of the Browns in the 2020 NFL Draft, has become a mainstay on the offensive line and has done a great job protecting quarterback Baker Mayfield's weak side.
This is especially true given the fact that Wills switched over from the right tackle position he played during his college career at Alabama.
Is there reason for the Browns to be concerned about Wills injury history?
The answer is no, and here is why.
1. Played 90% Of 2020 Offensive Snaps
In Will's rookie season, during the pandemic with limited training camp and no preseason games, he played 90% of the offensive snaps.
He contributed to the success of the Browns outstanding offensive line in 2020.
The Browns offensive line was the best unit in the NFL despite:

3 new starters with no off-season to gel.
Jedrick Wills switching from right to left tackle.
Wyatt Teller projected as a backup.
9 missed games between them.

They're all 30 and younger.
Imagine years of this. pic.twitter.com/jl0NxRCYDp

— Nick Karns (@karnsies817) March 23, 2021
2. Suffered Minor Bumps And Bruises (Thankfully)
Wills had his share of bumps and bruises last season, but that is par for the course in the life of an offensive lineman.
His position is extremely physical.
The best news is that there were no significant injuries.
Bigger Concerns Beyond Wills' Day-To-Day Status
The health and overall depth of the offensive line are early season concerns for the Browns.
Chris Hubbard, who filled in for Wills after he left the Chiefs game, is out for Sunday's game against the Texans with a tricep injury.
Center JC Tretter is questionable because of a knee injury; he was limited in Friday's practice.
As mentioned James Hudson III is preparing.
Van Pelt said #Browns getting rookie James Hudson III ready to play Sunday in case Jedrick Wills Jr. (ankle) and Chris Hubbard (triceps) are out.

— Tom Withers (@twithersAP) September 16, 2021
Coach Stefanski will make a game time decision on who starts at left tackle.
#Browns Kevin Stefanski did not announce who would start at left tackle with Chris Hubbard out and Jedrick Wills questionable. pic.twitter.com/4LTIHUfXcV

— Fred Greetham (@FredGreetham9) September 17, 2021
Without Wills, Mayfield Looked More Vulnerable
From the moment Wills left the Chiefs game, Mayfield looked more vulnerable.
The Browns' offensive linemen are the unsung heroes of this team.
They put their bodies on the line each week to protect the quarterback and create running lanes for the running backs.
watch the film, fix mistakes, & bounce back next week! and get healthy!! #GoBrowns

— Jedrick Wills Jr.®️++💕 (@JWills73) September 12, 2021
Hopefully, he is healing quickly because he is needed.