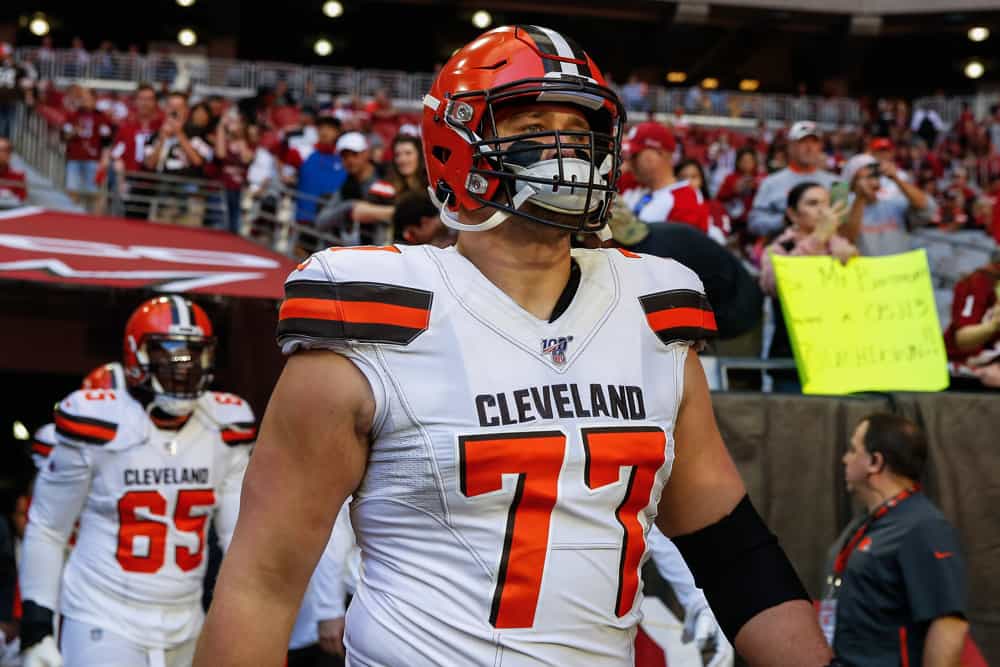 The Cleveland Browns front office made it their mission to improve the offensive line this offseason.
They added tackles Jack Conklin and Jedrick Wills, but the right guard spot still remained a question mark.
The Browns expected there to be a competition at right guard during training camp.
However, much of their depth on the offensive line decided to opt out due to COVID-19 concerns.
Opt-out deadline has passed and #Browns have had the 5 linemen opt out, 4 OL: Gs Drew Forbes, Colby Gossett and Malcolm Pridgeon; OT Drake Dorbeck; and DT Andrew Billings

— Mary Kay Cabot (@MaryKayCabot) August 6, 2020
Wyatt Teller was basically given the starting right guard spot because the team didn't really have anyone else.
Now three weeks into the season, Teller has an 87.5 overall PFF grade, which ranks third among pure guards.
Top-graded guards through 3 weeks:

1. Ali Marpet – 88.5
2. Michael Onwenu – 87.6
3. Wyatt Teller – 87.5✅
4. Bradley Bozeman – 84.9
5. Joel Bitonio – 84.5✅ pic.twitter.com/LAymX5xoUx

— PFF CLE Browns (@PFF_Browns) September 29, 2020

Thus far, Teller has been a star, but is it too early for the Browns to consider offering him an extension?
Should The Browns Extend Teller?
Last season, the Browns sent two late round draft picks to the Buffalo Bills in exchange for Teller.
He was average with Cleveland last year, but has turned into an elite player over the offseason.
Teller has surrendered only two hurries on 94 pass-block snaps this season, according to Pro Football Focus.
Right now, Teller ranks 10th in the NFL with a 80.4 pass-block grade, which continues to improve each week.
His 88.8 run-block grade ranks Teller first in the entire league.
Wyatt Teller uncovered and finding WORK #fullslab pic.twitter.com/nOtXfZgakB

— Brandon Thorn (@BrandonThornNFL) September 29, 2020
Teller has worked hard this offseason to make major adjustments to his game, but that isn't the only factor.
Cleveland's offensive line and assistant head coach Bill Callahan has made a massive impact on Teller.
He is one of the most well-respected coaches in the game and always gets the most out of his players.
Teller's turnaround does not appear to be a fluke, which means it could be time for Cleveland to offer him an extension.
How Much Is Teller Worth?
The Browns have plenty of cap space which means signing Teller shouldn't be a problem.
However, they have a bunch of young players such as Nick Chubb, Baker Mayfield, and Denzel Ward who are going to be eligible for free agency soon.
The organization needs to be smart with their money and sign the players that give the team the best chance to win in the long run.
Teller does only have three games of elite play, but it was against strong defensive lines.
His price tag is only going to increase, assuming his outstanding play continues all season long.
He is set to become a free agent after the 2021 campaign, which means they aren't forced to come to an agreement this season.
However, Teller might take less money right now because of the limited sample size.
This could be the best time for Cleveland to finalize an extension with Teller.
He wasn't awful before, so even if he does regress it shouldn't hurt the team in the future.
It's never easy to find reliable options on the offensive line, so it's smart to keep your young talent locked up.
It remains to be seen if the two sides will be able to come to an agreement.
It's only been three games, but Teller has earned a contract extension from Cleveland.