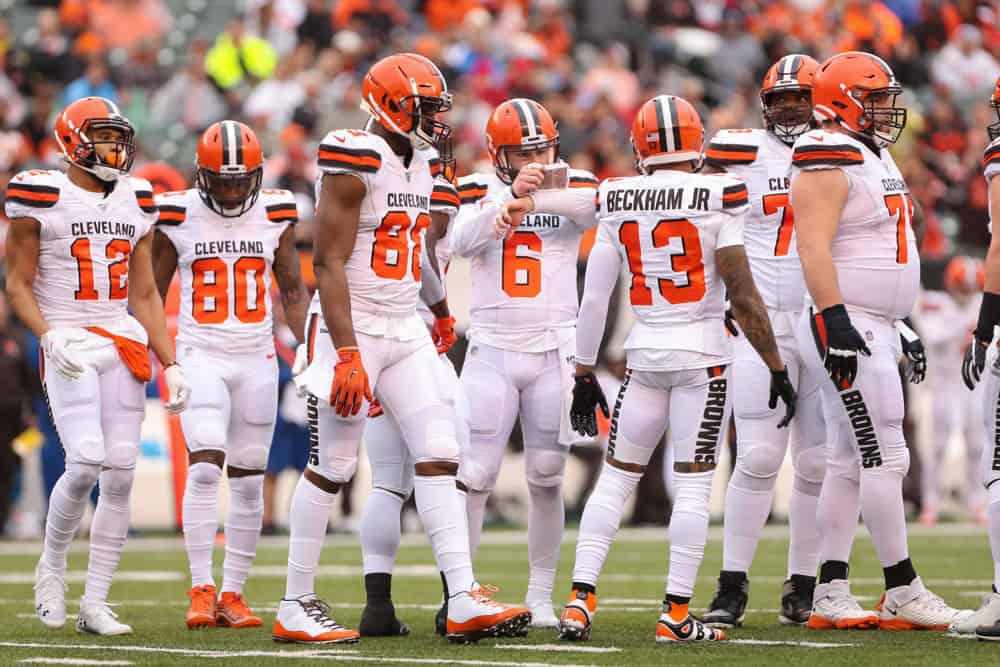 The featured NFL game on Fox at 1:00 pm eastern will be between the Cleveland Browns and Dallas Cowboys.
The Cleveland Browns picked up their second win of the season against the Washington Football Team, giving them a record above .500 for the first time since 2014.
The Dallas Cowboys fell short of completing their comeback in Seattle in Week 3 falling under .500 with a record of 1-2.
The Cowboys are desperate for a win while the Browns are trying to pile up as many wins as possible.
Both teams are considered playoff contending teams and both have high hopes and aspirations for the 2020 NFL season.
The Cleveland Browns have an explosive offense featuring Nick Chubb, Kareem Hunt, Odell Beckham Jr, Jarvis Landry and Austin Hooper.
The Dallas Cowboys also have an explosive offense that features Ezekiel Elliot, Amari Cooper, CeeDee Lamb, Cedric Wilson and Michael Gallup.
While there will be many superstars on the field this Sunday, here we examine the 3 most enticing matchups for this game.
1. Baker Mayfield v. Dak Prescott
Baker Mayfield and Dak Prescott are two quarterbacks both having the potential labels of, "most to prove" in this years 2020 NFL regular season.
Baker Mayfield was the first overall pick in the 2018 draft and has yet to live up to the hype that comes along with it.
While he looked promising year in his rookie year, he struggled mightily in his second year.
"32nd in passer rating, 30th in completion percentage, 2nd in INTs… This year, Baker Mayfield wasn't even the most interesting QB with a mustache. That's Gardner Minshew." — @ColinCowherd pic.twitter.com/bvgaBfqjbZ

— Herd w/Colin Cowherd (@TheHerd) November 13, 2019

Baker Mayfield finished 2019 with a completion percentage of 59.4 (317/534), 3,827 yards, 22 touchdowns and 21 interceptions.
With a new head coach and a revamped offensive line, Baker has a lot to prove this year and can make an imprint on this league with a big performance against the Dallas Cowboys.
Dak Prescott on the other hand, signed his franchise tag worth about $30 million for this year and has hopes of attaining a long-term deal with the Cowboys.
He is off to a sluggish start as his team has been trailing in every single game they have played in.
Let's see if he is able to get his team back on track with a win this Sunday.
2. Myles Garrett v. Tyron Smith
Myles Garrett is an absolute monster.
Garrett started off this offseason by getting a big payday.
Details on the extension for the #Browns and Myles Garrett: In his rather large 5-year, $125M extension, there are $100M in total guarantees and $50M fully guaranteed at signing. He's now under contract 2026. https://t.co/873RKFYdbk

— Ian Rapoport (@RapSheet) July 14, 2020
The Browns would say it is worth it as his impact on games was in full effect in their Week 3 victory over the Washington Football Team.
Myles Garrett had two sacks, 1 force fumble, and 1 fumble recovery.
Myles Garret now has 17 sacks in his last 16 games and will look to add more this week versus the Dallas Cowboys.
But, he will be going up against one of the best LT's in the game, Tyron Smith.
Smith protects the blind spot better than anybody else in this league and I am excited to see these two battle it out on Sunday.
3. Odell Beckham Jr. versus Dallas Secondary
One can certainly make the argument that the Dallas secondary is the weakest part of the team.
Week after week they just seem to get shredded.
In their Week 2 game against the Atlanta Falcons, the Cowboys secondary allowed Calvin Ridley to have a monstrous game.
Ridley finished the game with 7 catches for 109 yards and 2 touchdowns.
Against Seattle, the Cowboys secondary looked like they had no clue what they were doing.
On the first touchdown of the game, Seahawks WR Tyler Lockett, broke free right up the middle of the field.
Touchdown, @TDLockett12! 🙌

Listen in on the Raible Call of the Game for Tyler Lockett's third touchdown of the day.

📺: Highlights on @nflnetwork pic.twitter.com/5fy1M0Y48k

— Seattle Seahawks (@Seahawks) September 28, 2020
Lockett finished the game with 9 catches for 100 yards and 3 touchdowns.
His teammate, DK Metcalf, also had a big game posting 4 catches for 110 yards and 1 touchdown.
Odell Beckham Jr. has not had a 100-yard receiving game in his last 13 games.
He will look to snap that streak against a Dallas team which is looking to clean up their mistakes and getting back to playing better football.