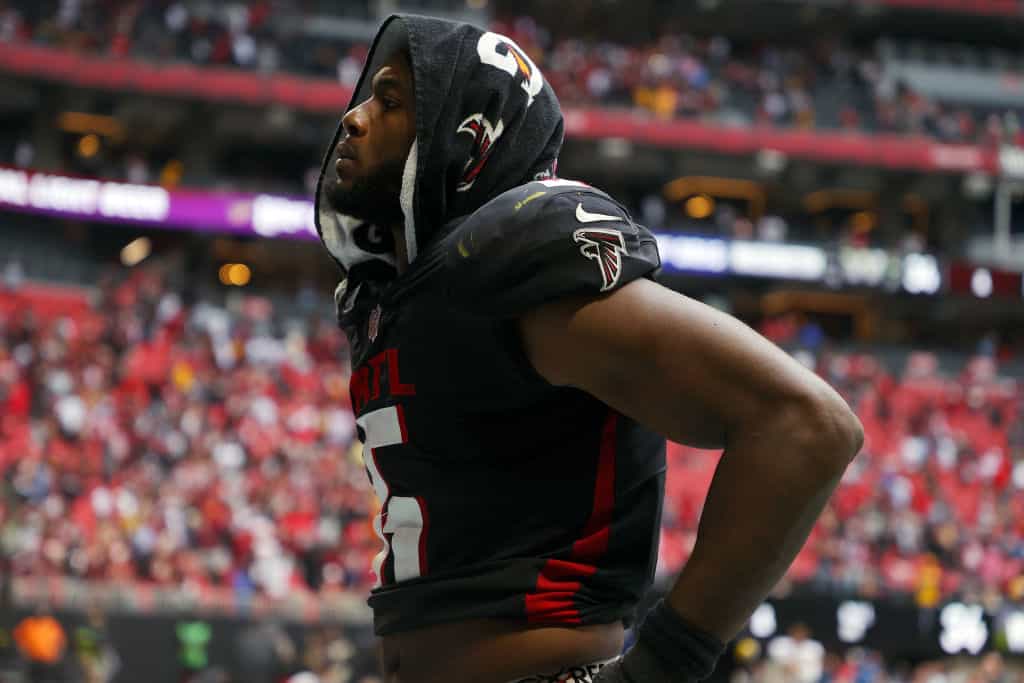 The Atlanta Falcons announced on Wednesday that they released defensive end, Dante Fowler.
There is believed to be an interested list of teams who will be calling Fowler's agent.
Should the Cleveland Browns be among them?
The Browns should conduct due diligence on Fowler to see if he fits.
With two free agents in Jadeveon Clowney and Takkarist McKinley, it is unclear what the team's current plans are.
Falcons announced they have released Dante Fowler.

— Adam Schefter (@AdamSchefter) February 16, 2022
Who Is Dante Fowler?
Fowler, like Clowney and McKinley, was a first-round pick in his draft year.
He was selected third overall by the Jacksonville Jaguars in 2015.
Fowler spent four seasons with the Jaguars and then moved to the Los Angeles Rams for the 2018 and 2019 seasons.
For the past two seasons, he was with the Falcons.
His finest season was in 2019 with the Rams where he recorded 40 solo tackles, 16 quarterback hits, and 11.5 sacks.
Dante Fowler Jr. vs Joe Staley

Week 16, 2019 pic.twitter.com/VIP6VCuRaX

— Jordan Elliott (@splash_cousin) February 16, 2022
His Production Appears To Be Between McKinley And Clowney
Based on last season, Fowler appears to fall in the middle between McKinley and Clowney in terms of production.
He had 21 solo tackles, 8 quarterback hits, and 4.5 sacks in 14 games in 2021.
McKinley had 10 solo tackles, 8 quarterback hits, and 2.5 sacks in 11 games in 2021.
Clowney had 24 solo tackles, 19 quarterback hits, and 9 sacks in 14 games in 2021.
In honor of Jadeveon Clowney's birthday, it's a great day to reflect on his year as a Brown.

9 sacks (More than 2019 + 2020 combined.)
37 tackles. (Most since 2018.)
11 tackles for loss. (Most since 2018.)
19 Qb hits. (Most since 2018.)

Clowney in Cleveland just feels right. pic.twitter.com/X6Fgrifew3

— Nick Karns (@karnsies817) February 14, 2022
Priority Is To Re-sign Clowney
The Browns' priority should be on re-signing Clowney and then figuring out the rest from there.
Myles Garrett indicated that he wanted Clowney back in 2022.
Clowney is interested, but we know that he likes warm weather and that money is a factor.
If McKinley Is Not Back, Fowler Could Be An Option
There has been very little discussion on Takk McKinley's future.
If the Browns are not planning to sign him for 2022, Fowler would be a good option.
Name to watch for the #Browns in free agency could be a cheap one year candidate like Takk McKinley was last season and a former first round pick. https://t.co/amTVyw2CL9

— Tyler Johnson (@T_johnson_TJ) February 16, 2022
The Browns need to make decisions quickly because there are plenty of teams in need of defensive end help.
Fowler could attract a lot of interest.
Free agents can sign contracts beginning March 16 at 4:00 PM EST.