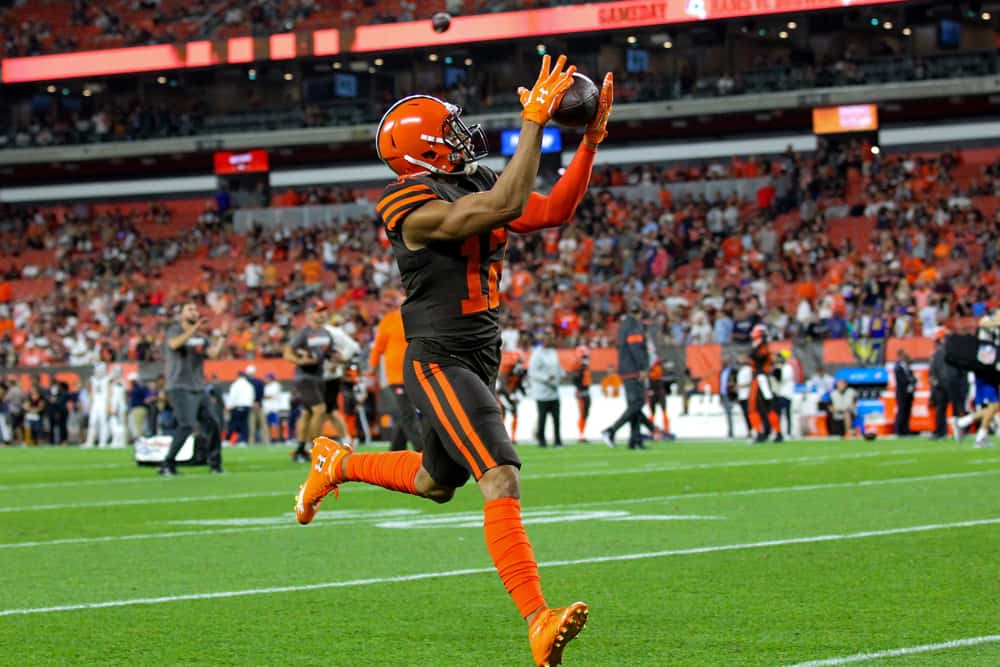 The Cleveland Browns had a deep and very talented 80 man roster.
So it was not a surprise that talented players would be cut to get down to the final 53 man roster.
One of those players is wide receiver and special teams player KhaDarel Hodge.
#Browns releasing WR/special teamer KhaDarel Hodge is a sign of team's depth and growth.

— Tom Withers (@twithersAP) August 31, 2021
Hodge had been with the Browns since 2019.
He was an undrafted free agent that started his career in 2018 with the Los Angeles Rams.
Hodge has started in only one of his 39 career games and has 273 career yards receiving.
In 2020, he played in 20% of the Browns special teams snaps.
With all of that being said, should the Browns have cut Hodge?
The answer is yes, and there are two main reasons why.
There are more talented rookies who made the roster.
While there is no doubt that Hodge is a talented player, his skill sets are covered by other players on the 2021 roster.
1. Anthony Schwartz
Schwartz is the speedy wide receiver who can also potentially be a special teams threat.
He has dealt with a hamstring injury during training camp and the preseason so we have not yet been exposed to what he can do.
#Browns WR Anthony Schwartz said he's very confident he'll be able to fill whatever role the coaches will have for him in Week 1. Schwartz said hamstring that has given him trouble since spring held up well after his NFL preseason debut Sunday night in Atlanta.

— Nate Ulrich (@ByNateUlrich) August 31, 2021
2. Demetric Felton
Felton is a versatile player that can fill the role of running back, slot receiver, or special teams player.
He gives the Browns so many options; it is not clear if they know yet how many different ways they may use him in his rookie season.
One way that has been predetermined by Coach Stefanski is as kick returner.
#Browns coach Kevin Stefanski named Demetric Felton the teams Kick returner.

— MoreForYouCleveland (@MoreForYou_CLE) August 31, 2021
Hodge's Touchdown Against Atlanta
Many suspected that Hodge was on the bubble because of the deep Browns roster.
He certainly helped his cause on Sunday night with a touchdown catch in the Falcons preseason game.
Baker Mayfield throws a dime to KhaDarel Hodge for a #Browns touchdown!! pic.twitter.com/R0rTpEu4XO

— Jacob Krantz (@jacobkrantzwmoa) August 30, 2021
KhaDarel Hodge (@ItsKhaDarel) felt he 'did what I needed to do' to make @Browns' roster, but a logjam of talent in front of him proved too much to overcome #Browns #NFL https://t.co/eUqtY32ZPU

— Matt Florjancic (@MattFlorjancic) August 31, 2021
Hodge also knew the deck was not stacked in his favor.
KhaDarel Hodge knew this could be coming. "As long as I end up somewhere, that would be great. It could be here. It could be elsewhere," he said Sunday night in Atlanta. Updated story on the latest #Browns cuts https://t.co/T04OSaNTpU

— Nate Ulrich (@ByNateUlrich) August 31, 2021
Dollars And Sense
The thought process behind cutting Hodge is even easier to understand when the financial impact of it is discussed.
One thing to remember about #Browns WR KhaDarel Hodge, who's been waived: He was due to make $2.13 million, which is a lot for a 6th receiver. If they bring him back, they can do so at the 4 yr vet min of $990K. Every million helps.

— Mary Kay Cabot (@MaryKayCabot) August 31, 2021
An annual salary of $2.13 million for WR6 and a special teams player is pretty steep.
If Hodge does not end up at another team and the Browns are able to bring him back, it would be at a much reduced rate.
Given the salary cap situation and contract extensions yet to be negotiated, cutting Hodge, though a painful decision, made perfect sense.