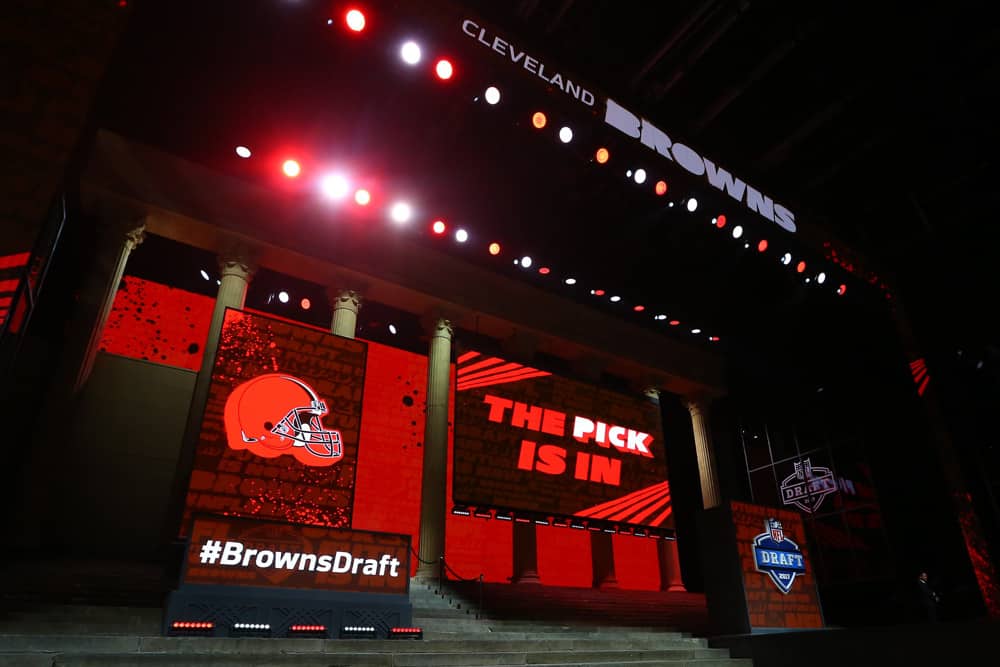 Andrew Berry is expected to pick from a less advantageous spot in the 2022 NFL Draft.
After all, it wasn't just writers and analysts that expected bigger things from the Cleveland Browns.
Be that as it may, Berry's team of scouts and talent evaluators are left to debate the 13th overall selection.
One of the big decisions will be whether to use that pick or trade up or down the board.
Everything you need to know for the 2022 #NFLCombine

— Cleveland Browns (@Browns) March 1, 2022
Is there someone they treasure that they could lose if they sit back and wait?
Odds are, Berry had a list of worthy candidates for the 13th pick and won't feel the need to trade up.
But what if a few of his desired choices are still available when Cleveland goes on the clock?
Should the Brown trade back from the 13th spot in the NFL Draft?
The Situation Has To Be Right
Everyone knows the Browns need to draft the next Ja'Marr Chase to satisfy their fans.
But the 2022 NFL Draft is deep with talented wide receivers, and analytics typically says wait for later rounds.
Cleveland also has dire needs along the defensive line and can use another linebacker.
There are a few stud edge rushers and a couple of interior linemen waiting to be picked.
Draft stock is going 📈 for these 7 prospects after the #NFLCombine

— Cleveland Browns (@Browns) March 8, 2022
If Berry is tempted to trade up, it is probably to pick one of them ahead of the Jets, Giants, Falcons, or Vikings.
But if he rolls the dice and stands pat, only to find his top tier of linemen gone, he might listen to offers for #13.
Berry will be armed with his grades and projections which will guide him in how far back he is willing to drop.
Several teams (Jets, Lions, Dolphins, Seahawks) own multiple picks later in the first and early in the second rounds.
Who Would The Browns Target? 
Cleveland does a fine job keeping their draft and free agency plans secret.
Everyone knows they need a good wide receiver, like Penn State's Jahan Dotson.
Dotson isn't the top-ranked receiver, but he could be a steal in the second round.
And if the first round tilts decidedly defensive, any number of higher-ranked wide receivers could fall as well.
The Cleveland Browns' draft board just leaked pic.twitter.com/GEuNYgBfd5

— Ben Axelrod (@BenAxelrod) March 4, 2022
But if Berry expects to draft a starting edge rusher or interior lineman, he can't fall too far back.
While there is a slew of talent to be found, the top tier or two ends after 8-9 players.
Berry could shock the world and draft a quarterback to sit behind Baker Mayfield for one, or maybe 4-5 years.
That might rule out a trade, as Philly (15,16,19), New Orleans (18), and Pittsburgh (20) follow closely in the draft order.
Should the Browns Trade Back In the NFL Draft? 
Cleveland can't expect to have another 13th pick or better any time soon.
They are a team built to win now, as evidenced by efforts to get most of the gang together again for 2022.
Teams trade back for more picks when they are in a rebuild, not when they expect to be in the playoff hunt.
Unless the first 12 picks create a safe and predictable path to still land a top choice, Berry should keep #13.
NFL Draft Analyst @dpbrugler joins @NathanZegura to break down potential 1st-round prospects for the #Browns pic.twitter.com/Xpt8HA0E8c

— Cleveland Browns (@Browns) March 4, 2022
And that is probably what he will do, going for the best athlete among defensive linemen and wide receivers.
My guess is that Berry will go defense as linemen with immediate impact are rarer than quality wide receivers.
Berry has an extra third-round pick if wide receivers come off the board quickly and he wants to trade up in the 2nd round.
And it is a better bet the Browns deal their later-round picks than fall back from the 13th position.