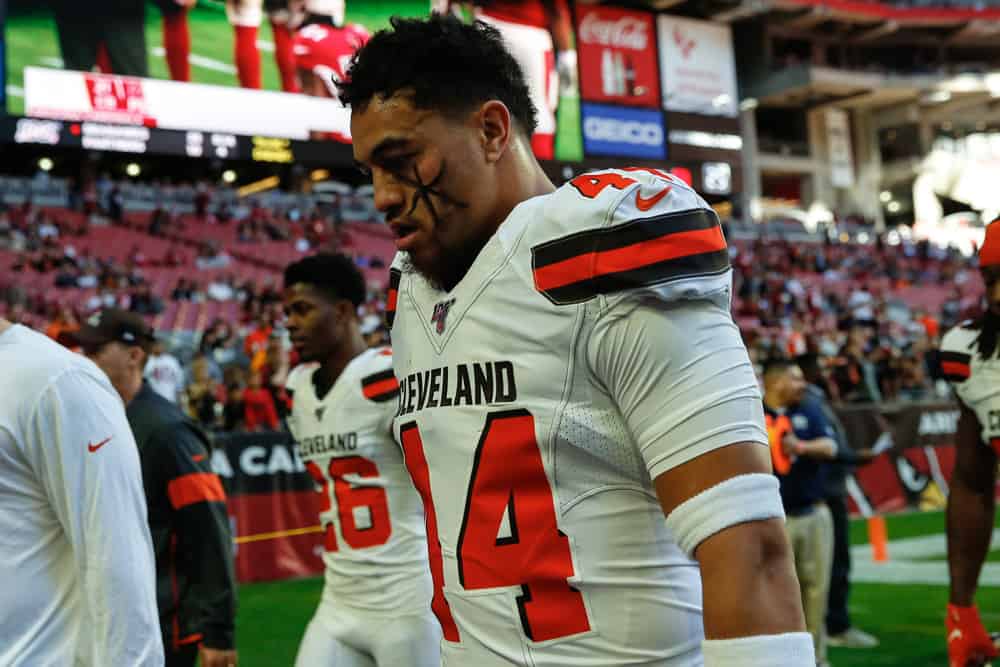 The Cleveland Browns were able to take care of business and move to 7-3 on the season.
There was some expectation that Sunday's matchup against the Philadelphia Eagles would be a shootout without Myles Garrett available.
Garrett was unable to suit up after testing positive for COVID-19 earlier in the week.
Despite Garrett sitting out, the Browns defense stepped up and were able to secure the 22-17 victory.
One of the big reasons why Cleveland won was because of the performance by linebacker Sione Takitaki.
Takitaki Saving The Day
If you were to ask Browns fans who they thought would be the hero on Sunday not many would've said Takitaki.
The second-year linebacker has surprisingly stepped it up this season, which is great to see.
He broke the scoreless tie on Sunday with a 50-yard interception touchdown on an absolutely horrendous pass by Eagles quarterback Carson Wentz.
Carson Wentz with an ugly interception to Sione Takitaki and he takes it the other way for a 50-yard #Browns TD. No excuses for this one.pic.twitter.com/XiwGL9Cpsy

— NFL Update (@MySportsUpdate) November 22, 2020
That was Takitaki's first interception and first touchdown of his career.
Hopefully, there will be plenty more to come as the 25-year-old linebacker continues to improve and develop his game.
Takitaki finished the game with three tackles, one tackle for loss, and obviously that huge pick-6 early in the second quarter.
A solid performance by the young linebacker and hopefully a sign that he's ready to take his game to the next level.
Takitaki Coming Alive
The Browns linebackers have not been consistent this season, but Takitaki deserves some credit.
Through 10 games, Takitaki has 45 tackles, one tackle for loss, and one pass defended.
Obviously, he also has the pick-6 during Sunday's game that sparked the team, according to quarterback Baker Mayfield.
#Browns QB Baker Mayfield on Sione Takitaki's pick-six: That created the spark for us

— Nate Ulrich (@ByNateUlrich) November 22, 2020
It's nice to see Takitaki improving his game and showing some growth during his second year in the league.
The former third-round pick didn't have a significant role last season, but the Browns wanted to change that this year.
They believed that Takitaki was ready for an increased role on defense and he's proving to be a consistent contributor.
Browns fans shouldn't expect Takitaki to be a Pro Bowl linebacker.
Although, Takitaki could very well be a starter on this defense for years to come, assuming he continues to improve his game.