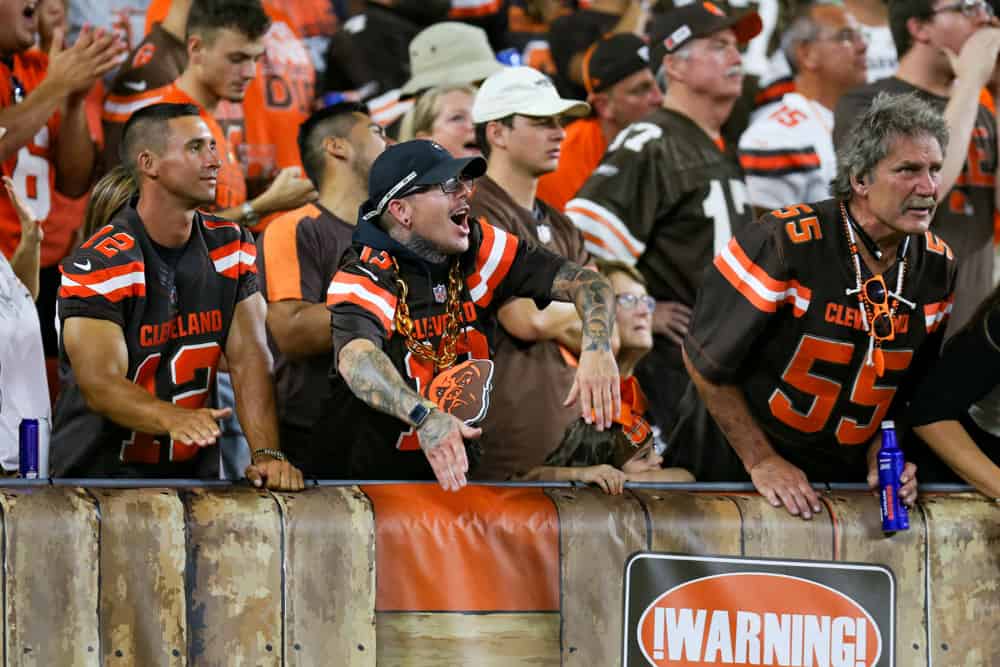 The Cleveland Browns schedule release on Wednesday has elicited entertaining responses on social media.
These responses run the gamut from predicting the Browns' win-loss record in 2021 to reactions on individual games.
Though there are many, here are a few unique and interesting takes on the 2021 Cleveland Browns schedule.
Blame It On Freddie
Two years after his departure, former Browns head coach Freddie Kitchens is still the fall guy.
In this case, he is blamed for the lack of 2021 prime time games.
There are three prime time games: Thursday Night Football vs. Denver, Sunday Night Football at Baltimore, and Monday Night Football at Pittsburgh, but this person still thinks Freddie is the reason there are not more prime time games.
As a measure of comparison, the Ravens and Steelers both have the maximum of five prime time games.
To be fair, the last time the NFL loaded the Browns schedule with a ton of PrimeTime games.. they flopped. I'm a Browns fan btw. Thanks Freddie, even ruining our PrimeTime games and your not even here

— John Younts (@johnyounts52) May 13, 2021
Win-Loss Record Predictions
According to some, the schedule indicates a Super Bowl run is imminent.
After careful examination of the Browns upcoming schedule, in my totally unbiased opinion I see 13 to 14 wins and the path to the Super Bowl coming through Cleveland. #Browns #SuperBowl

— Ernest Clinkscale (@ErnestClinksca2) May 13, 2021
Based on the strength of schedule, the Cleveland Browns are favored to win the Super Bowl pic.twitter.com/iSLbOQ1ETb

— CleWest (@erjmanlasvegas) May 13, 2021
Browns at Chiefs
What better way to start than where it ended in the 2020 playoffs?
The excitement is already mounting.
Only 123 days, 7 hours and 11 minutes until the #Browns kick off the season against the Chiefs at Arrowhead Stadium, but who's counting?

— Camryn Justice (@camijustice) May 12, 2021
Browns vs Chiefs.

The NFL puts the best two QBs in the AFC against each other week 1. I can't blame them. Will be a helluva matchup!

— Browns Time (@DevotedBrownie) May 12, 2021
Browns at Packers
Christmas Day is usually reserved for family and NBA or NHL games.
Not this year, the Browns have a Christmas day date with the Packers, and fans could not be more excited.
I get to watch my @Browns on Christmas Day pic.twitter.com/DWkv3UsnvE

— petey (@P2Saucy) May 12, 2021
Browns vs Packers in Christmas Day is a match made in Midwestern heaven https://t.co/VpPwoxCTSq

— Aaron Tomich (@AaronTomich78) May 12, 2021
Christmas Day Schedule:
Watch A Christmas Story
Watch A Christmas Story
Watch A Christmas Story
Watch A Christmas Story
Watch Browns v. Packers
Watch A Christmas Story
Watch A Christmas Story
Watch A Christmas Story
Watch A Christmas Story pic.twitter.com/HK5nctxuUE

— ACS House (@ACSHouse) May 12, 2021
Browns vs. Ravens – Two Times In Three Weeks
It is odd that the Browns don't see the Ravens until Week 12 and then meet them again in Week 14.
The Browns face the Ravens in Week 12, have their bye, then play again in Week 14. The only instance since the merger of teams facing the same opponent in consecutive regular-season games was 1991 when the Seahawks and Chargers played consecutive games with a bye in between. pic.twitter.com/o8N8eJ5kB6

— ESPN Stats & Info (@ESPNStatsInfo) May 13, 2021
Strength of Schedule
In other good news, after evaluating the strength of schedule, the Browns have the easiest one in the AFC North.
This is all relative though as the Steelers and Ravens have the first and second most difficult.
The Bengals come in tied for sixth; whereas, the Browns are ninth.
At this point in the preseason, all 32 teams believe they are headed to the Super Bowl.
That's what makes football so exciting; no one really knows how things will turn out until they play the games.