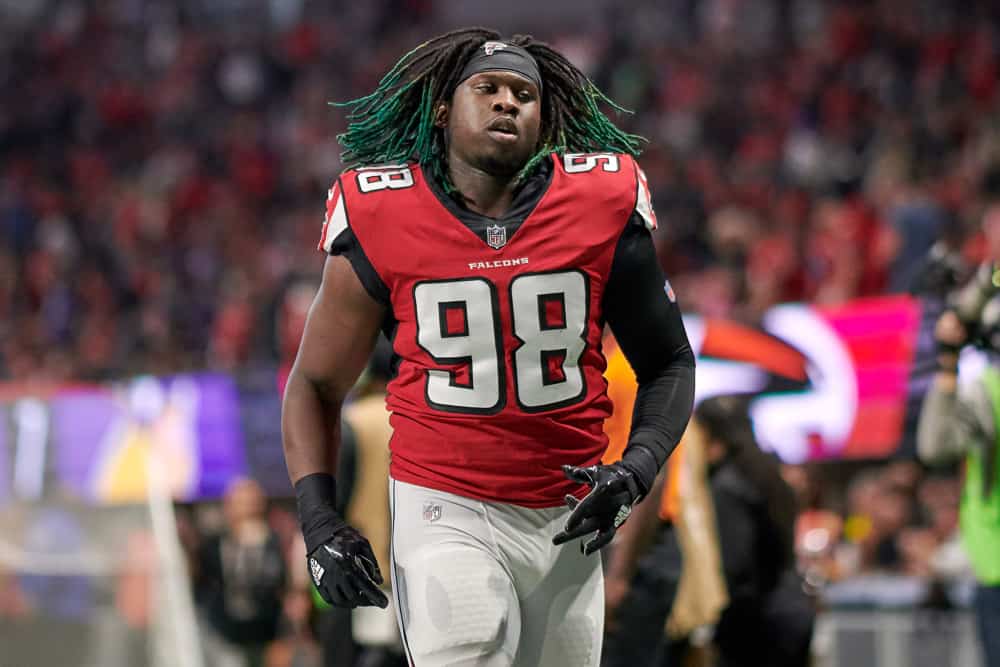 It appears that one of the unwritten job requirements of being a Cleveland Browns defensive end is to be buff.
After all, Myles Garrett is the superhuman athletic specimen that has been the Browns premier defensive end for years.
The Browns recently signed free agent Takk McKinley.
McKinley is a former first-round draft pick of the Atlanta Falcons in 2017 (26th overall).
He joins Garrett and the other free agent defensive end signed this offseason, Jadeveon Clowney, so the physical fitness bar is set rather high, but judging by this Instagram post, McKinley can meet it with ease.
View this post on Instagram
McKinley looks well conditioned in advance of the 17 game regular season.
His rookie season of 2016 is the only year he appeared in all 16 regular-season games.
Since then, he has battled injuries which required undergoing three shoulder surgeries in the past five years.
Takk McKinley Has Been All Business
Just as it seems he has approached the weight room with a lot of zeal, McKinley has been all business since being signed by the Browns.
He appeared in his first official press conference wearing a suit of Browns colors and is savoring this opportunity to play alongside Myles Garrett and the rest of the Browns.
Watching Takk McKinley's press conference. He seems very accountable for the past. He hit on his lack of maturity, his loss of his work ethic, and being humbled. Seems motivated and grown. He has the talent. Hopefully he can turn his career around. #Browns

— Matt Fenner #Browns fan account (@musicmatt98) March 20, 2021
McKinley's Contract
Takk McKinley is contracted for the 2021 season.
The base value of his contract is $4.25 million but with incentives, he could earn up to $6 million.
Given the talent on the Browns roster, McKinley likely wants to extend his stay for more than one year.
McKinley's Role
Joe Woods will keep opposing offenses guessing with a diverse playbook since Garrett, Clowney, and McKinley are versatile players.
We can expect designed plays which feature Garrett, Clowney, and McKinley all on the field at the same time.
Browns fans who lamented about the team's defensive shortcomings last year should have plenty of excitement in 2021.