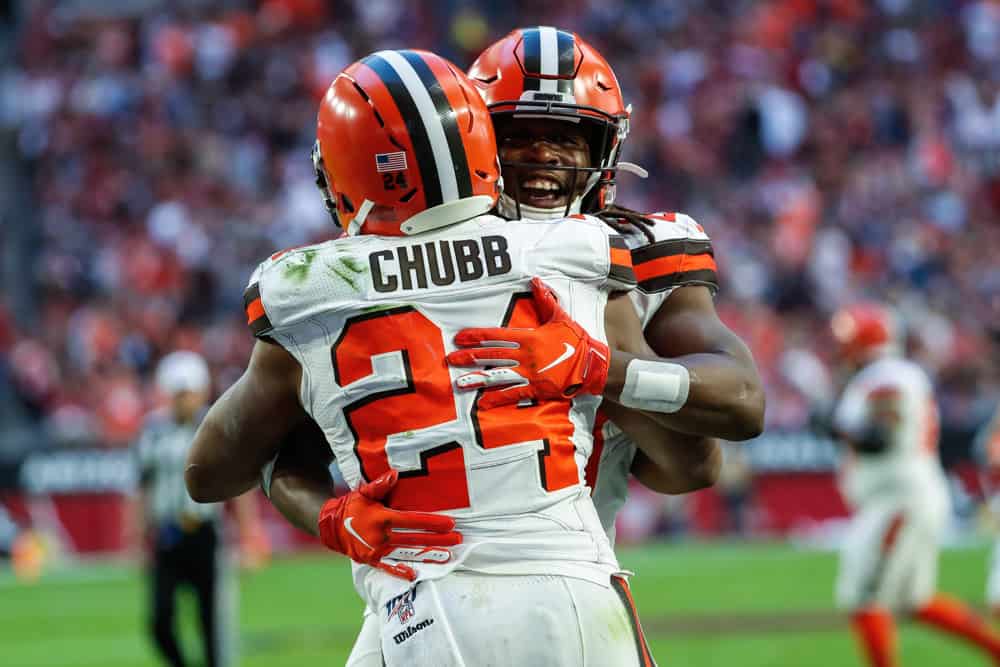 Pro Football Focus recently released a list of the best running backs heading into the 2021 season.
This is a position where the top 10 players seem to change from year-to-year.
That being said, the Cleveland Browns have two of the top 10 running backs, according to the PFF.
Both Nick Chubb and Kareem Hunt found themselves as two of the top players on the list.
Honestly, it's hard to find a better one-two punch than Chubb and Hunt in the league right now.
Nick Chubb
This year, Pro Football Focus gave the No. 1 running back honor to Tennessee Titans superstar Derrick Henry.
It is difficult to argue that after the back-to-back year's Henry has produced in Tennessee.
Following Henry, Minnesota Vikings back Dalvin Cook and Carolina Panthers dual-threat Christian McCaffrey are placed in the next two spots.
After that, Chubb finds himself as the fourth-best running back heading into the 2021 campaign.
"There may be no better pure ball carrier in the NFL than Nick Chubb, and only a relative lack of impact in the passing game keeps him as low as No. 4 overall. The Georgia product has the best broken tackle rate in the NFL over the last two seasons, with 124 broken tackles on 488 carries, says Pro Football Focus."
Chubb has done nothing, but succeed since he stepped foot on an NFL field.
He has produced nearly 1,000 rushing yards in all three of his first years in Cleveland.
In 2020, Chubb rushed for over 1,000 yards and finished with a career-high 12 touchdowns through 12 games.
Honestly, Chubb has played so well that there could be an argument for him to be in the top 3.
However, Browns fans will certainly take the much-deserved four spot for Chubb.
Kareem Hunt
Unlike Chubb, the fact Kareem Hunt landed in the top 10 is quite shocking.
He surpassed both Dallas Cowboys superstar Ezekiel Elliott and Cincinnati Bengals speedster Joe Mixon.
That goes to show how much Hunt has brought to the team since joining the Browns.
PFF gave a fairly solid reasoning for putting Hunt in their top 10.
"The Browns picking Hunt up for peanuts, given his off-field transgressions, has meant the team can field two top-10-caliber running backs simultaneously. Hunt may not be quite as good as Chubb as a ball-carrier, but he is a superior receiver and has broken 33 tackles on receptions since the start of 2019."
Hunt does rank in as No. 10, but he is well-deserving of that spot after what he did in Cleveland last season.
In 2020, Hunt rushed for 841 yards with six touchdowns, while collecting five extra scores and 304 yards through the air.
Over the last two years, Hunt has hauled in over 36 receptions in each season.
He has been a versatile weapon on the Browns offense and gives the Browns a perfect one-two punch.
In 2019, the Browns gave Hunt a second chance after some off-the-field issues.
Browns have signed Kareem Hunt to a contract

Browns GM: "We believe he deserves a second chance" pic.twitter.com/v8Nu9vY4Ge

— Bleacher Report (@BleacherReport) February 11, 2019
This has turned out to be a smart investment since Hunt has been nothing but successful since joining the Browns.
Another brilliant move by the front office and hopefully both backs can carry over their success into the 2021 season.