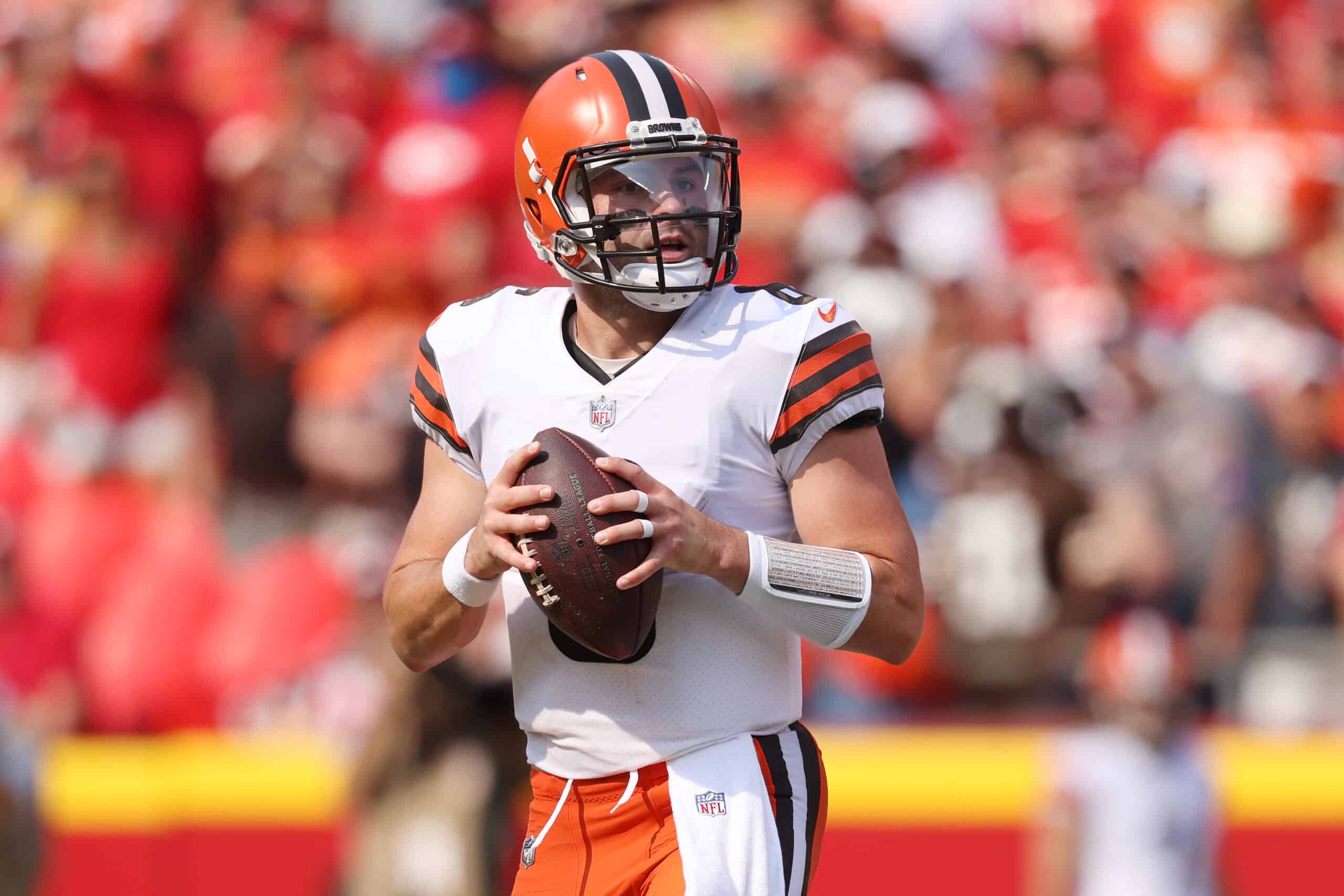 Three quarterbacks on an NFL roster is not an unusual amount.
But for the Cleveland Browns, the three they have is most definitely a crowd.
Baker Mayfield was still in search of a new home as Andrew Berry and Kevin Stefanski introduced Deshaun Watson.
Seattle continues to be the most obvious choice, with Detroit getting a lot of mentions on social media.
But when the dust clears, Tampa Bay might prove to be Mayfield's best option.
NFL analyst Adam Schein tried to get the Buccaneers' GM John Licht to admit as much yesterday.
Appearing on Sirius Radio's Mad Dog Sports Radio, Licht did not take the bait.
"I don't want to talk about a player that's on another team's roster right now, but we may still add a veteran quarterback. We're going to have to see how it goes here."@AdamSchein asked #Bucs GM Jason Licht about adding a veteran backup QB, specifically Baker Mayfield. pic.twitter.com/rQaVZLVLjR

— Mad Dog Sports Radio (@MadDogRadio) March 23, 2022
But he didn't rule anything out, effectively keeping Mayfield-to-Tampa rumors alive.
Tampa Bay's Company line: We like Kyle 
Tampa Bay drafted Kyle Trask and coaches insist they like their young prospect a lot.
Head coach Bruce Arians even projected Trask as the starter in 2022 before Brady announced his return.
"There is a reason we drafted Kyle Trask," said Arians when asked what Tampa's plans were.
Similarly, the GM Licht expounded the virtues of Trask as a viable back-up to Brady this season.
Bruce Arians on Kyle Trask: "We drafted Kyle Trask No. 2 for a reason. He fits everything we want to do as a quarterback, and I really liked what I saw for a year. So I doubt draft day is an option."

— lindsey ok (@lindseyyok) March 2, 2022
Although he did offer other scenarios, including bringing Blaine Gabbert back for another season.
Licht would not comment on Mayfield, alluding to NFL tampering rules.
But he said the team would consider adding another veteran quarterback to their mix before September.
And going into his fifth season, that could open a door for Baker Mayfield.
Would Baker Fit In With Tampa? 
Baker Mayfield already shows signs of understanding his changed status in the NFL.
After refusing to visit a quarterback guru for years, Mayfield is now training with Patrick Mahomes' passing mentor.
But his defiant trade demand at the thought of being the Browns' second choice looms large.
Obviously, he can't expect to win the starting job in Tampa with Tom Brady.
https://twitter.com/RGIII/status/1504544976457379849
Would he consider sitting out in hopes of landing in a city he can at least compete for the top spot?
Or will he accept the opportunity to learn from watching Brady in hopes of eventually stepping into his role?
Of course, there are no guarantees in life, and Mayfield would not be an automatic heir-apparent.
Mayfield is still a free agent in 2023 and Kyle Trask is learning a lot, too.
What It Means For The Browns 
Andrew Berry continues to explore all his options when it comes to Mayfield.
Cleveland would like to receive something of value in return for their former first-overall draft pick.
But it would be worth a discount to place him in the NFC for at least one season.
Berry's worst nightmare is to cut Mayfield and pay the bulk of his salary to play for a division or conference rival.
Cabot: Steelers Will 'Pounce' On Mayfield If He Is
Cut https://t.co/zvHbK45YbM

— Pro Football Live (@ProFootballLive) March 22, 2022
If it gets to that point, Cleveland might pay the salary just to get an NFC team to take Mayfield.
Another option is to tie up a 2022 roster spot with Mayfield only to make him inactive each week.
Berry can hope to get lucky at the expense of another team facing a sudden need at QB before the trade deadline.
But it is more likely Cleveland would prefer to rid itself of the distraction Mayfield has become before training camp.