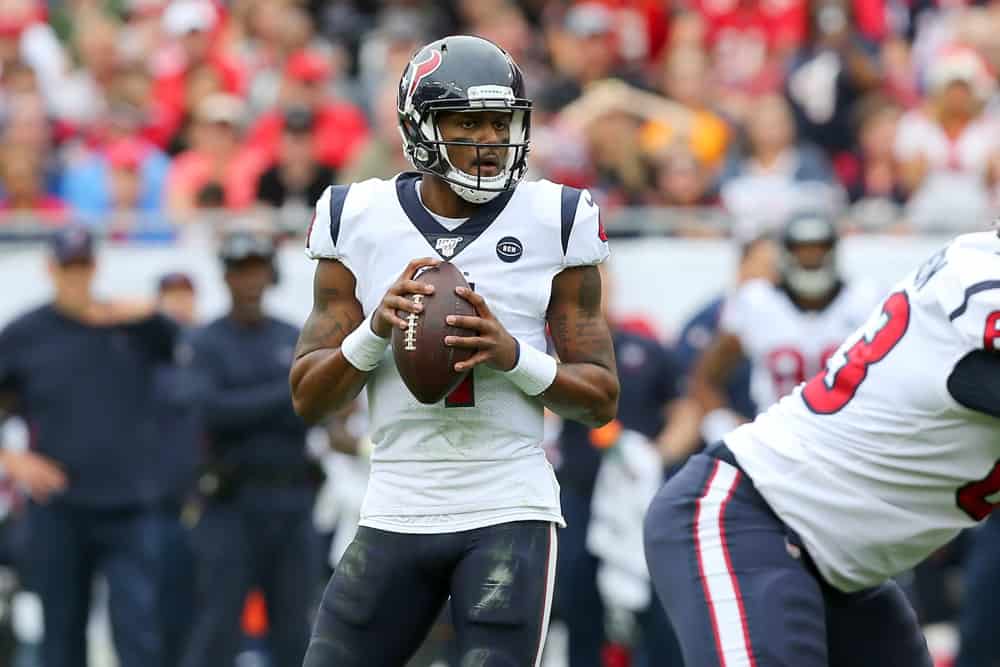 The 2020 season is quickly approaching and the Cleveland Browns are going to have a few tough matchups in front of them.
The Browns will battle against the reigning MVP, Super Bowl quarterbacks, and the No.1 pick from the 2020 NFL Draft.
There are 13 different quarterbacks set to square off against Cleveland this season, but which of them will be the toughest to stop?
5. Dak Prescott
Dallas Cowboys quarterback Dak Prescott has earned himself two Pro-Bowl appearances through his first four years in the league.
The former fourth-round pick is often heavily criticized for being unable to lead the organization to the promised land.
Highest graded QBs on throws 20+ yards downfield in 2019

1. Russell Wilson: 98.9
2. Deshaun Watson: 98.2
3. Gardner Minshew: 94.7
4. Dak Prescott: 93.9 pic.twitter.com/NUqLsV5F6H

— PFF (@PFF) May 10, 2020
Prescott doesn't have much playoff success, but his numbers during the regular season are solid.
He threw for a career-high 4,902 passing yards, with 30 touchdowns, and 11 interceptions through 16 games last season.
The Cowboys already have a strong offense led by running back Ezekiel Elliott and wide receiver Amari Cooper.
However, they decided to add even more firepower when they selected Oklahoma wide receiver CeeDee Lamb during the first round of the draft.
A mediocre quarterback could have success with this offense, but Prescott could very well be headed to another Pro Bowl in 2020.
4. Philip Rivers
After an underwhelming performance by Jacoby Brissett in 2019, the Indianapolis Colts decided to bring in veteran Philip Rivers.
The 13-year quarterback is coming off a down year with the Los Angeles Chargers, but is primed for a rebound campaign.
Most completions of 20+ yards since 2018

1. Jared Goff – 141
2. Patrick Mahomes – 124
3. Philip Rivers – 117
4. Tom Brady – 113 pic.twitter.com/NWKJEDfM9k

— PFF Fantasy Football (@PFF_Fantasy) May 13, 2020
Rivers threw for 4,615 passing yards, 23 touchdowns, and 20 interceptions through 16 games last year.
The eight-time Pro Bowl quarterback is used to having more success, but things didn't go his way in 2019.
Rivers decided to part ways with the Chargers and sign a one-year $25 million deal with Indy.
The Colts reloaded their offense with wide receiver Michael Pittman Jr. and running back Jonathan Taylor during the draft.
They already had a strong offense before the draft, so Rivers will have plenty of weapons.
The 38-year-old is running out of time to make a Super Bowl run, but has a great chance with the Colts next season.
3. Carson Wentz
Philadelphia Eagles quarterback Carson Wentz has been a star in the NFL since the 2017 campaign.
He was well on his way to winning league MVP before tearing his ACL in early December of the 2017 season.
The Eagles ended up winning the Super Bowl that year, but Wentz has been heavily criticized since his injury.
Here's a comprehensive list of every QB in NFL history to throw for 4,000+ yards in a season without ANY wide receiver having 500+ yards:

– Carson Wentz pic.twitter.com/ppVjMH1zGJ

— Eagles Fan Problems (@EagleFanProbs) May 13, 2020
Wentz was able to play all 16 regular-season games in 2019, but sadly most of his wide receivers were not.
The Eagles were often times stuck using receivers with little to no experience in the league last season.
Despite that, Wentz finished the season with 4,039 passing yards, 27 touchdowns, and seven interceptions.
Injury concerns will continue to follow Wentz, but he could very well compete for MVP with a healthy offense around him in 2020.
2. Deshaun Watson
Over the last two seasons, Houston Texans quarterback Deshaun Watson has become one of the best rising stars in the league.
He has led his team to the playoffs in two consecutive seasons, while earning two Pro Bowl selections for himself.
Top QBR vs. Man Coverage in 2019…

1. Lamar Jackson — 91.0
2. Deshaun Watson — 79.9
3. Derek Carr — 78.8
4. Drew Brees — 78.6
5. Matthew Stafford — 78.5 @NFLMatchup pic.twitter.com/ZFzMJqZsOt

— Matt Bowen (@MattBowen41) May 17, 2020
The 24-year-old is coming off a season where he threw for 3,852 passing yards, 26 touchdowns, and 12 interceptions in 2019.
The Texans roster has seen some overturn during the offseason, so it'll be interesting to see what Watson is able to do next season.
The talent around Watson might not be as great anymore, but he is hands down the best player on that offensive unit.
He'll find ways to make plays, even if his teammates aren't quite as good as him.
1. Lamar Jackson
The reigning MVP Lamar Jackson landing in the No. 1 spot might not come as a shock.
The Browns are not the only organization that is going to have a tough time trying to slow down Jackson.
Most TD Passes thrown on the road in 2019:

1. Lamar Jackson – 20
2. Jameis Winston – 19
3. Matt Ryan – 18
3. Daniel Jones – 18
5. Kirk Cousins – 17
5. Patrick Mahomes – 17 pic.twitter.com/6YTI1oiobr

— CTB (@catchtheblitz) May 17, 2020
Jackson is coming off a sophomore campaign where he threw for 3,127 passing yards, 36 touchdowns, and six interceptions last season.
He also ran for 1,206 yards on 176 attempts with seven rushing touchdowns during the 2019 campaign.
The dual-threat quarterback was well deserving for MVP last season and could make another run at the award in 2020.
The Ravens offense would be tough to stop with an average quarterback under center, but having Jackson makes it nearly impossible.
Opposing defenses are going to have a hard time slowing down the 23-year-old superstar quarterback in 2020.