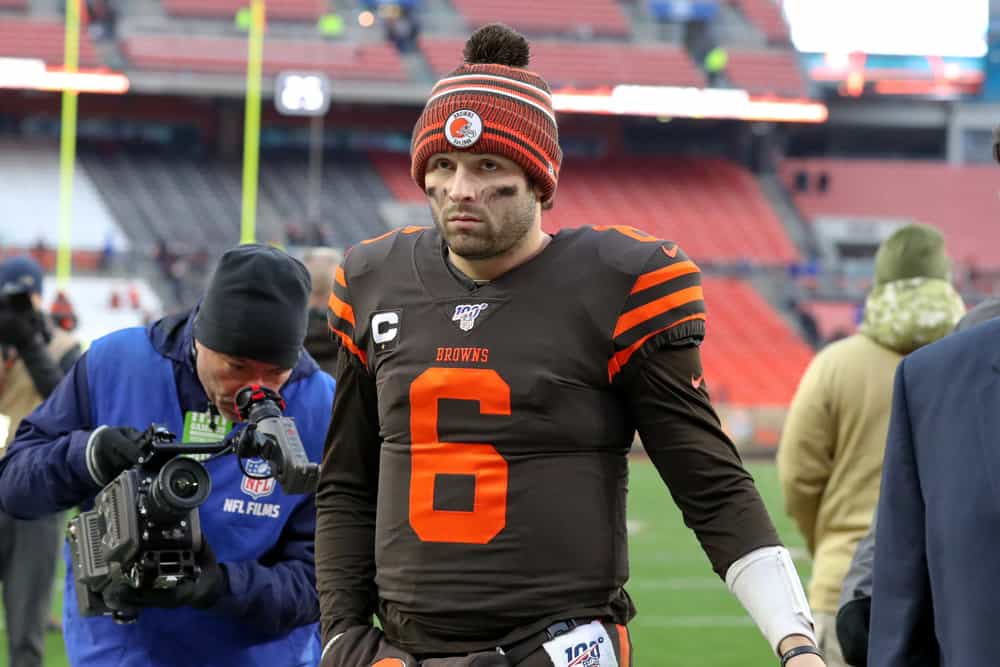 After an underwhelming performance in 2019, it has become a make-or-break year for third-year quarterback Baker Mayfield.
The Cleveland Browns need the former No. 1 overall pick to step up and lead their organization in 2020.
While many have made predictions on what Mayfield might become, ESPN analyst Bobby Carpenter made an interesting comparison.
During a recent episode of "Get Up!", Carpenter had some insight and mentioned that he believes Mayfield's career is in jeopardy of going down the same road of former No.1 pick quarterback Alex Smith.
"This is his fourth coach in his third season," Carpenter said. "He's not going to be able to get to a fifth coach. If they end up moving on from Kevin Stefanski because they haven't had success, a lot of that is going to fall at the feet of Baker Mayfield.

"He has everything he needs to be successful. So, this is his opportunity to become the franchise quarterback in Cleveland," Carpenter continued. "If not, he could be going down the road of Alex Smith, who's a great quarterback and played really well in his career…But you just don't get a chance to ever settle in and become that guy for the franchise. If Baker can't do that for Kevin Stefanski this year, he's probably never going to get that opportunity again."
What Happened to Alex Smith?
The San Francisco 49ers selected Smith with the No. 1 overall pick during the 2005 NFL Draft.
He spent the first seven seasons with his career with the 49ers, but was traded after the 2012 season.
San Francisco decided to move onto Colin Kaepernick, after Smith suffered an injury.
Smith spent the next five seasons of his career with the Kansas City Chiefs.
In 2018, Smith was traded again, this time he was dealt to the Washington Redskins.
That moment Alex Smith held a football for the first time after his life changing injury.

A look at @e60's #Project11 pic.twitter.com/aqm8QuWeYr

— Washington Redskins (@Redskins) April 29, 2020
During the 2018 season, Smith suffered a compound fracture that led to sepsis.
His career is somewhat in doubt after suffering a brutal leg injury.
Smith has put together solid numbers throughout his 13-year career.
However, he was never able to settle down and become a franchise quarterback for a team.
Carpenter believes that Mayfield could end up going down a similar road if he struggles during the 2020 season.
Mayfield in 2020
Similar to Smith, Mayfield was the No. 1 overall pick in his draft class.
He came out strong during his rookie season and appeared to actually exceed expectations.
However, that all came to a crashing halt when head coach Freddie Kitchens took over last season.
Mayfield ended up having a sophomore slump and threw 21 interceptions, which was the second-most in the NFL.
Newly-appointed head coach Kevin Stefanski is Mayfield's fourth head coach since he entered the league.
It's tough to develop chemistry and a solid flow when the coaching staff is changing that frequently.
Hopefully, Stefanski is the right choice, so the Browns can actually get some stability at head coach.
"All the data points to Baker Mayfield bouncing back in 2020."

🗣 @PFF_Steve pic.twitter.com/wTNZ5BDj6I

— PFF (@PFF) May 11, 2020
The Browns have a stacked offense and need Mayfield to be "the guy" at quarterback next year.
Stefanski did a fantastic job as the offensive coordinator for the Minnesota Vikings last season.
Hopefully, Stefanski will be able to help Mayfield make the correct adjustments to his game.
Otherwise, Mayfield might not get another chance to be the franchise quarterback if things don't work out in Cleveland.
Mayfield vs Smith
Smith has put together a strong NFL career, but has basically been looked as a journeyman more than a franchise quarterback.
He was a fairly mediocre quarterback until he joined the Chiefs in 2013.
The Chiefs organization really helped Smith jump-start his career after multiple injuries and average seasons in San Francisco.
Mayfield's rookie season was already better than Smith performed during his first five seasons in the league.
The talent is clearly there, but the merry-go-round of coaches has not helped Mayfield at all.
He could very well end up an NFL journeyman if his career doesn't work out in Cleveland.
However, Mayfield is primed for a bounce-back season, so the rest of this discussion might need to wait until after the 2020 campaign.