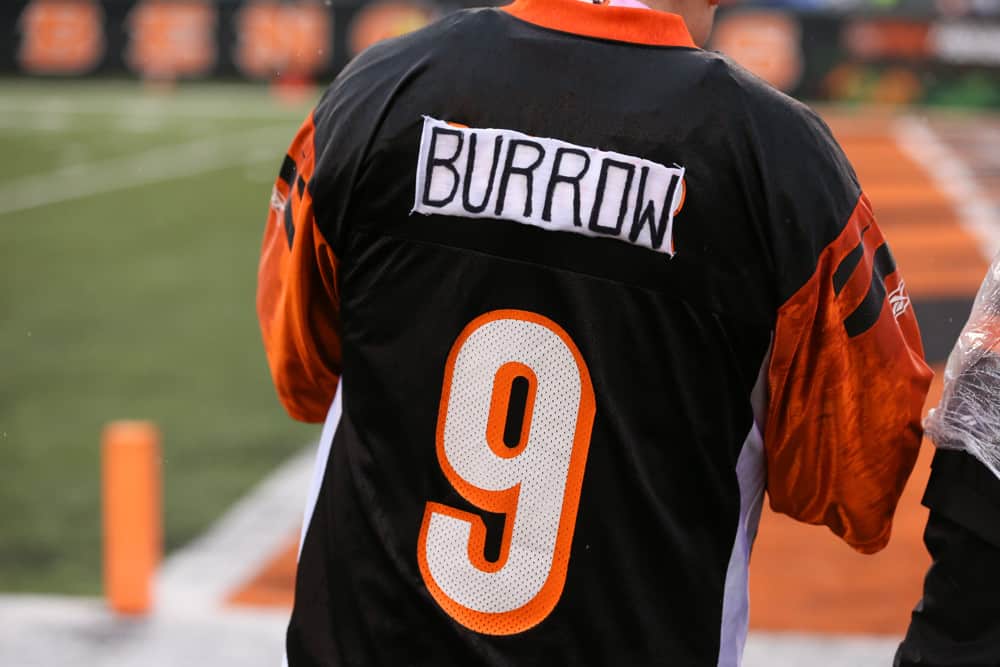 Cleveland Browns fans have every reason to be excited about Kevin Stefanski´s 2020 offense.
We know this, because practically every pundit, analyst, and coach tell us so.
Even if they are not as excited about a possible Super Bowl appearance.
Cleveland boasts one of the most productive groups of skill position players on paper.
The offensive line is much improved, and the addition of Austin Hooper to an already potentially explosive offense should make the 2020 Cleveland Browns a juggernaut in the AFC. #NFL #DawgPound pic.twitter.com/1dXfsZeN9n

— Hundred Yard Report (@100YardReport) April 30, 2020
They greatly improved their offensive line and the defense looks better, too.
Adding a talented, analytical coaching staff behind an offensive guru is a finishing touch.
Baltimore and Pittsburgh are expected to give Cleveland a run for their money.
But before we call this a three-way race, there is another group begging for attention.
The Cincinnati Bengals Have Entered the Conversation 
Much of the Cleveland chatter centers around their new additions at tight end and the offensive line.
With a pair of former All-Pros at running back and another pair at wide receiver, the team appears loaded.
But it all hinges on Baker Mayfield.
Cleveland Browns head coach Kevin Stefanski "very impressed" with former Oklahoma Sooners quarterback Baker Mayfield's offseason:https://t.co/W57YMW9YSw pic.twitter.com/Ms10oNftLF

— 247Sports (@247Sports) June 26, 2020
Mayfield´s enthusiastic offseason preparation and studying support expectations.
But he is not the only former Heisman trophy winner and overall number one pick in the division anymore.
Joe Burrow might be unproven at the NFL level, but he is probably as sure of a thing as any quarterback coming out the draft in recent memory.
His own preseason preparation draws rave reviews from his offensive coordinator, Brian Callahan.
Callahan told Paul Dehner of the Athletic Burrows' reputation as a cerebral leader is playing out.
"Sometimes he would say things early on and I'd say, we are not talking about that right now, let's just get through what we need to get through here and then we can revisit that later. We will probably answer that question you have in a day or two days or three days because we are not there yet. I know you are, but we're not."
Combined with Burrow´s throwing skills, it´s little wonder some analysts think the Bengals have the better quarterback. 
But that conversation isn´t as interesting as what the wide receivers are saying.
Tyler Boyd Has Thoughts on the Receiving Corps
Tyler Boyd is among the Bengals not as impressed with the Browns´ hype as others.
This became evident when the NFL Network´s Good Morning Football asked fans to pick the best tandem between Burrow and AJ Green versus Mayfield and Odell Beckham Jr.
Boyd´s opinion was clear from his social media response:
Shits not even close https://t.co/phKmeamr7o

— Tyler Boyd (@boutdat_23) May 8, 2020
Cincinnati´s wide receiver corps is probably their strongest unit.
Tyler Boyd emerged as a leader during virtual meetings this offseason, coming off a pair of 1,000-yard seasons.
But Boyd´s opinion notwithstanding, can they match up to the pack of Browns receivers?
Fans can argue Jarvis Landry and Beckham are better than Green and Boyd.
Green just missed a season and a half, and Beckham comes off an injury-tainted season himself.
Each team has an exciting rookie ready to contribute in Tee Higgins and Donovan Peoples-Jones.
Plus, the Browns Rashard Higgins and Cincinnati´s Auden Tate provide solid options.
Cincinnati´s John Ross could find himself out of a job by opening day.
Ross Not Impressed With Chubb and Hunt 
Well, maybe he is impressed by the Browns powerful and productive running back tandem.
But he was quick to defend Joe Mixon as the superior player among the three.
Yall betta stay out my mentions talking about yall have two running backs better than mixon on one team. Quarantine got yall actin unusual lol too early to be drunk

— Hank Moody (@WatchJRoss) May 9, 2020
There was no mention of Giovani Bernard, who still appears to be the Mixon backup at this point.
That´s nothing against Bernard, but few RB2s match up to the Browns Hunt.
Joe Mixon had a great second half in 2019, finishing with his second consecutive thousand-yard season.
And if Browns fans thought their offensive line had issues, they paled compared to the Bengals.
If Mixon can stay healthy, he is a shoo-in as a top-ten rusher.
Heading into the fourth year of his rookie deal at just 23 years old, he wants an extension from the Bengals.
He could hold out, but unless he contributes more to the Bengals´ passing game, he won´t get a huge payday.
And he certainly can´t hold a candle to either Nick Chubb or Kareem Hunt.
Anybody Else Want to Chime In? 
None of the Bengals´ tight ends have made much of a fuss about the Browns so far.
Not many teams can match against the combo of Austin Hooper, David Njoku, and even rookie Harrison Bryant.
But with respect to CJ Ozumah and Drew Sample, the Bengal tight ends are wise to stay out of the fray.
Both the Bengals and the Browns believe they solved their offensive line woes.
But they are each counting on rookies in important roles after a shortened and compromised preseason.
Likewise, both defenses look better, albeit without many headline-grabbing moves.
After all the talk about their offenses, the Browns´ special teams could be the difference in close games.
My AFC North Standings Prediction:

1. Baltimore Ravens 12-4
2. Cleveland Browns 10-6
3. Pittsburgh Steelers 9-7
4. Cincinnati Bengals 4-12

— Sam Block 🕙 (@theblockspot) June 15, 2020
All of that explains why Cleveland is touted as a potential 2020 playoff team.
And Cincinnati is not… yet.
But just like the Browns, the team from the southwest has enough talent to keep them in most games.
Are they good enough to justify sniping at the Browns on social media?
Week 2 will be our first barometer when the Battle of Ohio re-ignites on Thursday Night Football.
But as each team continues its rebuild, this could rage on for quite a while.