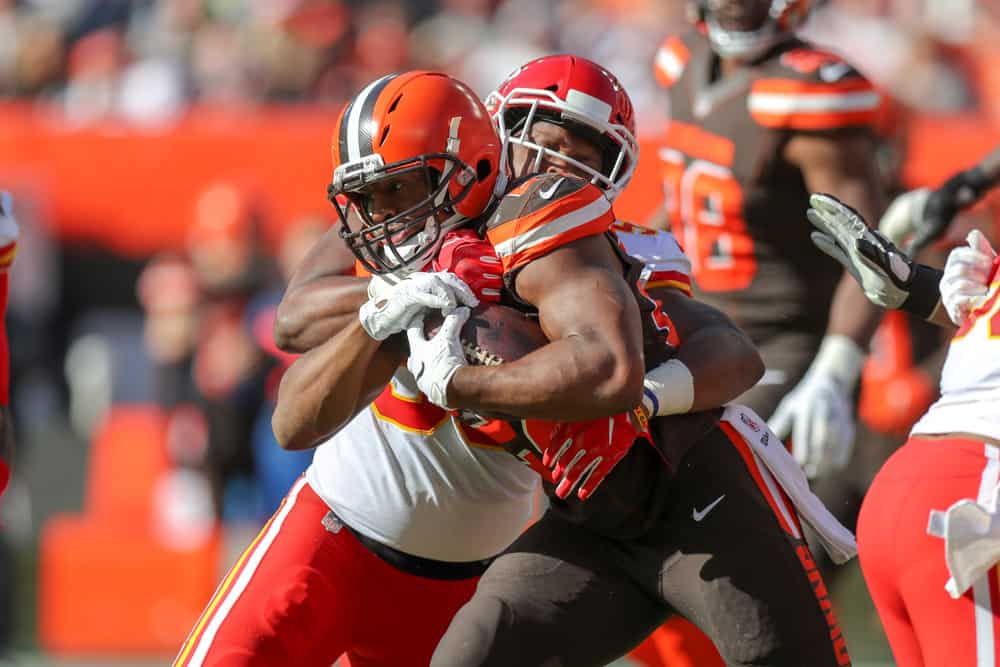 Even though the Cleveland Browns lost to the Kansas City Chiefs three months ago in the divisional playoff, new information is coming to light about an error that nine bettors cashed in on.
The error was on the BetMGM prop line bet for passing yards for each of the game's quarterbacks, Baker Mayfield and Patrick Mahomes.
Payoff was intended if the quarterbacks passed for over 300 yards.
Neither did; Mayfield had 204, and Mahomes had 255.
This is where the typo comes into play.
Instead of the line reading "300", it read "00".
The moral of the story is to read the bet sheets very closely because sometimes errors can work in your favor.
A typographical error in a betting line on a Cleveland Browns-Kansas City Chiefs game in January led to a $10,500 windfall for nine eagle-eyed bettors.

by @WayneParryAC
https://t.co/YpXWVS5WQ2

— AP NFL (@AP_NFL) April 23, 2021
How BetMGM Wanted To Handle It
BetMGM reported the error after the fact to the New Jersey gaming enforcement division.
They asked for permission to void the bets.
The state said the bets could not be voided until an investigation was concluded.
To avoid that process, BetMGM agreed to pay out the bets.
Those nine bets cost BetMGM $10,000.
To add insult to injury, the New Jersey gaming enforcement division fined BetMGM $500 for failure to properly document the odds.
This means the missing digit cost BetMGM $10,500.
It looks like BetMGM has the cash to spare given the boom in betting that has unexpectedly happened during the pandemic.
Big day for @BetMGM 🦁 👏👏 pic.twitter.com/I6Z7nOUU9X

— Raymond Doyle (@RaymondDoyle1) April 21, 2021
Bets For The 2021 NFL Draft
Las Vegas takes bets for practically everything you can think of for the upcoming NFL draft.
Surprisingly, this practice just started in 2017.
Of course, bets can be made on the first, second, and third overall picks.
There are other standard bets such as:
1st defensive player selected
1st offensive linemen selected
1st running back selected
1st wide receiver selected
The countdown is on for the 2021 NFL Draft held in Cleveland next week.
For all drafted-related logistics and questions, go to the NFL Draft website at https://www.thisiscleveland.com/nfl-draft.