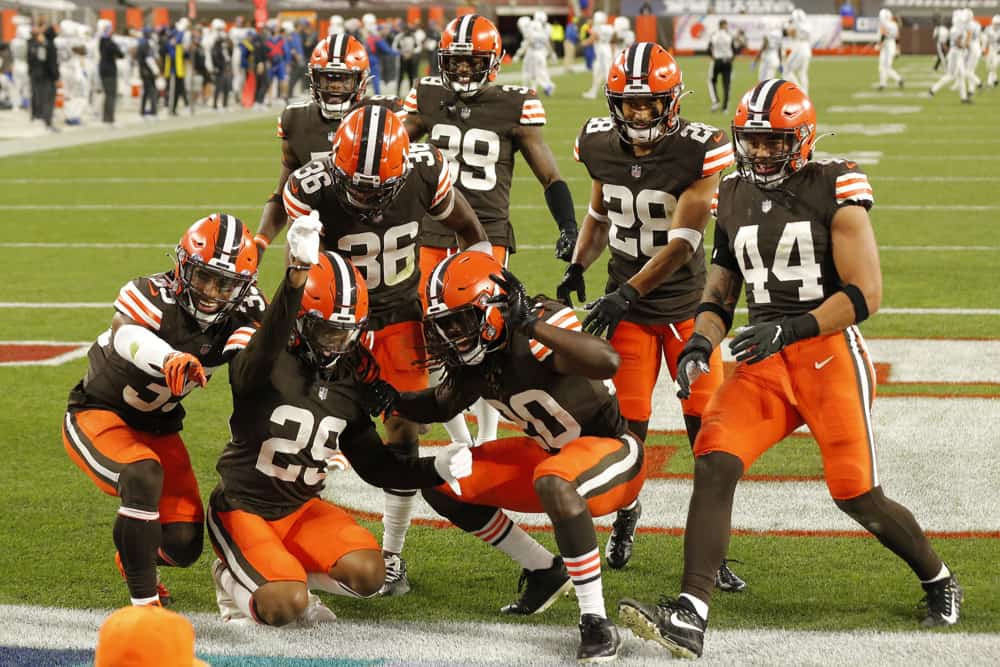 Pro Football Focus employs a team of analysts determined to deliver objective and level-handed assessments.
If they come close to that goal, we can objectively say the Cleveland Browns have one of the top rosters in the NFL.
Cleveland added 2 cornerbacks to PFF's Best Position Players of 2021 this week.
The top-🔟 outside CBs in the NFL 🔒

Who got snubbed? pic.twitter.com/2WlIqiLtf9

— PFF (@PFF) June 1, 2021
Denzel Ward came in as the 8th-ranked outside corner in a top-32 ranking.
And in a nod to the increased use of nickel groups as a base defense, PFF also ranked the top 10 slot corners.
They named free-agent acquisition Troy Hill as the 5th-best at that position.
🥇 Kenny Moore II
🥈 Bryce Callahan
🥉 Jonathan Jones@PFF_Linsey ranks the top 🔟 slot CBs ahead of the 2021 NFL season 🔒👇

— PFF (@PFF) June 1, 2021
With the latest additions, 6 Browns defensive players are cited in PFF's 2021 rankings.
Five teams landed more players in the upper echelons of PFF's defensive analysis.
But Ward and Hill join Myles Garrett (4) and John Johnson (3) ranked among the top-10 at their respective positions.
And no other team matches that number of top-10 defenders.
Denzel Ward, Outside Corner #8 
Browns fans can argue Denzel Ward's position comes in lower than expected.
In fact, PFF's article puts a kind of disclaimer at the top of their cornerback piece.
Before listing the top outside cornerbacks, PFF writer Ben Linsey describes 2 distinct tasks they might be charged with.
"…depending on the scheme they run. Some cornerbacks are tasked with shutting down their side of the field in zone, while other top cornerbacks are given the unenviable job of following the opposing team's No. 1 wide receiver in man coverage. (It) makes identifying the league's best at the position… challenging."
Apparently, PFF found it too challenging to put the NFL's top-ranked man-to-man cornerback since 2018 higher than number 8 overall.
When it comes to making plays on the football, these cornerbacks were among the best in the NFL last season.

📸: Top 5⃣ CBs by Ball Hawk Rate

[Hawk % = PD or INT / targets as nearest defender] pic.twitter.com/CNrse3VjuO

— Next Gen Stats (@NextGenStats) May 24, 2021
Linsey laments how Ward is often overlooked, and then places him behind Stephon Gilmore (7).
This despite Gilmore's PFF coverage ranking plummeting well behind Ward in 2020.
Linsey finds a fault in the game of several of the other top-10 corners but says only good things about Ward's game.
Maybe Ward will accumulate more stats this year than he did playing in a weak secondary last season.
Quarterbacks won't be able to throw away from him as much in 2021, and that should lift him further into the top-10.
Troy Hill, Slot Corner #5 
Ben Linsey also wrote PFF's top slot cornerback article.
He points out an interesting fact about the position to explain why slot corners deserve their own rankings.
"The Jacksonville Jaguars led the NFL in percentage of snaps with base defensive personnel on the field in 2020 at just 39.9%. That means every team in the league had at least five defensive backs on the field for 60-plus percent of their defensive snaps last season. Slot defenders aren't just specialists — they're defensive starters."
Linsey explained how some good slot corners played as often or more outside in some defenses.
But the Browns' Troy Hill had the opposite experience, pushed into the slot after four seasons outside.
TROY HILL COAST 2 COAST

— PFF (@PFF) January 3, 2021
And he thrived in the Los Angeles Rams' defense, ending the season as PFF's top-ranked slot corner.
Hill took advantage of the position change in free agency and followed John Johnson III to Cleveland.
With Ward, Greedy Williams, and rookie Greg Newsome on the roster, he'll stay inside for the Browns, too.
Fans might wonder if Hill's success was at least partly attributable to the players around him in Los Angeles.
But it doesn't look like the quality of his defensive teammates is any lower in 2021.