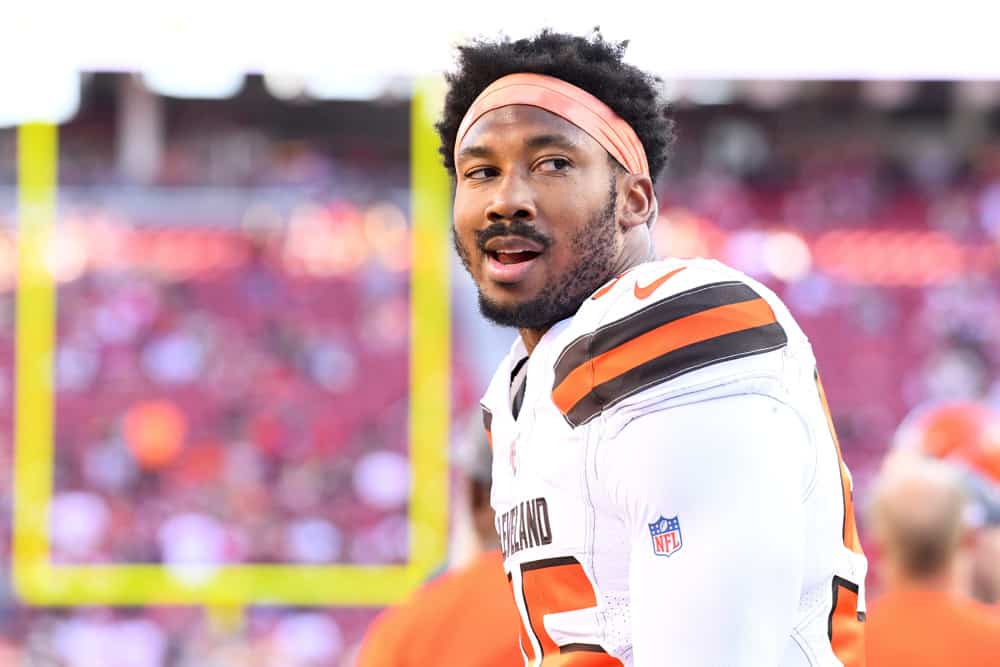 It's no secret that NFL players are some of the best athletes in the world.
What many fail to realize, however, is that some of the big fellas are a bit slept on in terms of their agility and leaping ability.
Browns defensive end Myles Garrett is no exception.
Just a 6'4 – 270+ LBS. @MylesLGarrett casually dunking over another human…

👀😳😳 #Browns | #DawgPound

— BrownsAccess (@BrownsAccess) June 23, 2020
That video surfaced on Tuesday afternoon and took Browns twitter by storm.
Fans are certainly craving content, and with the Cavs out of the NBA's return and the Indians still over a month from their first game, this type of stuff is exactly what they are looking for.

Garrett's Got Game
This probably isn't the first time you've seen footage of Garrett on a basketball court.
Don't let the football player-stereotype fool you.
Myles can dominate on the court, not just on the field.
Back in 2018, an article surfaced that detailed his abilities on the basketball court.
Garrett was playing in a local Cleveland league called the P-League.
Of course, he was throwing down thunderous dunks back then as well.
@MylesLGarrett just out here randomly posterizing people in a DBZ tank top playing in the @ThePLeague1 like it's nothing 😂🤷🏽‍♂️🐐 pic.twitter.com/aY7ksZuVe9

— Javier Ruiz Jr (@Based_Javvv) July 16, 2018
It's hard to believe that a man that weighs over 270 pounds can soar through the air with the ease of Michael Jordan.
Well, maybe he's not MJ.
But, he certainly looks like he could hold his own in an amateur dunk contest.
Based on some of the other clips on the P-League's Twitter page, it looks like Myles can shoot the ball a little as well.
Scary to think that guys who dedicate almost all of their time to their profession can still compete at a high level in other sports.
Garrett is far from the first to showcase that as we have seen plenty of two-sport athletes before
Still, that doesn't take away from its expressiveness.

Looking Ahead
It's good to see Myles continuing to serve as one of the more fun-spirited members of the Cleveland community.
He even joked around back in April about what kind of statistics he would post as a member of the Cavs.
The context surrounding his suspension this past season certainly shed a bit of a bad light on him from a national standpoint.
Cleveland natives know what kind of guy he is though, and Garrett seems to appreciate that.
If you're out playing pick-up basketball, be on the lookout for Myles!
Although you may find yourself on the sidelines again quickly if you get matched up with his team.