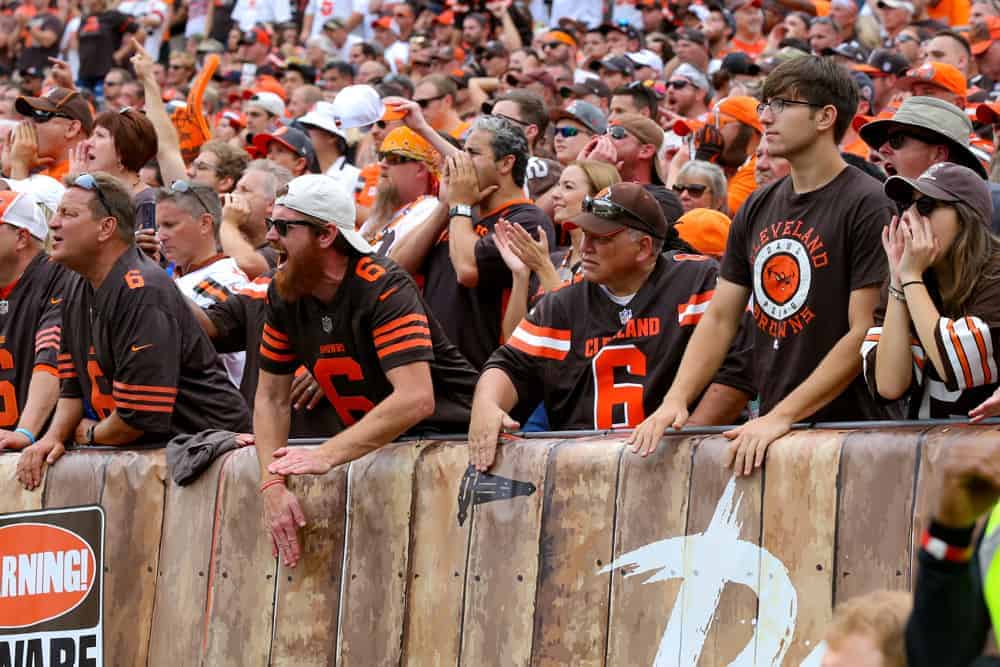 If any Cleveland Browns fans have a special occasion coming up, then Cameo may be for you.
For those who are not aware of Cameo.com, the video-sharing website allows anyone to submit a request for a celebrity to make a specific video for you or someone you know.
There are many Browns on Cameo, and one of the best is Browns quarterback and fan-favorite Bernie Kosar:
WOW. What A Moment. 🙏🏻

Grateful To Have Been Able To Be A Part Of This.

Luv To Jason And His Dad.#GoBrowns 🏈👊🏻 pic.twitter.com/nipeTxv3bS

— Bernie Kosar (@BernieKosarQB) June 22, 2020

Heartfelt messages like these are a perfect gift for Browns fans worldwide.
Any person can submit a request, and each player and coach has a certain timeline that he takes to make the video.
When submitting a request, each fan can use up to 250 characters to ask for the Cleveland Brown to wish a friend a happy birthday, send best wishes, or celebrate any type of occasion.
Current Browns Players on Cameo
Jedrick Wills Jr. is the latest Browns player to join Cameo:
Need Birthday gifts? Or want to surprise a special Browns fan? Check out my Cameo profile😎: https://t.co/GDiX9zFXyc

— Jedrick Wills Jr.® ➕🌎☄️💕 (@JWills73) June 22, 2020
Fans can pay $50 for a personalized video from the Browns' 2020 first-round draft selection.
Wills can provide motivation in his messages and, according to the Cameo website, he typically responds in just one hour.
Browns tight end David Njoku is on Cameo as well for $105 per message.
On the other side of the football is another entertaining option for a Cameo video.
That entertaining option is Mack Wilson, and a personalized message from No. 51 can be yours for $51.
Other current Browns players on Cameo include the following: second-year linebacker Willie Harvey Jr. ($30), cornerback Terrance Mitchell ($25), second-year safety Sheldrick Redwine ($25), and tight end Pharoah Brown ($15).
Former Browns Players on Cameo
In addition to Kosar, there are some fantastic retired Browns that you can find on Cameo.
Jim Brown, who is on Cameo for $320 per video, is ready to bring you the perfect personalized message for you, a friend, a colleague, or a family member.
He typically responds in five days and has an almost perfect rating of 4.9 out of five stars.
A review of one of Brown's videos reads as follows:
"This was by far the coolest thing I've ever done for my dad. Jim Brown was amazing, I live in GA and my parents are in Maine, but I'm pretty sure I can hear my dad replaying the video lol. Thank you again Mr. Brown!!!"
Joe Thomas is also on Cameo for $173 per video, and he has a perfect 5.0 rating.
For fans looking to pay under $100, Josh Cribbs is available at $75.
Cribbs, who recently was named to the Browns Legends Class of 2020, brings fun to his videos and has his Kent State and Cleveland jerseys in his background.
Former Browns wide receiver Andrew Hawkins is available for $50.
Also, fans of the 2018 Browns can get a personalized message from kicker Greg Joseph for $30.
For those Browns fans that are looking for a former coach, look no further: Cameo has Hue Jackson for $60.
There are no other Browns coaches available on Cameo, but they may be added in the future.
There are plenty of options for Browns fans far and wide to purchase personalized videos on Cameo, and they can make someone's day.