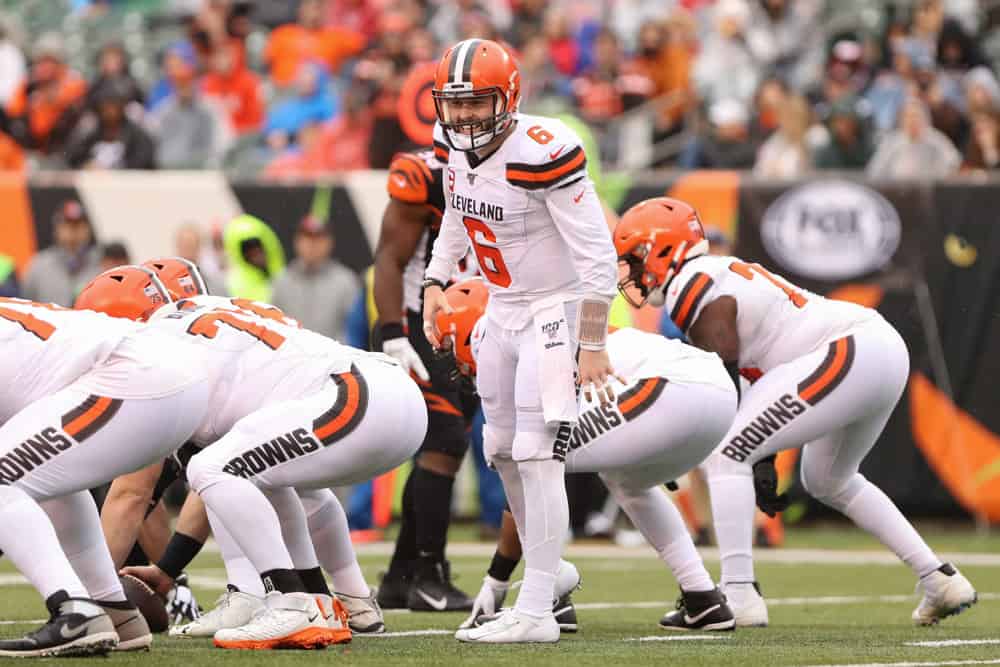 In the middle of a surreal time in the world, the Cleveland Browns are having themselves quite a 2020.
The most recent reason is because oddsmakers put them as 4.5 point favorites according to BetMGM against the Giants on Sunday night.
Who knows the last time the Browns were an odds-on favorite to win a road game in late December?
On December 21, 45 minutes after sunset, a great conjunction of Jupiter and Saturn will create a Christmas Star, or "Star of Bethlehem" effect with a brilliance not seen since 1226 AD. In an even rarer December event, the Cleveland #Browns open as 4.5 point road favorites Sunday.

— Baby Knows Sports (@OppsPat) December 17, 2020
Odds
The 9-4 Browns are expected to beat the 5-8 Giants.
Even though the Browns are listed as 4.5 point favorites, the over/under of 44.5 points indicates that oddsmakers believe it will be a low scoring affair.
The last time the Browns beat the Giants in New York was on December 1, 1985.
That's a long drought that oddsmakers believe will end on Sunday night.
Flexed Game
This will be the second time in six days the Cleveland Browns will be nationally televised.
The Browns lost a thriller to the Baltimore Ravens on Monday Night Football by the score of 47-42.
A few weeks ago, the NFL booted the Cowboys-49ers game from Sunday night coverage in favor of the Browns and Giants.
This change was met with disdain from former Cowboy great turned NFL Network analyst Michael Irvin.
"Isn't that crazy, man? My mind goes everywhere. I'm an analyst, I look at this and say this is crazy what's happening here. [In Week 4] we suffered when they had 307 yards rushing. Who? The Cleveland Browns against the Dallas Cowboys. Last week, after Baltimore ran for [294] yards, they were like, 'oh my, God. We can't put this on Sunday Night Football….And who did they replace us with? The 307 rushing yard Cleveland Browns! Can you imagine the Dallas Cowboys flexed out for the Cleveland Browns? Honestly, honestly, that's a new low."
Both the Giants and Browns are in playoff contention.
New Drama
For those of you who are still trying to forget about former Browns Coach Freddie Kitchens' existence, that is no longer possible.
He is a tight ends coach for the New York Giants.
But he is about to take a bigger role in the Sunday night game in light of the news that offensive coordinator Jason Garrett has tested positive for COVID-19.
#Giants OC Jason Garrett tested positive for COVID-19 and will continue to work remotely. TE coach Freddie Kitchens will be the team's offensive play caller on Sunday vs the #Browns.

— Ian Rapoport (@RapSheet) December 17, 2020
Yep, Freddie will be calling offensive plays against his former team.
Asked before Garrett's diagnosis how he felt about the success of his former team, Kitchens said:
"Couldn't be happier for the fans of Cleveland."
Former #Browns HC Freddie Kitchens, now the TE coach for #Giants, on the Browns: pic.twitter.com/g8V7PPmxrs

— Brad Stainbrook (BrownsWave) (@BrownsByBrad) December 16, 2020
Other Reunion
The head coaches, former high school classmates and teammates at St. Joseph's Preparatory School in Philadelphia, Pennsylvania, face off for the first time in prime time.
Cleveland Browns Coach Stefanski ultimately beat out New York Giants Coach Joe Judge for the starting quarterback role on the freshman team.
Later Judge transferred to Landsdale Catholic High School in Lansdale, Pennsylvania, but the two have kept in touch over the years.
Stefanski has high praise for Joe Judge.
"I have followed Joe and his career. To see what he was able to do in college and New England–he won three Super Bowls up there–it is just outstanding…He is a good man. I know his family–just solid people, so I'm not surprised with where Joe is today."