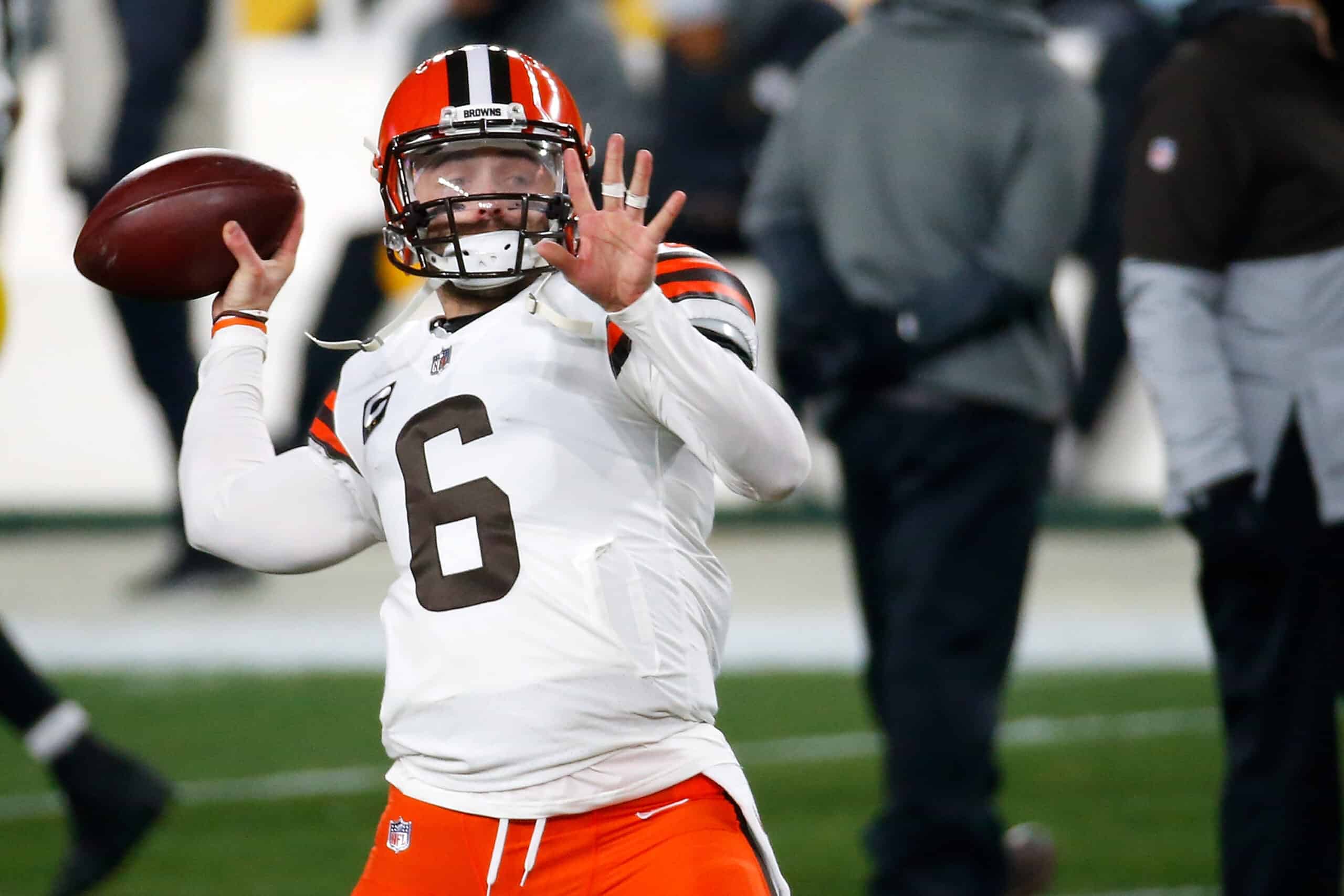 We all saw the incredible 2020 performance from Cleveland Browns quarterback Baker Mayfield.
Honestly, no one expected Mayfield to put together that kind of campaign after his mediocre 2019 season.
However, first-year head coach Kevin Stefanski was able to get the most out of his third-year quarterback.
Now, everyone is aware of Mayfield's ability and won't take him lightly whatsoever in 2021.
It'll be interesting to see what Mayfield will be able to accomplish next season.
A Pipe Dream
Obviously, the hope is that Mayfield can lead the Browns to the Super Bowl next season.
That isn't going to be an easy task, especially with teams like the Kansas City Chiefs and Baltimore Ravens in the AFC.
The 26-year-old showed leadership and an ability to make plays in high-stress or pressure situations.
Baker the touchdown maker 😏@bakermayfield pic.twitter.com/oCDqgL0I5b

— Cleveland Browns (@Browns) February 24, 2021
To be fair, it helps quite a bit when you have an elite offensive line and endless weapons on offense.
Mayfield was able to take what he was given and help lead Cleveland into the second round of the playoffs.
During the playoffs, Mayfield threw for 467 yards with four touchdowns and one interception.
The spotlight was on Mayfield, but he continued to perform like he did during the regular season.
This Browns organization is looked at as legitimate Super Bowl contenders and the pressure is going to be on if they don't perform like it.
A Super Bowl appearance could be on the horizon, but that's assuming Mayfield actually gets better during the 2021 season.
Keeping It Realistic
Coming out of college, Mayfield was a stud and seem like a fairly obvious selection at No. 1.
The Browns certainly felt like he was the answer and took him with the first selection in the 2018 NFL Draft.
To be fair, Cleveland also thought Brandon Weeden, Brady Quinn, and Johnny Manziel were the answer.
Although, they knew right away that Mayfield was different than everyone else.
If the #Browns do take Baker Mayfield at No. 1, know this: Cleveland sees no comparison to Johnny Manziel. pic.twitter.com/x8tWiOkUNR

— Ian Rapoport (@RapSheet) April 26, 2018
There have been some rough patches, but Mayfield has done his job in Cleveland.
He has shown he can be a leader and looks like an intelligent and knowledgeable quarterback.
Mayfield could honestly be the quarterback that leads this team to a Super Bowl.
It's worth noting that a big reason why Mayfield was so successful last season was because of his elite offensive line.
2020 #Browns: only offensive line to finish #1 in both team pass and run block grade in PFF's history pic.twitter.com/qmhQkA3SHx

— PFF (@PFF) January 14, 2021
Yes, Mayfield is talented, but he was playing alongside some of the best players in the league right now.
It seems fair to say quarterbacks such as Matthew Stafford, Jared Goff, or possibly Kirk Cousins could've put together similar seasons on the Browns last season.
This isn't Mayfield's fault that he's given a ton of talent, but let's not put him in the Hall of Fame just yet.
His ceiling is likely around 3,500-3,600 passing yards, low 30s touchdowns. and around 12 or 13 interceptions.
There should be an increase in passing yards and touchdowns with Odell Beckham Jr. back on the roster.
However, Mayfield has been known to be somewhat careless with the ball as seen by his 43 interceptions in three seasons.
Once the o-line regresses then we'll see what Mayfield can actually do on the field.
He'll be a borderline Pro Bowl quarterback, but will need some help if the Browns want to make it to the Super Bowl in 2021.