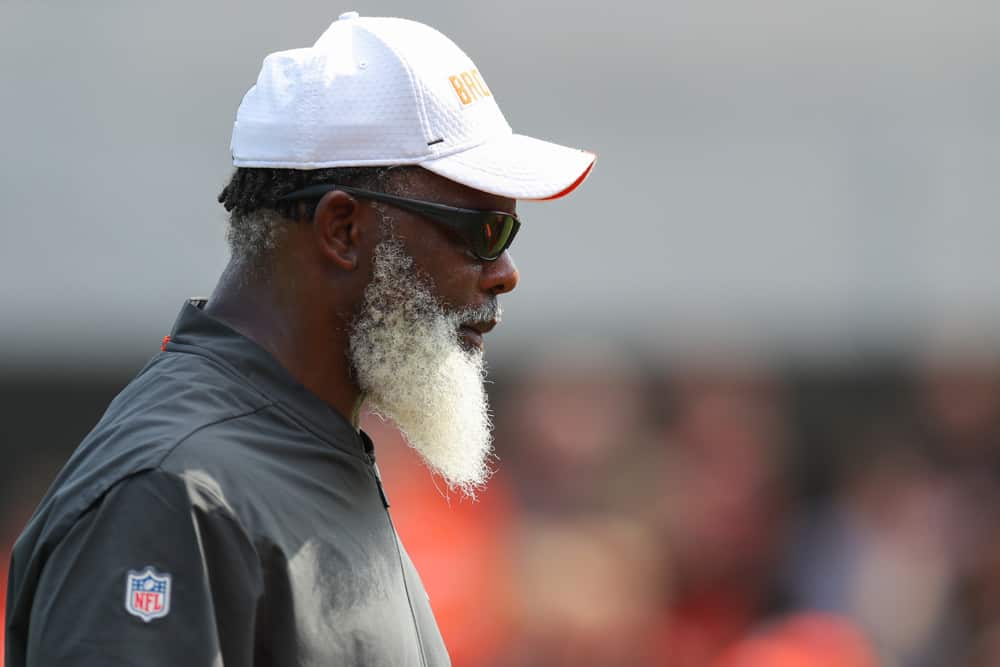 A lot of attention has circulated around Cleveland Browns head coach Kevin Stefanski since he arrived over a year ago.
However, one of his assistant coaches has a longer tenure with the organization and is deserving of more credit than he receives.
His name is Stump Mitchell, and he has been the running backs coach since 2019.
Though his name is rarely mentioned, here is why he deserves more credit.
1. Former NFL Running Back
He knows what he speaks of.
Mitchell was a ninth-round draft pick in the 1981 NFL Draft.
Over 9 seasons with the St. Louis/Phoenix Cardinals, he appeared in 116 games, rushed for over 4,600 yards, and scored 32 touchdowns.
He also was a receiving threat who caught 9 touchdown passes and accrued over 1,950 receiving yards.
Like his star players, Nick Chubb and Kareem Hunt, he was a dual-threat so he knows how to coach young players to maximize their potential.
2. A Carryover From The Freddie Kitchens Era
Stump Mitchell has been retained as Browns RB coach, here's his first NFL TD, 1981 as a rookie with the Cardinals #Browns pic.twitter.com/E8fICKltT1

— CleWest (@erjmanlasvegas) January 20, 2020
Mitchell worked with Kitchens in Arizona and Cleveland.
Very few positives came from the Kitchens era in Cleveland, but Kitchens bringing Mitchell to Cleveland is one of them.
Kitchens had plenty of praise for Mitchell.
During the Browns 2019 training camp, Kitchens said:
"Stump is demanding. He holds those guys accountable. He is a good Xs and Os coach. He understands pass protection. He understands the technique of pass protection, the technique of running routes and the technique of ball security. Stump was a very good player in this league, too."
3. He Has Worked Well With Chubb And Hunt
Overseeing two star running backs on the same NFL team is a unique situation.
Each could be a starter on any team in the league yet their tandem partnership works.
Credit for making that work goes to the players as well as Mitchell.
Chubb openly credited Mitchell with helping his game.
#Browns RB Nick Chubb says he's learned to slow down, read and see things better when he gets the ball. Credits RB coach Stump Mitchell for helping in that area.

— Scott Petrak ct (@ScottPetrak) December 16, 2020
Mitchell has been around the league and helped other running backs before joining the Browns, most notably Shaun Alexander.
Former Seattle Seahawks running back and NFL MVP Alexander credits Mitchell for helping him when he was just breaking into the league.
"He told me, 'As fast as you are, as strong as you are, once you learn how to trust your feet, you will take over this league. That coach was Stump Mitchell, and I call him the running back whisperer. He has an ability to tell players what they need to hear to become the greatest version of themselves."
Mitchell is a low key guy, but the "running back whisperer" as Alexander calls him certainly deserves more credit than he gets.