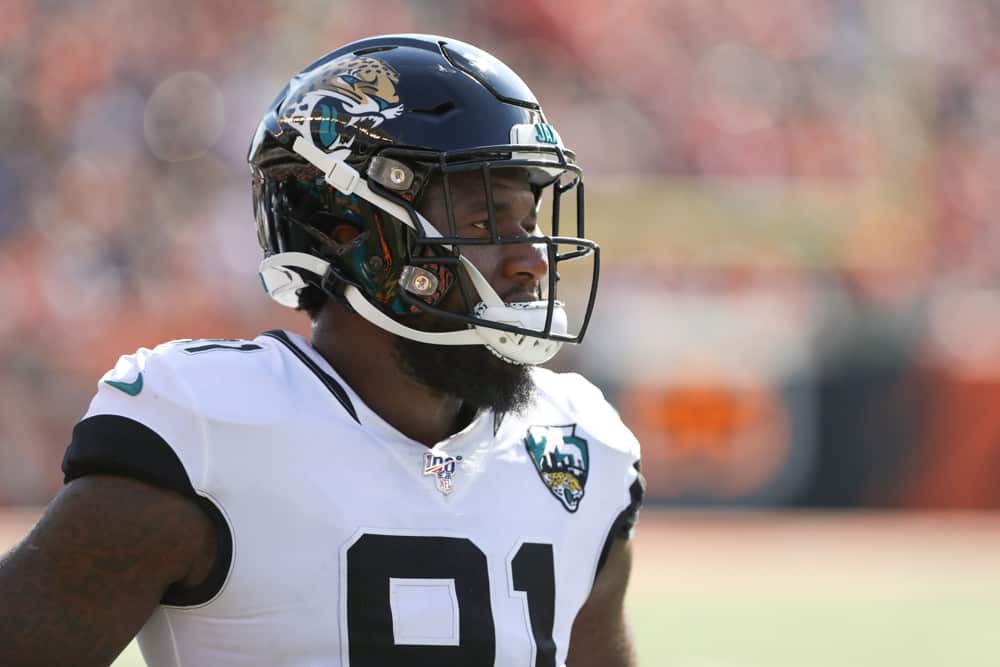 This week, there has been plenty of reports and speculation on Jadeveon Clowney.
Why isn't Jaguars DE Yannick Ngakoue getting trade buzz from the Browns?
He is a free agent DE who publicly stated he is looking to play for a contender in 2020.
It appears Cleveland is open to adding a DE to the roster.
According to @AdamSchefter, the Browns made a huge offer to Jadeveon Clowney and it was denied. pic.twitter.com/wUHCd2NXuk

— NFL News (@NFLNews48270529) May 28, 2020
Now that Clowney is out of the picture, where does that leave Ngakoue and the current roster of Cleveland DEs?
Yannick Ngakoue
Ngakoue is 25 years old.
The Jacksonville Jaguars placed the franchise tag on him.
As of now, he has not signed the franchise tag contract which would pay him $17.8 million in 2020.
His asking price for 2020 was $22 million.
He earned $2 million in 2019.
For months, he has told everyone who will listen (and Twitter) that he wants out of Jacksonville.
The Jaguars are aware I no longer have interest in signing a long term contract in Jacksonville. Duval, I love you and gave you guys everything I got. I'm thankful for the journey and look forward to continuing my career elsewhere. -91

— Yannick Ngakoue (@YannickNgakoue) March 2, 2020
His career stats are indisputable.
In 4 years, he has 37.5 sacks, and he has many years of football ahead if he chooses.
And if the day of the week ends in "y", there is a new rumor in who might be interested in him.
Besides the Browns, there are the Bills, Cowboys, and Giants to name a few.
There was the draft day rumor that the Raiders wanted him, but the asking price was too high.
That appears to be the key issue with Ngakoue and may explain why there is no buzz about him.
The asking price is too high.
With football at a bit of a standstill right now, there is no sense of urgency on the Jaguars part.
They can continue to entertain offers, and Ngakoue's status remains in limbo.
The path to signing Clowney is more clear cut for teams with cap space.
Money will drive the decision, not draft picks.
Current Browns DEs
There is a lot of speculation about the future of Olivier Vernon.
He is a good player who has had injury issues.
In fact, he has not played a complete 16 game season since 2016 when he was with the New York Giants.
When he is on the field, his play complements Myles Garrett.
In the 10 games he played in 2019, his performance was better than both Clowney or Ngakoue.
He had 20 tackles and 11 QB hits.
Vernon is in the final year of his contract worth $15 million.
June 1 is a big day for him and the Browns as that is the guarantee date for his contract.
The Browns can cut him anytime up to that date and pay him nothing.
This explains why they were trying to make a deal with Clowney right now.
It appears the Browns 2020 DE strategy was pay Clowney or stick with the current roster.
Giving up a high draft pick is not palpable to get Ngakoue.
As June 1 approaches, all eyes will be on Olivier Vernon.
All indications are that the team plans to keep him, pay the $15 million, and hope for an injury-free 2020 season.