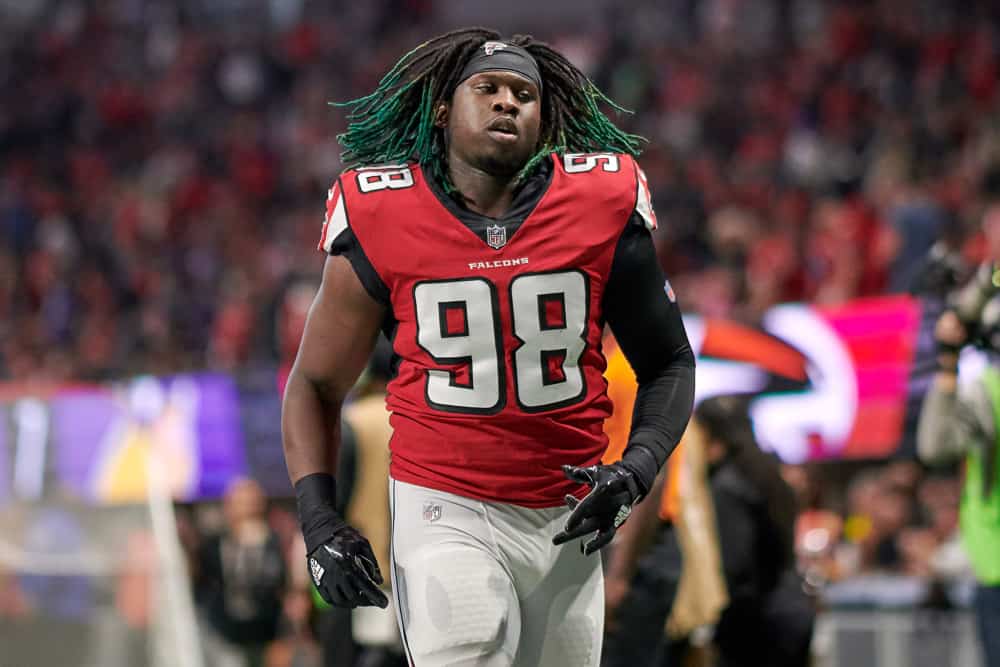 Cleveland Browns defensive end Takk McKinley appeared at his first Browns press conference dressed in a suit and ready to turn the page on his NFL career.
Comp update: Takk McKinley done with Cleveland, 1-yr $4.25M base value and up to $6M. Signed to play opposite Myles Garrett. https://t.co/LIalf34GPs

— Adam Schefter (@AdamSchefter) March 16, 2021
McKinley's tone and demeanor indicated that the 25-year-old has matured.
Highlights Of The Press Conference
1. Finally A Cleveland Brown
McKinley talked about how happy he is to finally be a Cleveland Brown.
He said the decision to sign with Cleveland was easy given the fact that the Browns tried to pick him up three times after his release and attempted to trade for him one time.
The fifth time is the charm, and the tremendous opportunity is not lost on McKinley.
He appreciates that GM Andrew Berry and the organization see his worth and have faith in how he can contribute to the Browns.
McKinley also noted that his first ever team visit was with the Browns back in 2017.
2. Privilege To Be In The NFL
McKinley's maturity was obvious from his dress to his demeanor.
More than one time he said that nothing in the NFL is promised.
It is a privilege to be playing the game he loves.
He also acknowledged that he is not perfect and has made mistakes in the past.
McKinley said that he was immature and often felt his way was the best way despite being advised otherwise.
His challenge to himself is to learn from the mistakes and not make the same mistake twice.
He acknowledged that he lost himself in 2018 and 2019, and it showed in how he played the game.
That is obviously in his past as he said:
"All I know is I am just trying to grow and get better at all areas, whether that's football, as a father or just a person."
3. Playing Opposite Myles Garrett
McKinley said that Garrett is amazing, and he looks forward to lining up on the field with him.
He believes his speed and explosiveness will complement Garrett, and the Browns defense will be even more formidable.
McKinley also thinks Joe Woods' defensive scheme works very well for his skill set.
Takk McKinley is healthy and ready to get to work with Garrett, Woods, and his other new teammates.
McKinley's press conferences in Atlanta were decidedly different than this one.
As part of his maturity, he acknowledged some of the people in Atlanta and elsewhere who have helped him along the way including Dan Quinn, Raheem Morris, and the late Kevin Greene whom McKinley called his mentor.
McKinley was hit hard by Greene's death in December; he said that Greene told him:
"Takk, if you want to be in this league for a long time, you have to fix your image."
The first Cleveland Brown to reach out to him after his signing was quarterback Baker Mayfield; McKinley expressed his gratitude for the gesture.
Takk McKinley's press conference should quell any naysayers' concerns about how he is approaching this second act of his career with the Cleveland Browns.
Fans cannot wait to see the magic McKinley and Garrett will create on the field in the fall.