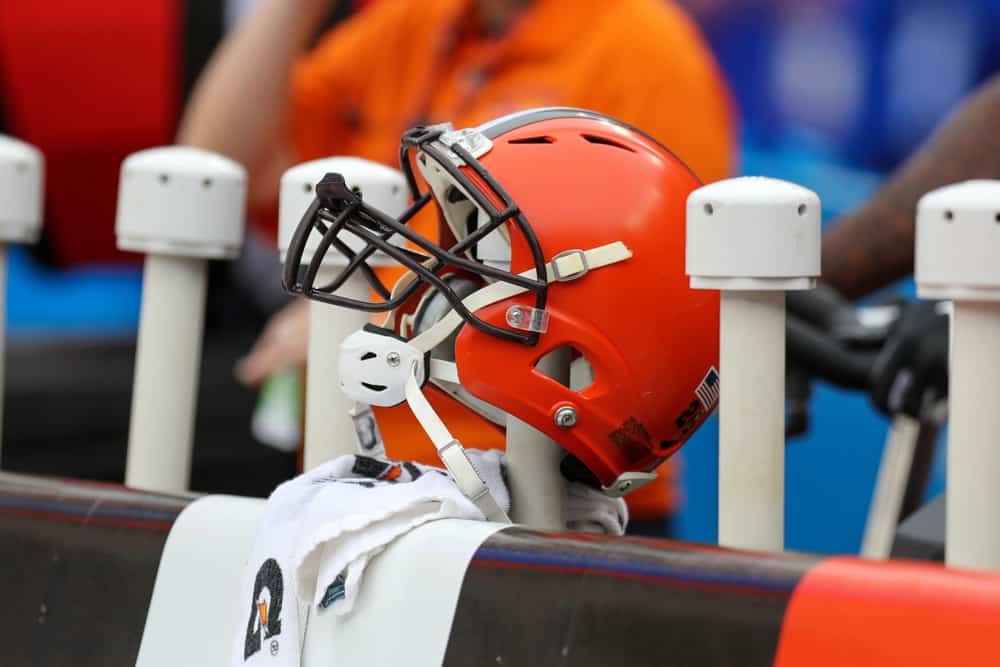 The Cleveland Browns are coming off their most successful season of recent memory.
That being said, the front office is likely going to look to add the final few pieces to this roster.
Right now, the Browns enter free agency with plenty of assets and the 10th-highest cap space available.
This team could make a blockbuster trade in order to push this roster into being Super Bowl contenders.
It's always tough to predict the future, but the Browns could certainly use another impact player heading into 2021.
1. Von Miller To Cleveland For Two Picks & Mack Wilson
At first glance, it seems quite shocking that the Denver Broncos would actually trade away Von Miller.
However, this team is likely headed towards a slight rebuild, so this could be the best move for the organization going forward.
Miller is in the final year of his contract and is owed $17.5 million for the 2021 season.
The eight-time Pro Bowl linebacker missed all of the 2020 campaign due to an ankle injury.
There is no reason to be concerned because Miller is an absolute monster when he's on the field.
Von Miller helping the #Broncos D hold up on third down. pic.twitter.com/OGxqAy5r6h

— Joe Rowles (@JoRo_NFL) December 22, 2019
The Browns are in desperate need of a veteran linebacker with pass rushing ability.
Miller has recorded over 100 sacks during his fantastic Hall of Fame career.
In exchange for Miller, the Broncos will receive a 2021 third-round pick, 2022 fourth-round pick, and linebacker Mack Wilson.
This is a good haul for the Broncos considering Miller is coming off a season-ending injury and is in the final year of his contract.
The second-year linebacker is coming off a sophomore slump in 2020, but there is no doubting the upside in Wilson's game.
Watch Takitaki and Mack Wilson here. This is what you want to see v run. Taki stands up the FB at the POA to ruin the scheme before it starts and Wilson darts through with proper angle to bring Henry down for the TFL.

Might have been Wilson's best game of 2020. #Browns pic.twitter.com/vHz3cVAgdl

— OBR Film Breakdown (@TheOBRFilmBDN) December 7, 2020
It's tough to imagine Wilson having a significant role in Cleveland, especially if they acquire Miller.
This would give the Browns an elite pass rushing option to play alongside Myles Garrett on defense.
This also means, the Browns wouldn't be forced to have a bidding war for the services of J.J. Watt anymore.
A win-win for both sides, but we'll see if the Broncos are willing to give up Miller.
2. OBJ & Fifth-Round Pick For Stephon Gilmore
The New England Patriots are not used to losing and it likely won't last long.
Fans shouldn't be surprised if the Pats make a big splash this offseason in an attempt to jumpstart their team.
The Cam Newton experiment didn't go according to plan, but Newton didn't have much talent around him.
Whether or not Newton is back, the Pats need to get a superstar player on their offense.
Obviously, losing defensive back Stephon Gilmore would hurt their defense, but this offense needs to be revived.
Defensive Player of the Year.@Patriots CB Stephon Gilmore ranks at No. 9 in the #NFLTop100 (via @NFLFilms) @BumpNrunGilm0re pic.twitter.com/bZLaVMb3FE

— NFL (@NFL) August 2, 2020
The three-time Pro Bowl defensive back only has one year left on his contract.
His contract is $7 million for the 2021 season, which is completely affordable for the Browns.
The disconnect between Odell Beckham Jr. and quarterback Baker Mayfield is a huge concern.
OBJ went down mid-season with a season-ending ACL tear, which was obviously a huge blow to the Browns offense.
Odell Beckham Jr. says he suffered a torn ACL against the Bengals and is out for the season, per @JosinaAnderson pic.twitter.com/RE9q9RnkVu

— Bleacher Report (@BleacherReport) October 26, 2020
Surprisingly, the Browns offense actually looked much better after Beckham went down.
It wouldn't be shocking to see Cleveland attempt to move the superstar receiver in order to get some help on the defensive side of the ball.
The fact Beckham is coming off a significant injury and has been trending downward lately does lower his value.
Luckily, the Pats are likely desperate enough to give up Gilmore for a late-round pick and roll the dice on OBJ.
Gilmore is likely going to be seeking a massive contract after the season.
It's unlikely that he stays in New England after the 2021 campaign, assuming they continue to head in the wrong direction.
Cleveland might not be able to keep Gilmore long term, but he would give them an enormous boost heading into the 2021 season.