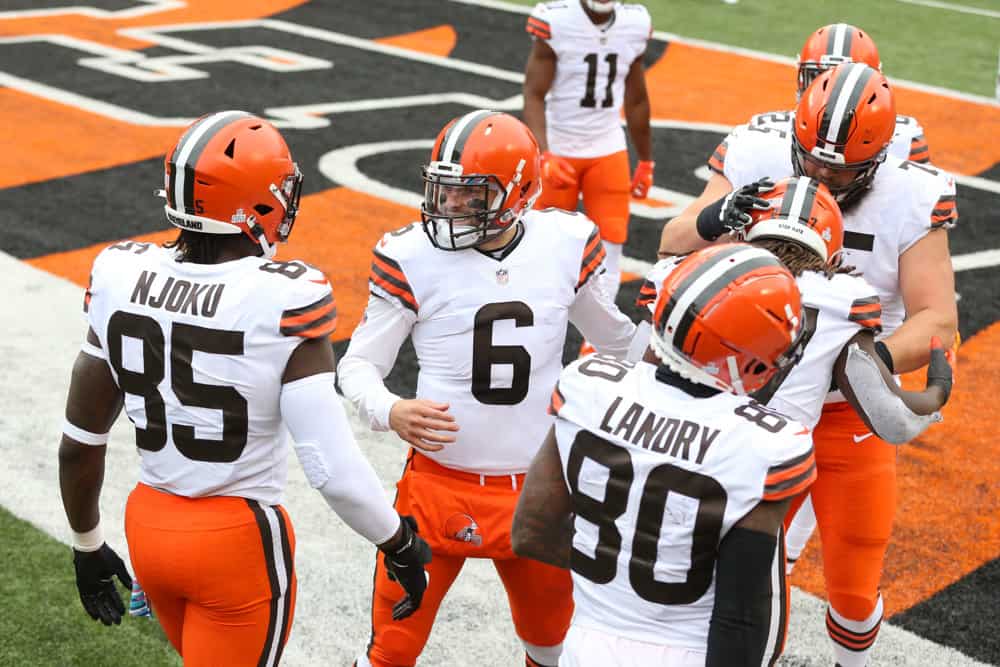 The Cleveland Browns are back on Sunday Night Football.
The Browns made it to the big stage last season, their first appearance on SNF since 2008.
They'll look for a different result this time around after losing to the Los Angeles Rams last year.
If this was a 1 PM start on a Sunday afternoon, there could be concerns about this being a "trap game".
Players tend to show up ready for prime time though.
This Sunday, there are a couple members of the Browns that might be under the radar this week and could have giant outings against New York.

1. Sione Takitaki
The Browns linebackers have had a roller coaster season.
Some weeks they look good. Others, not so much.
They are a young, developing unit that will likely see some change this upcoming offseason.
That doesn't help now, however, and guys will need to continue to play above themselves.
Someone that can do that this week is Sione Takitaki.
The third-round draft pick from a year ago has made strides in his second season despite some inconsistency.
Guys search for a real role in the NFL and Sione Takitaki has found his. Many don't and wash out. He's an ideal SAM who sets the edge and plays pullers really damn well. This is all him. #Browns pic.twitter.com/VNkdXFTDEl

— OBR Film Breakdown (@TheOBRFilmBDN) December 8, 2020
The highest-graded #Browns on offense and defense vs. #FlyEaglesFly (min. 25 snaps):

Rashard Higgins – 78.9
Sione Takitaki – 90.4 pic.twitter.com/pgzX3k52y8

— PFF CLE Browns (@PFF_Browns) November 23, 2020
Watch Takitaki and Mack Wilson here. This is what you want to see v run. Taki stands up the FB at the POA to ruin the scheme before it starts and Wilson darts through with proper angle to bring Henry down for the TFL.

Might have been Wilson's best game of 2020. #Browns pic.twitter.com/vHz3cVAgdl

— OBR Film Breakdown (@TheOBRFilmBDN) December 7, 2020
Of course, his pick-six against the Eagles remains one of the more fun plays of this season.
Carson Wentz with an ugly interception to Sione Takitaki and he takes it the other way for a 50-yard #Browns TD. No excuses for this one.pic.twitter.com/XiwGL9Cpsy

— NFL Update (@MySportsUpdate) November 22, 2020
Takitaki has quietly played smarter football as the year has gone on.
He's doing a much better job of staying in his lane defensively, containing the outside when need be, and filling gaps.
He's not the best coverage linebacker, but his ball skills are impressive.
If nothing else, he has been putting himself in better positions to succeed.
The highest-graded #Browns on offense and defense vs. #RavensFlock on MNF:

Wyatt Teller – 76.9
Sione Takitaki – 78.6 pic.twitter.com/gGhVY1SxQh

— PFF CLE Browns (@PFF_Browns) December 15, 2020
It may not always result in a tackle for loss or forced fumble.
The turnovers will come though.
New York is 24th in giveaways this season, averaging 1.5 turnovers per game.
With Colt McCoy potentially starting for the Giants, there could be some duck-resembling footballs being thrown that beg for a brown and orange defender to snag it.
The Giants are still an average team running the ball even without Saquon Barkley, so Takitaki will be needed in that area.

2. Donovan Peoples-Jones
Oh, if only some could go back and revoke their initial opinion on Donovan Peoples-Jones.
The former Michigan (gasp) standout has tallied over 70 receiving yards in each of his last two outings.
Even though he dropped a would-be touchdown against the Titans, he eventually found his way into the endzone.
Another great design and a tendency-breaker. DPJ is usually the WR on the field in 13 for blocking purposes and the TE motion indicates that.

Stuff like this makes me think Stefanski has been hiding a good part of his playbook to this point because he hasn't needed it. pic.twitter.com/cJLgrjvKaQ

— Sam Penix (@Sam_Penix) December 12, 2020
His impact on this offense continues to show itself, especially as of late.
#Browns Rookie WR Donovan Peoples-Jones currently has the highest passer rating when targeted (153.3) and yards per reception (23.8) on the team.

Small sample size, but he continues to have a meaningful impact in the passing game.

— Cody Suek (@CodySuek) December 16, 2020
Without Odell Beckham Jr. the rest of this season, it was important for the Browns to have another deep-threat option through the air. DPJ may very well be the solution for that.
Receiving% on Targets 20+ Downfield Leaders (min. 5 deep targets) among all rookies, per PFF:

1. Donovan Peoples-Jones (66.7%)
2. Justin Jefferson (60.9%)
3. Gabriel Davis (57.1%)
4. CeeDee Lamb (55.6%)
5. Brandon Aiyuk (44.4%) pic.twitter.com/TV0kU7uvcK

— Christian Williams (@FFBaldMan) December 15, 2020
Similarly, like Takitaki, Peoples-Jones is a bit up and down.
There are plays he makes that have some questioning why he fell as far as he did in the draft.
In other instances, it's clear why his stock took a hit.
He is starting to come into his own in Cleveland though.
Outside of Jabril Peppers and James Bradberry, the Giants secondary is just not good.
I expect Kevin Stefanski to let Baker Mayfield keep rolling on Sunday, which could lead to another big game from DPJ.